Search rankings for September
As part of our Brand score, Wine Lister measures popularity using the three-month rolling average searches on the world's most visited wine site, Wine-Searcher.
We have recently updated our treatment of this data to provide relative results for all 4,000+ wines on Wine Lister. Expressing each wine's search frequency as a ranking will make it easier for our users to interpret the data. For example, Mouton is the #1 most searched-for wine of all wines on Wine Lister, according to monthly searches on Wine-Searcher.
To mark this transition, here we examine the top 50 most popular fine wines in the world.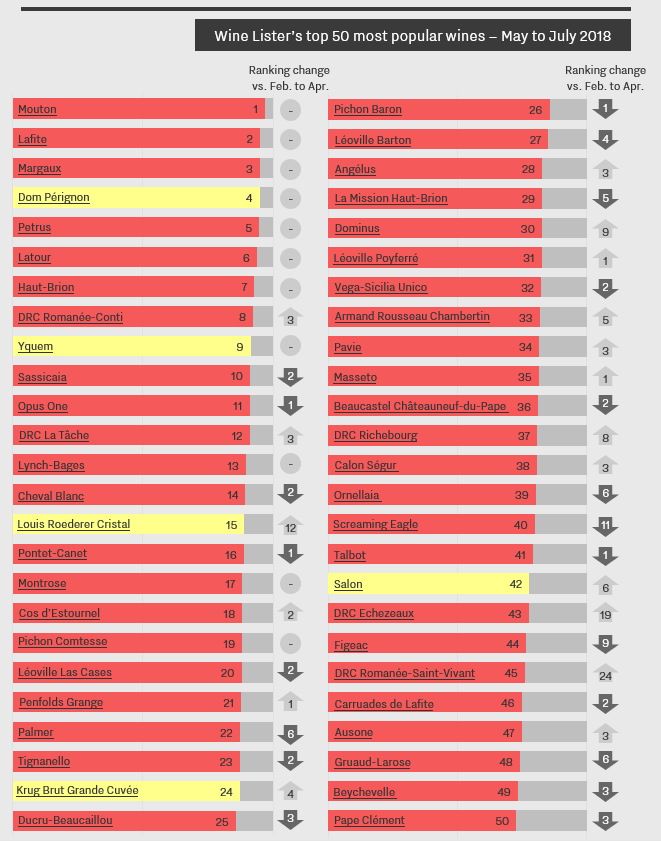 The first seven most searched-for wines for the period of May, June, and July include the five Bordeaux left bank first growths (Mouton, Lafite, Margaux, Latour, and Haut-Brion), right-bank powerhouse, Petrus, and Champagne super-brand, Dom Pérignon. It is perhaps of no surprise that these rankings remain unchanged since the previous period (February to April) .
Burgundian searches in the top 50 are dominated by Domaine de la Romanée-Conti, with Romanée-Conti, La Tâche, Echezeaux, and Romanée-Saint-Vivant all achieving better rankings versus the previous period. These four together achieve an average ranking of 30th place, and an average movement up the search ranking of 11 places.
Other than Dom Pérignon, the two remaining Champagnes featured in the top 50 most searched-for wines have moved up the rankings for May-July 2018 compared to the previous three-month period. Louis Roederer's Cristal was up 12 places, presumably due to the release of its 2008 vintage in June. Krug's most recent Grande Cuvée (166th edition) was released in late May, explaining its jump four spots up the rankings into 24th place.
More than half of the top 50 most popular wines are Bordeaux, with 30 wines hailing from the region. However, Bordeaux did not see the boost to their search ranking one might have expected during Bordeaux's en primeur 2017, with one fewer of the region's wines featuring in the top 50 than before the campaign kicked off. In fact, supporting Wine Lister's analysis of this year's lacklustre campaign, searches for many top Bordeaux châteaux actually fell during this period. For instance, Figeac, despite achieving Bordeaux's 10th best Quality score of the 2017 vintage, slipped nine spots down the rankings.