Listed: top 5 Bordeaux third growths by Wine Lister score
As the Place de Bordeaux reawakens for September releases this week, Wine Lister examines some "place-distributed" wines from closer to home, namely the top five Bordeaux third growths by Wine Lister score. The successful 2009 and 2010 vintages in Bordeaux helped to coin the term "super seconds", and despite a trickier en primeur campaign this year, these five wines make a good case for a new term: "thrilling thirds".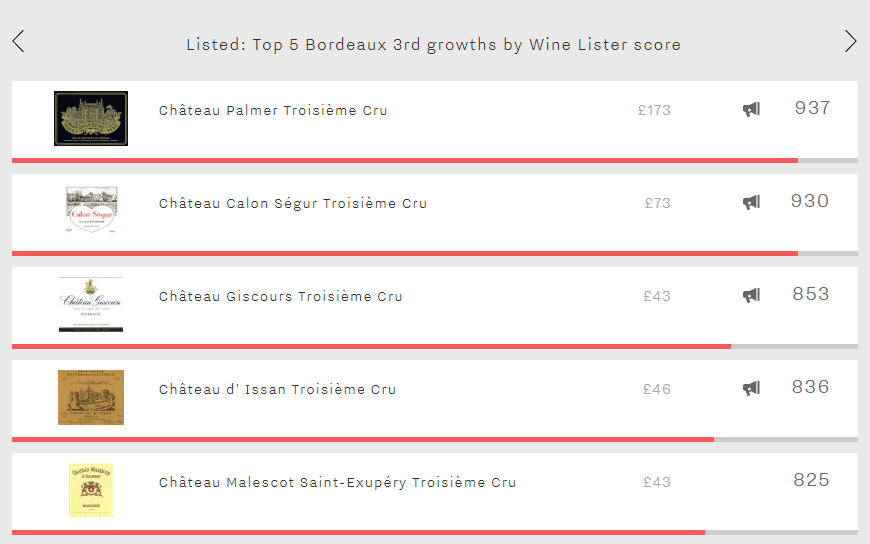 In first place, and one of the first out of the blocks for en primeur this year, is Palmer. With an overall score of 937, it is not only the best of this week's top five, but also sits 69 points ahead of the average Bordeaux second growth Wine Lister score. Aside from its impressive Quality score (909), Palmer's strength lies in its Brand, with a score of 995, thanks to presence in 47% of the world's best restaurants, and being ranked 22nd out of all wines on Wine Lister for searches on Wine-Searcher.
Calon Ségur comes in second place, with an overall score of 930. It is the only Saint-Estèphe with third growth status, and the only one of this week's top five not from Margaux (unsurprising, given that 73% of all Bordeaux left bank third growths hail from the appellation). Calon's Economics score of 941 is the fifth-best of all Bordeaux left bank reds (beaten only by Carruades de Lafite, Château Margaux, Lafite, and Mouton). This is achieved through a three-year compound annual growth rate of 17% and short-term price performance of 8% – both the highest of this week's top five.
Giscours is next with an overall score of 853. While Brand is its strongest score category (956), its Quality and Economics scores (804 and 782 respectively) still sit within the "very strong" section of the Wine Lister 1000-point scale. Furthermore, alongside Lynch Bages, Giscours was voted the most consistent seller (in volume terms) by the Place de Bordeaux in our 2018 Bordeaux Market Study.
The last two places of this week's top five are taken by d'Issan in fourth place, and Malescot Saint-Exupéry at number five with scores of 836 and 825 respectively. The latter is the only one of this week's top five that is not a Wine Lister Buzz Brand. As the least-known of the five, it might be considered the best value, with a Quality score of 811 and an average price of £43.