Listed: Italy's top five Buzz Brands by Wine Lister score
Buzz Brands are wines that are sure to turn heads, destined to cause a stir whenever they are opened. They combine excellence across Wine Lister's two Brand criteria – restaurant presence and online popularity – whilst also being held in the highest regard by the fine wine trade – as confirmed by Wine Lister's Founding Members' survey which gathers the opinions of around 50 key players in the international wine trade. This week, the Listed section focuses on Italy's top five Buzz Brands by overall Wine Lister score.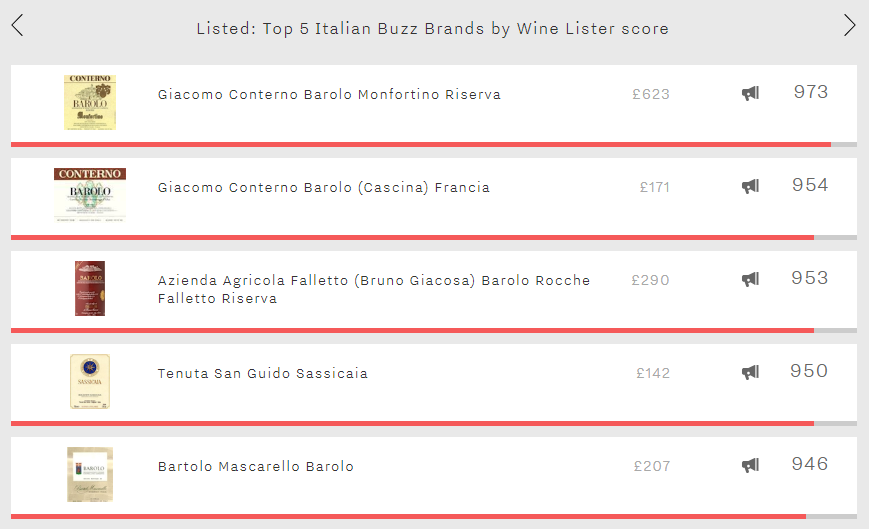 Barolo is home to four of Italy's top five Buzz Brands, two of which are produced by Giacomo Conterno – the flagship Monfortino in first place (973) and Francia not far behind in second place (954). The Monfortino achieves Italy's best Quality score (977), the result of remarkable consistency from vintage to vintage, having achieved a score of 993 or above in seven of the past 10 vintages. Its best ever vintage was 2004 (998), thanks to a perfect 100-point score from Antonio Galloni, who writes: "I imagine the 2004 Monfortino will give readers an utterly spellbinding drinking experience for the next few decades".
Whilst the Francia is pipped at the post in each category by its illustrious stablemate (trailing by 17 points in the Quality category, 11 in the Brand category, and 34 in terms of Economics), it does manage superior restaurant presence, visible in 30% of the world's top establishments, compared to the Monfortino's 23%. This is presumably due to over three times as many bottles of it being produced each year on average.
In third place is Azienda Agricola Falletto's Rocche Falletto Riserva (953). It records the best Economics score of the five (969) and Italy's second-best, beaten only by Falletto's Barbaresco Asili Riserva (978). It does so thanks to the combination of very strong growth rates – it has recorded a three-year compound annual growth rate of 21% and has added 8% to its value over the past six months alone – and strong liquidity – its top five vintages having traded 398 bottles at auction over the past year. Perhaps collectors have been eager to get their hands on a bottle after the passing of Bruno Giacosa in January.
Proving that Super Tuscans can mix it with Piedmont's top nebbiolos, Sassicaia takes fourth place. Whilst it cannot keep pace with Barolo's finest in the Quality and Economics categories, Sassicaia stretches out a comfortable lead in the Brand category thanks to an extraordinary score of 998. This near-perfect score puts it alongside Haut-Brion, Margaux, and Petrus, beaten only by the Pauillac First Growths, Dom Pérignon Vintage Brut, and Yquem. Its brand dominance is the result of outstanding restaurant presence (49%) and online popularity – receiving well over three times as many searches each month as Conterno's Monfortino, which is the group's second-most popular wine.
Rounding out the five is Bartolo Mascarello's Barolo. Its brand is its strongest asset, its score of 964 making it Barolo's second-strongest brand behind Conterno's Monfortino. Despite receiving over 20% fewer online searches each month than the Monfortino, it matches its level of restaurant presence – perhaps the azienda's famous "no barrique no Berlusconi" message strikes a chord with sommeliers.