Ten rising stars as predicted by the trade
Which producers will see the largest gain in brand recognition in the next two years? As part of our recent Bordeaux Market Study, we asked Wine Lister's Founding Members – c.50 key members of the trade from the world's largest merchants, top international wine auctioneers and several high-end retailers, together representing well over one third of global fine wine revenues.
While Burgundy achieved the largest number of producers mentioned at least once (50), all 10 of the most-cited producers hail from Bordeaux.
With the en primeur campaign finally in full swing, below are Bordeaux's biggest rising stars: the region's top 10 brands expected by Wine Lister Founding Members to see increased recognition in the next two years.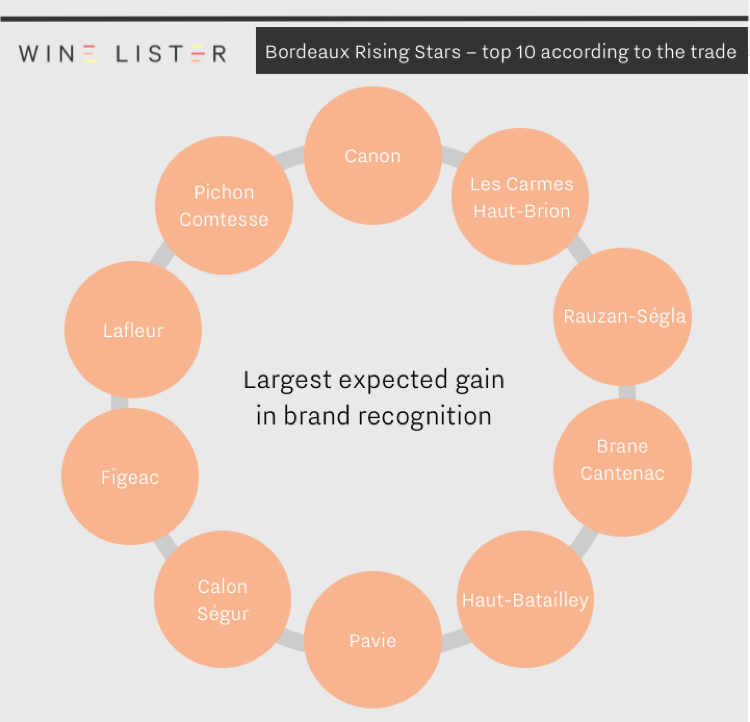 Château Canon received the highest number of votes for the brand likely to see most increased brand recognition over the coming two years, and is therefore the number one rising star in this year's Bordeaux Study. Canon also achieves the joint-highest confidence rating from the trade (see last week's blog for details), and appears in the top 10 wines for price performance after en primeur release .
In a show of strength by owner Chanel, another of its properties, Rauzan-Ségla, receives the second-highest number of votes, alongside Les Carmes Haut-Brion.
Haut-Batailley, recently acquired by the Cazes family – and having released no wine in 2016 – is seen as a brand with a bright future (and the new owners clearly think so too – it was released at a very ambitious price of £43 at the end of April).
Other Bordeaux wines voted likely to see the largest gains in brand recognition over the next two years are: Brane-Cantenac, Pavie, Calon Ségur, Figeac, Lafleur, and Pichon Comtesse.
Visit Wine Lister's Analysis page to read the full report (available in both English and French). Go to p.24 to see how many votes each of the above wines received.