Listed: top five red Burgundies under £300 per bottle by Wine Lister score
Today marks the close of a busy week of Burgundy 2016 en primeur tastings, with offer prices largely stable on 2015 despite tiny volumes, thanks to the more generous 2017 in the wings. However, prices have been escalating in the secondary market for several years now, with eight of the region's top wines averaging more than £3,000 per bottle). Eyewatering, yes, but as illustrated in our recently published study, the majority of the region's top wines are priced between £100 and £500.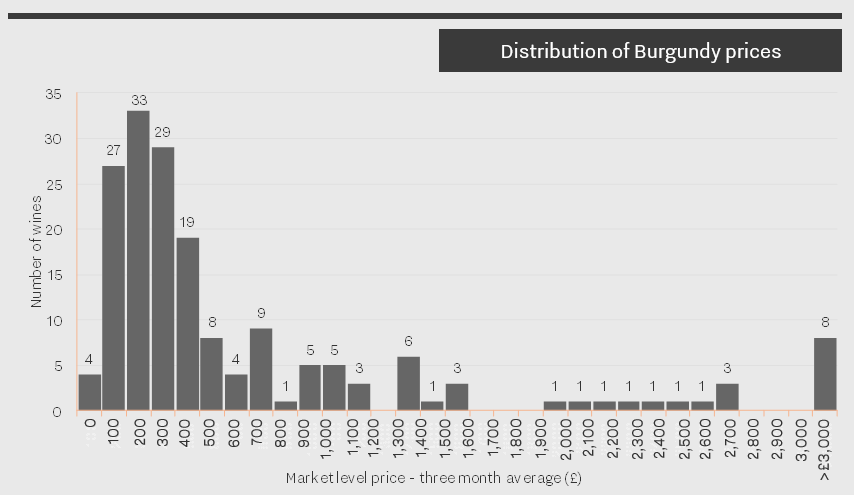 To mark this week's Burgundy en primeur tastings, the latest Listed section picks out the top five red Burgundies priced under £300 per bottle by Wine Lister score. With an outstanding average score of 913 – putting them amongst the very strongest on Wine Lister – and four of the five achieving Buzz Brand status, these wines are worth the price tag.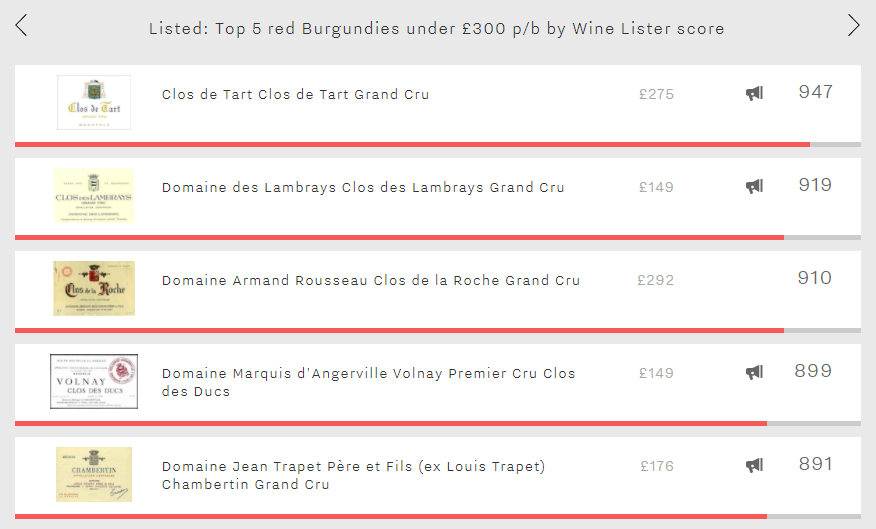 Leading the way is Grand Cru monopole Clos de Tart with a score of 947. Recently acquired by Artemis Domaines – Latour owner François Pinault's holding company – it achieves the best Brand and Economics scores of the group (956 and 964 respectively), and is just pipped into second place in the Quality category by Trapet Père et Fils Chambertin Grand Cru (932 vs 940). Its price  has increased 9% over the past six months, and now at £275, it looks like it won't qualify for this group much longer!
Next comes Domaine des Lambrays Clos des Lambrays – part of LVMH's portfolio since 2014 – with a score of 919. Alongside Marquis d'Angerville Volnay Premier Cru Clos des Ducs, this is the cheapest (or least expensive) of the group (c.£150 each). It enjoys its best score in the Brand category, with the group's highest level of restaurant presence (25%), and the second-best average monthly online search frequency (5,079).
In third place is Rousseau's Clos de la Roche Grand Cru with a score of 910. At almost £300 per bottle, it is the most expensive of the group, contributing to its boasting the best score in the Economics category (937). It is also partner critic Jeannie Cho Lee's favourite wine of the group; she awards it a score of 95/100 on average.
Dropping just below the 900-point mark are Marquis d'Angerville Volnay Premier Cru Clos des Ducs and Trapet Père et Fils Chambertin Grand Cru (899 and 891 points respectively). They display very different profiles. The latter leads the Quality category, with the former lagging 60 points behind (still with a very strong score of 879). However,Trapet's Chambertin struggles in other categories, with the group's lowest scores for Brand and Economics (867 and 823). Meanwhile, thanks to the group's strongest long and short-term growth rates, Marquis d'Angerville's Volnay Clos des Ducs enjoys an excellent Economics score (939) – the second-best of the five.
If you'd like to discover more about Burgundy and its top wines, then click here if you are a subscriber to view the full regional study, or here to see a preview if you haven't yet subscribed.