Burgundy study – mercury rising
With the Burgundy 2016 campaign underway, our first blog of the new year sheds some light on an all too often complex region. In our inaugural Burgundy study, Wine Lister reveals some key findings. Read on to find out more or click here to access the full study (non-subscribers can see a preview of the study here).
Price: the unstoppable force?
While the region's Brand scores are no match for Bordeaux, Burgundy's supply and demand dynamic(emphasised by a five-year stock shortage) and high quality are driving prices ever skywards. The majority of top Burgundy wines cost between £100 and £500 a bottle, with 18 wines costing more than £2000 per bottle.
Among the impressive Economics scores (994 being the highest) it is no surprise that producers such as Domaine de la Romanée-Conti (DRC) and Domaine Leroy hold many of the top spots (note that the only whites to enter into the Top 25 for Economics are from Coche-Dury). However, the region as a whole rises above the rest on price performance. Burgundy's prices have risen more quickly than any other top fine wine region and show no sign of decelerating.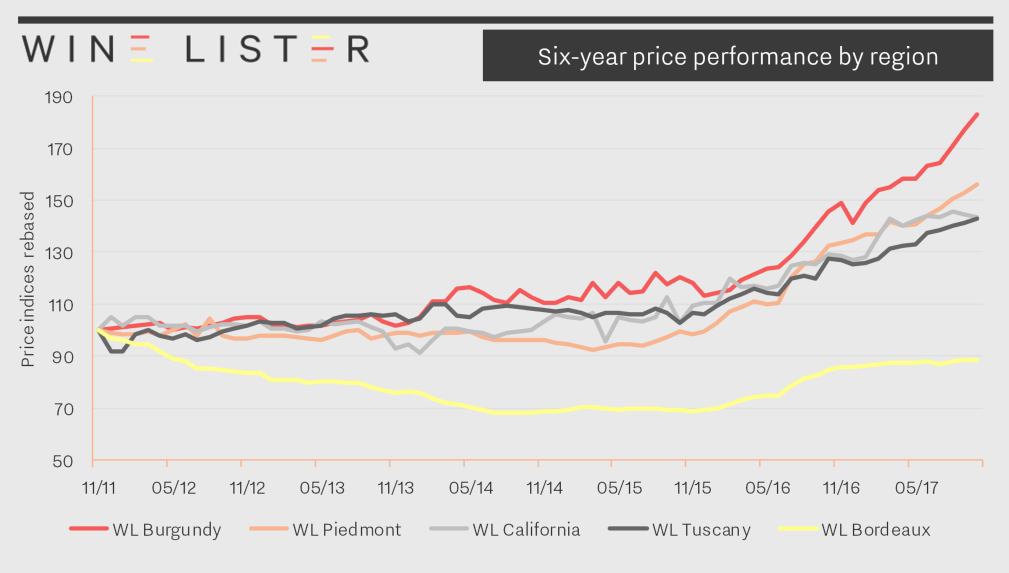 Quality: the clear winners
Indeed, DRC and Domaine Leroy consistently top the charts across all Wine Lister scores. However, Lalou Bize-Leroy is Quality queen, with 11 wines in the Quality top 25 between Leroy and d'Auvenay.
DRC and Armand Rousseau stand out as being the only two producers to gain the trade's full confidence. Our Founding Members give the domaines a confidence rating of 10/10 (no Bordeaux chateau scores above 9/10).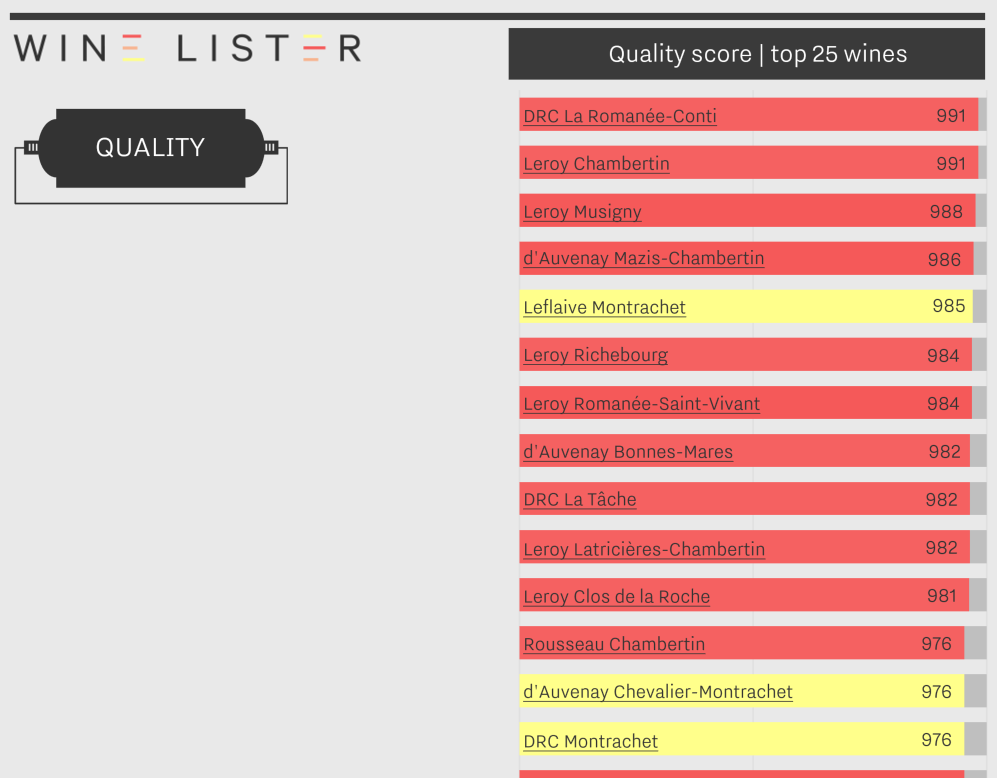 Trends: what the future holds for Burgundy
Further insight from Wine Lister's 52 Founding Members (key global fine wine trade figures)includes growth trends for Burgundy.
One commonality throughout the trade was the noticeable rise in the popularity of Saint-Aubin (Burgundy is the region home to more "rising star" producers than any other fine wine region). Other observations included a general shift towards higher quality and greater purity in winemaking style, as well as less sulphur and more whole bunch fermentation.
Subscribers can read the full study here. Non-subscribers can access a preview of the full version or subscribe here.