Listed: Margaux's top five red wines
Having considered Chambertin's top five wines for Quality last week, this week our Listed section travels south-west to look at Margaux's overall best red wines. Whilst it is to be expected that Margaux's eponymous first growth tops the table, with an outstanding score of 970, the order of the remaining four wines – and the appearance of second wine Pavillon Rouge – might come as more of a surprise.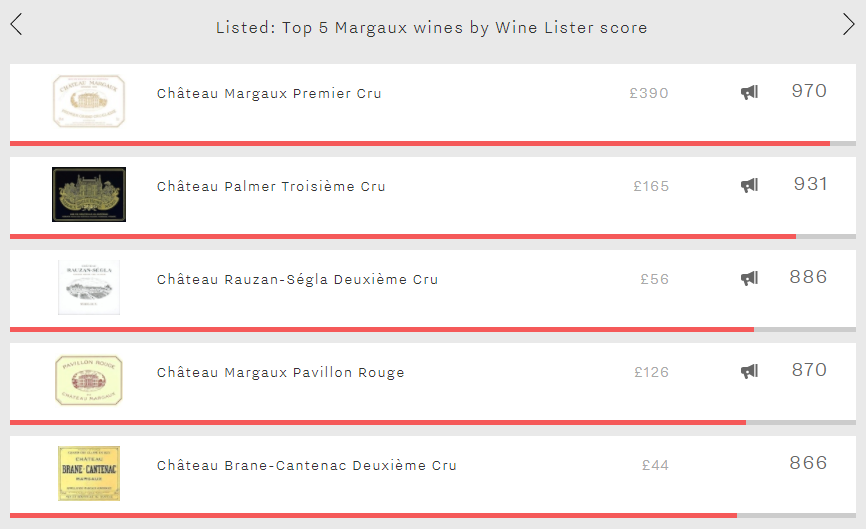 Château Margaux's dominance is the result of a lead across nine of Wine Lister's 12 rating criteria, resulting in an advantage in both the Quality and Brand categories. In particular, it outperforms the others in the Quality category with an excellent score of (962), nearly 80 points ahead of the second-best wine in the category – Palmer (885), which leapfrogs the group's two second growths in terms of quality. However, Château Margaux is pipped to the post in the Economics category by Pavillon Rouge, whose superior price performance helps it to overcome its older sibling.
Palmer achieves Margaux's second-best overall score (931). The third growth's brand is its strongest asset. Despite trailing Château Margaux by two points in the category, its score of 995 is the 15th best Brand score in the entirety of Wine Lister's database. It even sneaks ahead of Château Margaux in terms of restaurant presence (47% vs 46%), although it can't quite match its illustrious neighbour in terms of vertical presence, with 4.1 vintages / formats offered per list on average, compared to Château Margaux's 5.7. It is also searched for nearly three times less frequently than Château Margaux.
Pavillon Rouge occupies fourth position. It enjoys the group's best Economics score, in-keeping with the unstoppable performance of first growths' second wines in general. This is the result of strong price growth rates – it has a three-year compound annual growth rate (CAGR) of 15.5% and has added over 11.3% to its price in the last sixth months alone. The chart below confirms that its economic strength is not only at odds with its lack of classification, but also with its Quality score, which is the lowest of the group.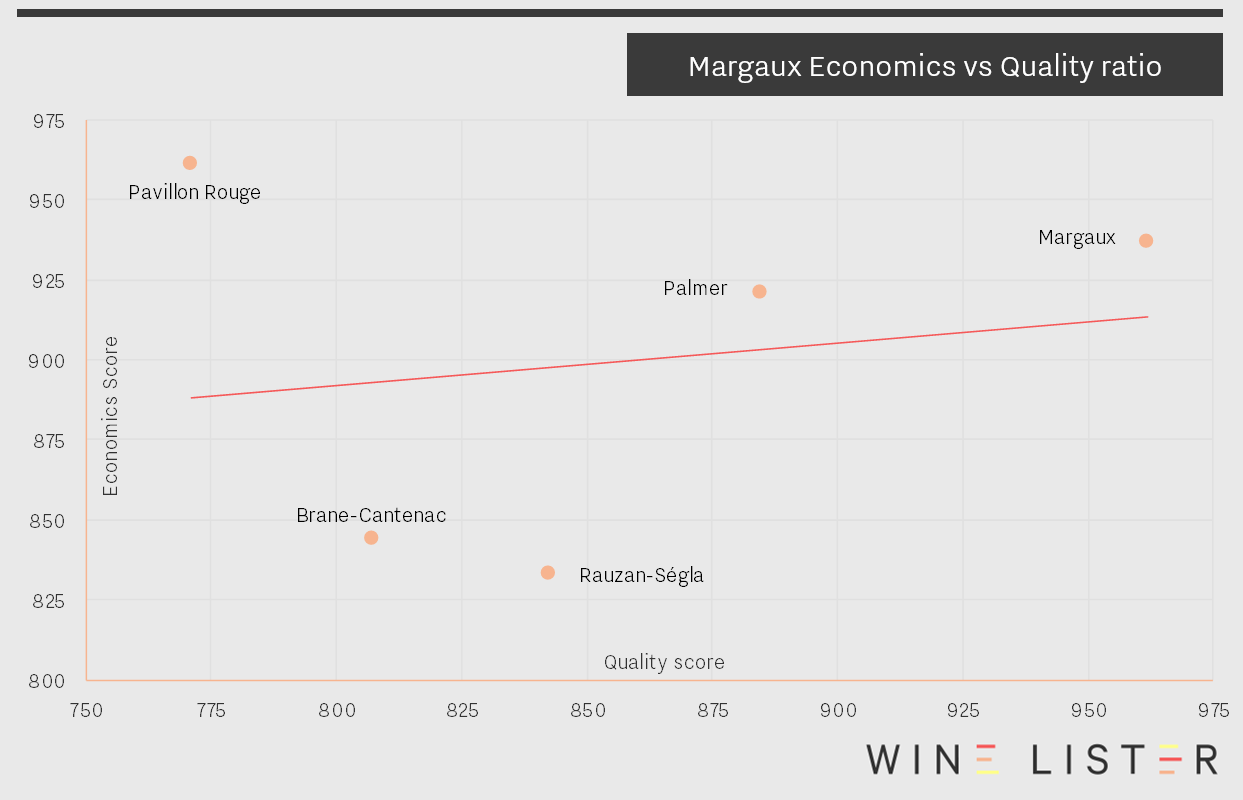 Pavillon Rouge is sandwiched between two second growths – Rauzan Ségla (886) and Brane-Cantenac (866). Despite belonging to the same class, they perform quite differently. Rauzan-Ségla experiences the group's weakest economic profile (836), but climbs back up the table in the Quality and Brand categories (842 and 970 respectively), ahead of fifth-placed Brane-Cantenac.
Any of these wines would be a very worthy addition to your Christmas table. Happy Christmas from the whole team at Wine Lister!