Listed: the top five Chambertins by Quality score
If ever there was a time of year to push the boat out, then surely this is it. So this week our Listed section travels to Burgundy for Chambertin's top five wines for Quality. All achieving a Quality score of at least 966, thus ranking amongst the very best on Wine Lister's database, these are some of the most sought-after wines in the world.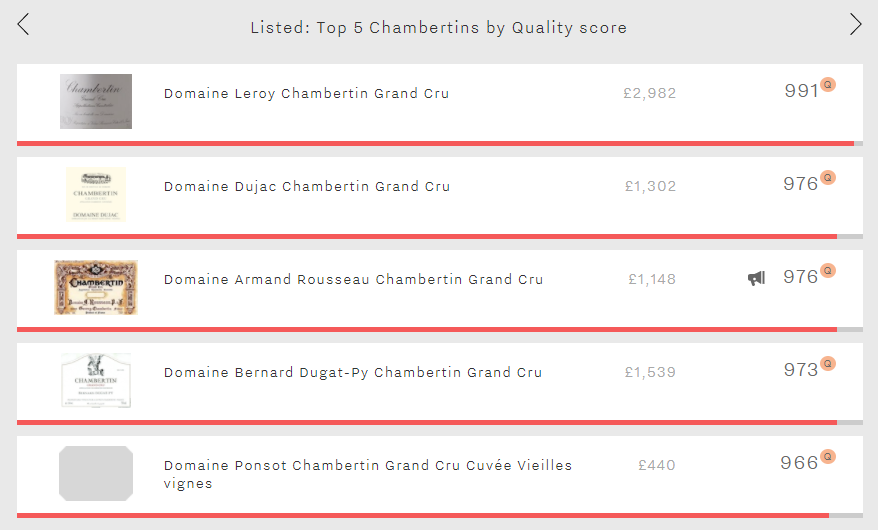 Leading the way with a score of 991 is Leroy's offering. This exceptional score is the third-best Quality score on Wine Lister and the highest of any red wine (alongside DRC La Romanée-Conti). Across all vintages, it receives near-perfect ratings from Wine Lister partner critics Jancis Robinson and Jeannie Cho Lee (19.5/20 and 99/100 respectively). Moreover, Jeannie Cho Lee awarded a 100 point score to the 2015 vintage. But with the longest ageing potential of the group – over 18 years on average – the 2015 will reward patient drinkers, and with a wine-level average price of £2982 per bottle, you would want to savour it at its peak.
Next come Dujac and Rousseau's offerings with scores of 976. Whilst these wines achieve identical Quality scores, and similar Economics ratings (951 and 979 respectively), the Rousseau achieves a far superior Brand score (960 vs 608). In fact Rousseau's Chambertin convincingly outperforms the others in the Brand category, which achieve an average score of 638. The chart below confirms that Rousseau's Chambertin enjoys far greater brand recognition than its Quality score would suggest within this set of peers, definitely earning its Buzz Brand status.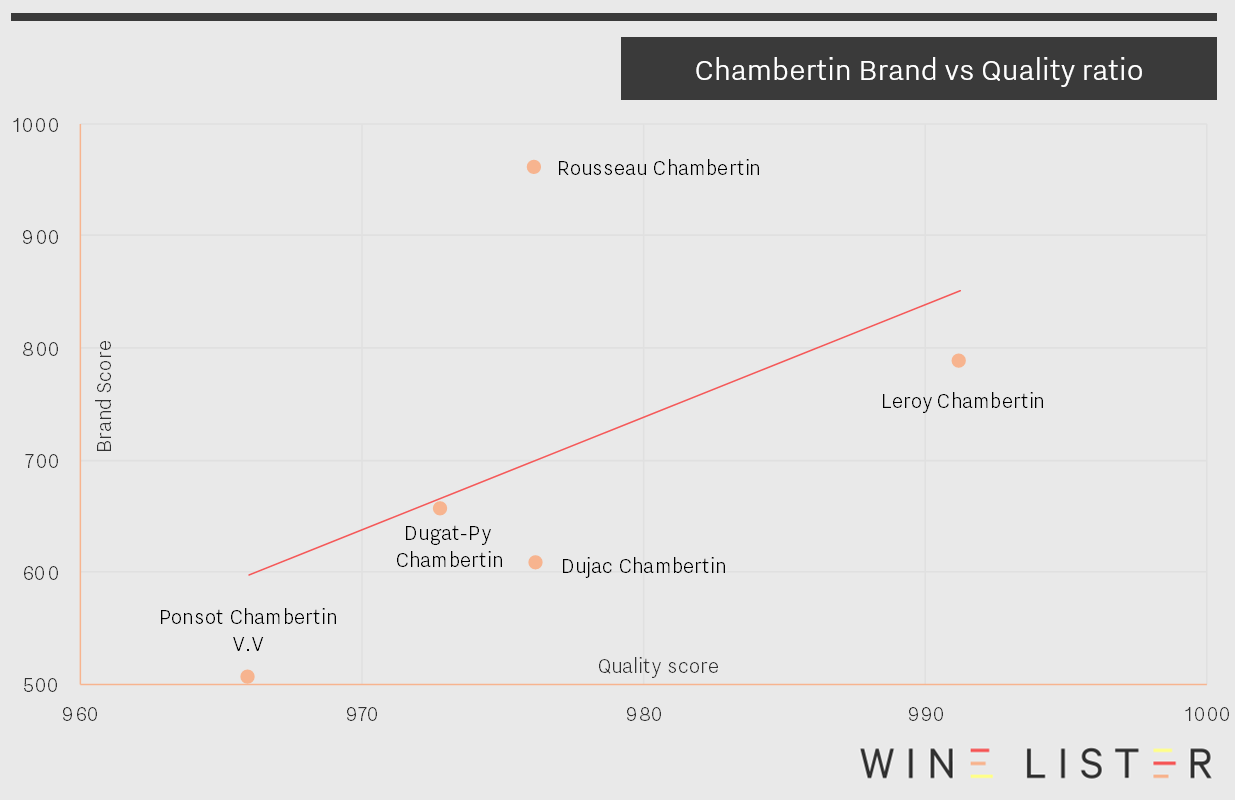 In fourth place is Dugat-Py's Chambertin (973), just seven points ahead of Ponsot's Chambertin Cuvée Vieilles Vignes (966). Despite their similar Quality scores, there is a noticeable difference in their prices, with the Dugat-Py the second most expensive wine in the group (£1539), whilst the Ponsot is by far the cheapest (£440) and looks relatively good value. If we look a little further, Ponsot Chambertin 2007, with a Quality score of 968 is currently available for as little as £399 per bottle and is in the middle of its drinking window, making it an excellent proposition for that seasonal treat.
If you are interested in Burgundy and its position in the fine wine market, then watch this space for our forthcoming in-depth regional study, due to be released in January.