Festive wines
Christmas is a time of tradition. Whether we like it or not, we tend to spend each year doing, eating, and drinking the same as we did the year before. Whilst everybody's idea of Christmas will be personal, usually based on childhood memories, there are clearly a shared set of rituals that most of tend to follow: mince pies, turkey or goose, crackers, Christmas pudding. There are also certain styles of wine that we associate with Christmas (though these associations are probably not based on childhood memories!). We decided to look a bit further into the online popularity of specific regions and styles of wine to determine whether in fact we do all drink the same things over the festive season.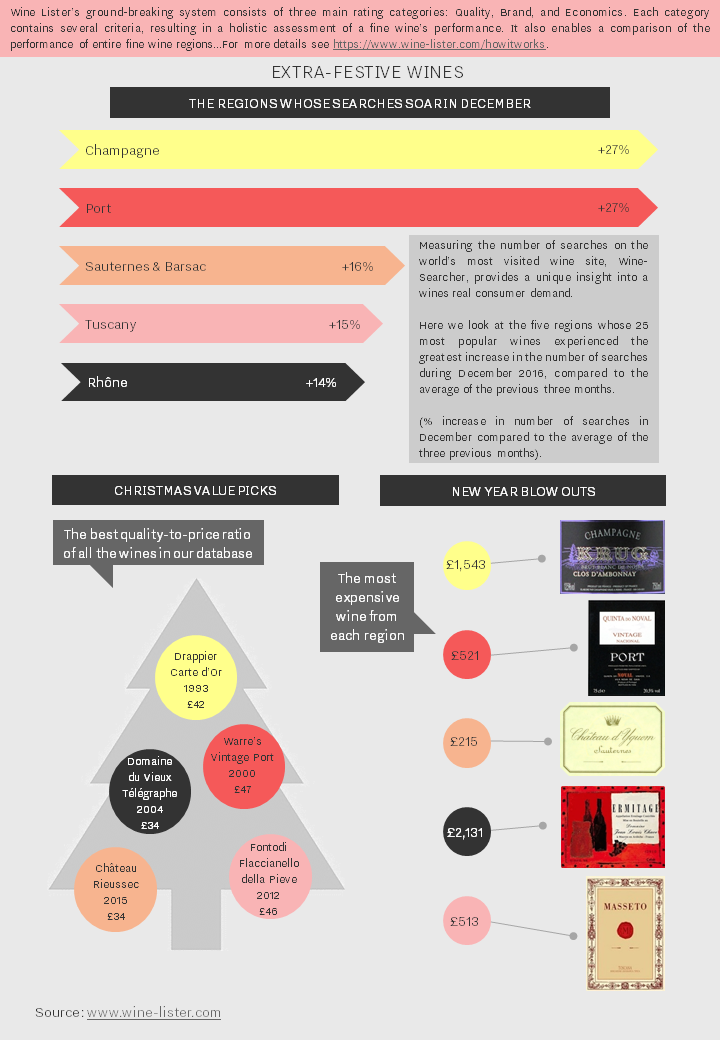 Comparing the search frequency of each region's 25 most popular wines on Wine-Searcher during December 2016 compared to the average of the previous three months, the results are conclusive. Champagne and Port both enjoyed a dramatic surge in popularity – receiving over a quarter more searches during December. Whilst Port's dramatic increase in online search frequency was presumably because it is the classic accompaniment to another festive favourite – Stilton – Champagne's seasonal rise in popularity must be because it is not just the tipple of choice at Christmas parties, but also at New Year's celebrations.
It seems that we also tend to favour the sweet whites of Sauternes and Barsac over Christmas, their 25 most popular wines enjoying a 16% increase in online search frequency. When it comes to dry reds, we appear to gravitate towards hearty styles at this time of year, with Tuscany and the Rhône also experiencing noticeable boosts in online popularity (up 15% and 14% respectively).
If you haven't yet stocked up on those perennial favourites, Wine Lister's Value Pick search tool can help you effortlessly find top Quality at a reasonable price. Each of our Christmas Value Picks achieves an outstanding Quality score of at least 965, putting them amongst the very best on Wine Lister. With the most expensive – Warre's Vintage Port 2000 – available for as little as £47, they represent remarkable value.
If you are after a really special bottle for New Year's, then we also show the most expensive wine from each region. Each of these wines qualify as Wine Lister Buzz Brands, and is sure to help start 2018 with a bang.
Download a PDF version here.
First published in French in En Magnum.
Wines featured: Drappier Carte d'Or 1993; Domaine du Vieux Télégraphe Châteauneuf-du-Pape 2004; Rieussec 2015; Fontodi Flaccianello della Pieve 2012; Krug Clos d'Ambonnay; Quinta do Noval Porto Nacional Vintage Port; Château d'Yquem; Jean-Louis Chave Hermitage Cuvée Cathelin; Masseto