Super Tuscans, super value
Brands such as Sassicaia or Masseto are virtually household names. Known to most as 'Super Tuscans', the unofficial 'Crus Classés' of Tuscany's IGT-elite have garnered a reputation for high quality and investment calibre over the last 20 years, and have a price tag to match.
Most would agree that the first Super Tuscan was Sassicaia, produced by Mario Incisa della Rocchetta, who planted Cabernet Sauvignon for his family's own personal stock, before releasing it commercially from 1968.
The early Super Tuscan sought to by-pass the DOC system and rules banning international varieties. Labelled simply as 'vino da tavola', consumers were able to decide for themselves on the quality of the liquid in the bottle. Meanwhile, Sassicaia earnt its own DOCG in 2013, and has the strongest brand in Italy and one of the strongest in the world – but what of the rest?
Last month Wine Lister explored Italy's top wines for Economics, and found that the economic profiles of Piedmont's top wines (Barolo and Barbaresco), beat their Tuscan counterparts. So what can consumers expect from Tuscany, apart from an idyllic holiday destination?
The Tuscan crown for Brand scores still firmly sits on the heads of the big five (Sassicaia, Tignanello, Ornellaia, Masseto, and Solaia), but with a little more digging, exceptional quality can certainly be found beyond these few names. Indeed, eight of Wine Lister's top 10 Italian Value Picks by Quality score come from the country's central region: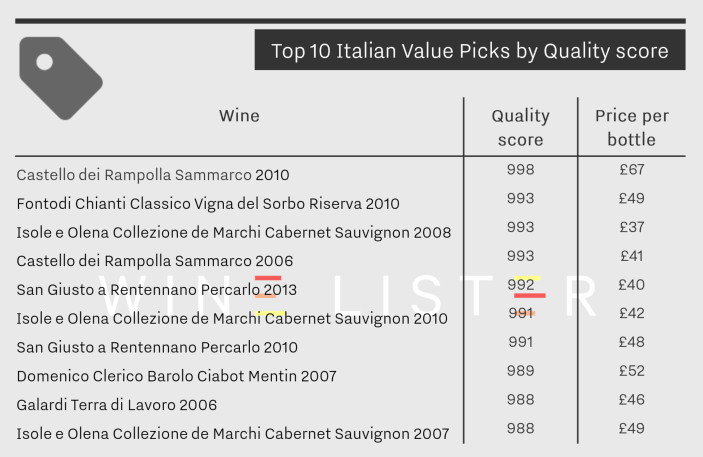 Value Picks are defined as wines with the best quality-to-price ratio, with an emphasis on quality. Of the Tuscan entries, only one is a DOCG – the Chianti Classico Vigna del Sorbo Riserva 2010 from Fontodi. The others are IGT, or 'Super Tuscan', such as Castello dei Rampolla Sammarco 2006 and 2010, and San Giusto a Rentannano Percarlo 2010 and 2013.
On average, Super Tuscan Value Picks cost £26 per bottle, and achieve Quality scores of 864. Meanwhile Super Tuscan Buzz Brands cost six times as much for the for an average Quality score of 889.
Whether Tuscany's classification system will be able to define a true quality hierarchy in time is not clear. In the meantime, Wine Lister's scoring system sheds some light on where the real value of Tuscany lies.
Also featured: Isole e Olena Collezione de Marchi Cabernet Sauvignon; Domenico Clerico Barolo Ciabot Mentin; Galardi Terra di Lavoro