France's 50 best winemakers: Domaine Danjou-Banessy's Benoît and Sébastien Danjou
Owners and winemakers of their family estate in Roussillon: "In their finesse and their personality our wines are like women".
For the 28th interview in Le Figaro Vin's series we pay our first visit to Roussillon to meet the Danjou brothers, Benoît and Sébastien, #24. Domaine Danjou-Banessy, in Espira-de-l'Agly, is poetically situated between the precipitous slopes of the Pyrenees and the foothills of the Corbières. The estate is home to several generations of vines between 15 and 120 years old, spread over a mosaic of soils that put the Climats of Burgundy in the shade.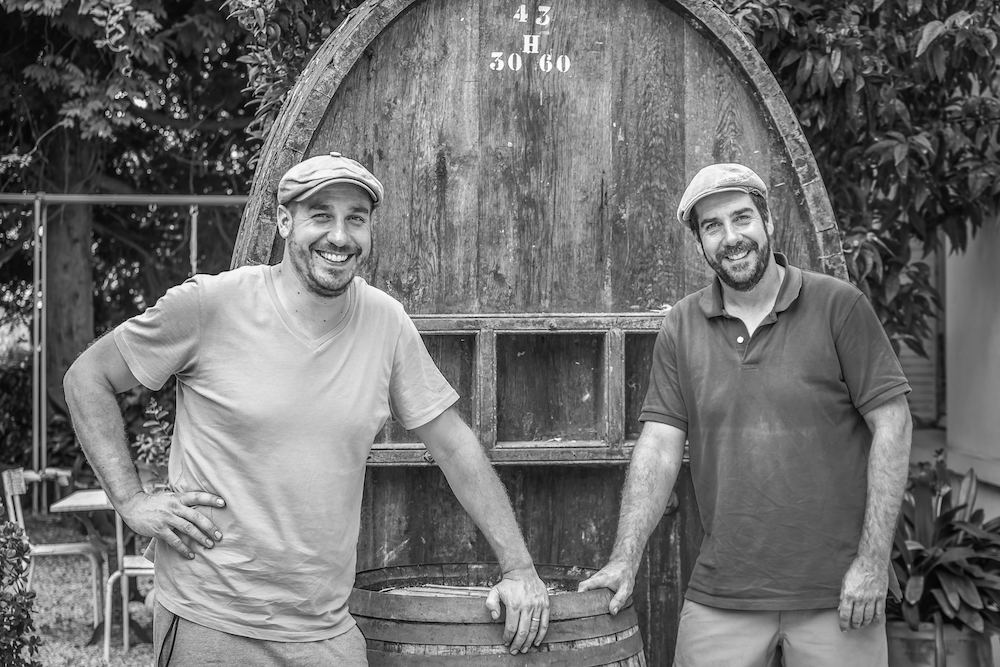 This is a family history that has skipped a generation. Artisans and farmers in their souls, Benoît and Sébastien Danjou joined forces to take over their grandfather's 32 hectares of vines, surrounded by 20 hectares of woodland, forest, and moor. As Sébastien made clear, although their grandfather had always treated the land and nature with respect, "the estate was showing signs of serious neglect". For all the charm of its hundred-year-old vines, their productivity had steadily declined. "We have kept the old vines in good condition," added Sébastien, "while cutting out all forms of aggressive intervention". Now certified organic, and cultivating an area reduced to 20 hectares, the two brothers produce magnificent Grenaches, Carignans, Muscats, and other southern grape varieties, and remain unwavering in their refusal to rest on their laurels. They are two of the most talented winemakers in Roussillon.
Le Figaro Vin: How does it feel to be crowned a winemaking champion?
Sébastien and Benoît Danjou: We are delighted, but being champions is not core to our philosophy. We don't want to be famous, we just want recognition, above all from our peers. We are not looking to make the best wine in the world.
What is your greatest source of pride?
To have managed to carry on working in the simplest way possible, with the mindset of artisans and peasants. The latter were looked down on, unjustifiably, and we are determined to stick with this approach, working exclusively with what we produce on the estate, without buying any grapes in.
Have you been training for long?
Since childhood. We haven't had any academic training. And we know that an entire lifetime of training isn't enough – there is always something new to learn.
Who is your mentor?
Surprisingly we have never had one. We spent ten years overhauling a family estate and never had the time to check out what was going on around us, either locally or further afield. Without a mentor, we had to learn from our mistakes. Since we became established we have opened our minds through a number of visits to estates where we have found common ground or, conversely, fundamental differences in approach.
Is wine a team sport?
Absolutely. Our team is very small but essential.
What is the key to making a good wine? The terroir or the winemaker?
The terroir, without any reservation, and we try to express it as precisely as we can.
To what do you owe your success?
To numerous encounters which have helped spread the word about our wines. We are regularly classified in the natural wine category, although we don't claim any affiliation. We do feel a connection to it, but it's become a kind of compartment, with an increasingly fuzzy definition, in which we feel less and less at home. It's true that natural wines are proliferating, and that's a good thing, but plenty end up down the drain!
Is your family proud of you?
Yes, although none of them would ever say so.
Your favourite colour? 
Let's say not too white, as that suggests the need for clarification, and not too red, as that indicates excessive extraction.
Your favourite grape variety?
Carignan, which is a grape variety for the future and one that has been widely disparaged for its rusticity. It has just been poorly understood. Carignan is a late variety, well-adapted to climate change. We would agree that it is hardy, from a physiological perspective, but it has a lovely acidity. It's the Roussillon grape variety that deserves wider recognition, whether as Carignan Blanc, Gris, or Noir.
Your favourite wine?
For me (Sébastien, ed.) it's Estaca, and for my brother Espurna. We are deeply attached to all our wines, but these two are made from very old vines and we feel indebted to those who worked them before us. They have been through more than 100 prunings and we are full of admiration and respect for their longevity.
Your favourite vintage?
2020, a really complete vintage.
If your wine was a person, who would it be?
We hope that our wine resembles Roussillon, and we are always saying that in their finesse and their personality, our wines are like women. They don't parade their muscles; they aren't show animals with broad shoulders!
What are the best circumstances in which to taste your wine?
In company, in any number of situations. A friend likes to tell us that there are no great wines, just great bottles. A bottle is always the coming together of a time, a place, and people, whether previously acquainted or not.
Who is your strongest competition?
This year we have had quite a struggle with the climate, but we have a great deal of respect for it.
Which competition do you fear the most?
We have some problems with water, especially in the summer of course, but no particular time is really more testing than others. Here in the south we are not afraid of summer drought.
For what price would you be prepared to sell your estate?
We couldn't put a price on it. We appreciate, nevertheless, that vineyards are subject to major speculation. However, that is not such a bad thing since it's reassuring to know that our work has a tangible value, even if the speculation sometimes verges on the ridiculous.
What is your greatest trophy?
We still have plenty of room to improve. We are satisfied but never complacent. That's what drives us on a daily basis.
Who would be your ideal successor on the podium?
We would be happy for our children to take over, but they are still young. This job is a true vocation, and we are not going to push them. We would like them to share the same values. Passing the baton is something fundamental and we won't indulge in hypotheticals. Winegrowing is transgenerational and we have to accept that each generation will have a different way of doing things, but we would like to hand the estate on to people who have truly understood our work.