France's 50 best winemakers: Château Bélair-Monange's Édouard Moueix
Co-owner and winemaker of his Saint-Émilion estate: "Wine is such a complex and sophisticated product that you cannot just reduce it to a comment".
For the 25th interview in Le Figaro Vin's series we stay in Bordeaux to meet Édouard Moueix, #26, third generation winemaker of the renowned Moueix family and co-owner, with his father Christian, of Château Bélair-Monange in Saint-Émilion and Château La Fleur-Pétrus in Pomerol. Here he shares his insight into the profession that inspires him.
Édouard Moueix is the grandson of the legendary Jean-Pierre Moueix, who spotted the potential of the Pomerol appellation before it became famous and began to acquire estates there from 1950 on. It all started with Château La Fleur-Pétrus, followed by Château Trotanoy in 1953, with Château Magdelaine, in neighbouring Saint-Émilion, picked up in 1952. The highlight, of course, would be the acquisition of Petrus. Édouard's father, Christian Moueix, was responsible for 38 vintages of Petrus before the estate was inherited by his brother; today Petrus is managed by Édouard's cousin. At the same time as running Petrus, Christian extended the family's holdings, not least through the acquisition of Château Hosanna in Pomerol in 1999.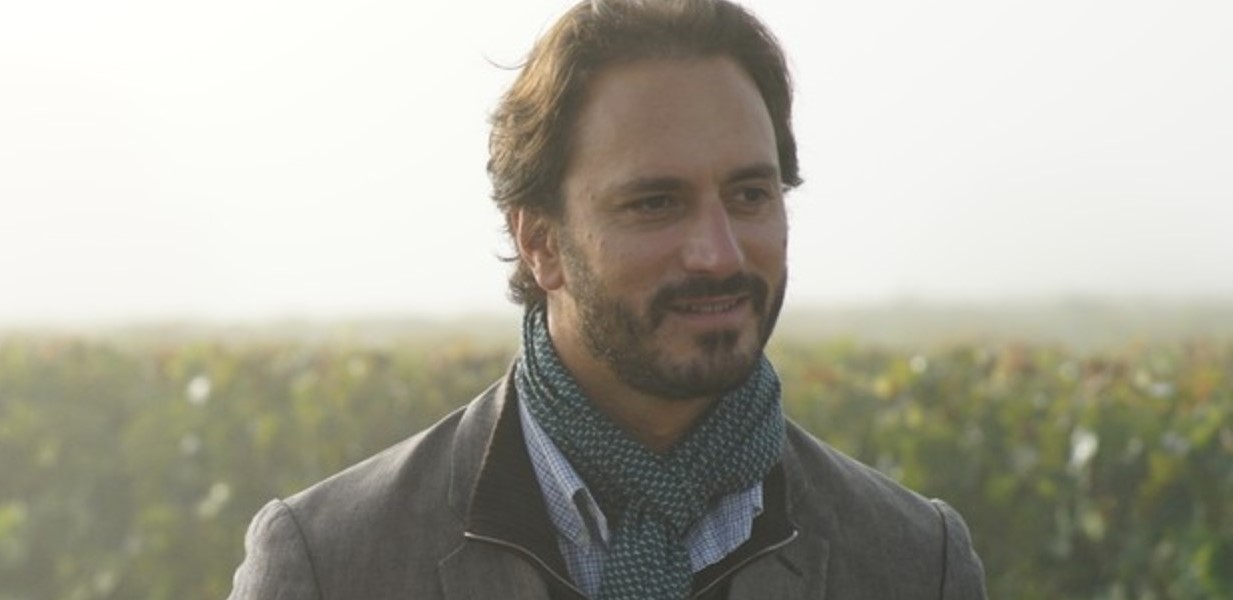 Hard-working, dedicated, and tenacious, Édouard embodies the third generation of the lineage, working alongside his father since 2003. Deeply in love with his vocation, Édouard acquired Château Bélair with his father in 2008, and played a key part in the merger of Château Bélair and Château Magdelaine, thereby creating Château Bélair-Monange, Premier Grand Cru Classé B, where he now lives with his wife and two children. This June, Édouard and his father unveiled an imposing new cellar, a major construction project designed by the renowned architects, Jacques Herzog and Pierre de Meuron.
Le Figaro Vin: How does it feel to be crowned a winemaking champion?
Edouard Moueix: I certainly don't think of myself as a champion. Instead, I see myself more as the trainer of wines that will, one day, become great champions themselves.
Have you been training for long?
In a family business like ours, education and vocational training are pretty much the same thing. Without being aware of it, I have been training since my earliest childhood, apart from a few inevitable breaks which, in turn, enabled me to return to the profession with all the more passion.
Who is your mentor?
My grandparents and my parents, and more specifically my father with whom I work every day. Then there are all our other colleagues as well: we don't take decisions before reaching agreement with our team.
Is wine a team sport?
It goes without saying. I see myself as the team captain, not as the coach. We support each other on the field, we play as a team, and we overcome the challenges that confront us by sticking together.
What is the key to making a good wine? The terroir or the winemaker?
They are completely inseparable. The key thing is to strive for excellence at every stage. If I must choose between the two, I would say that you need a great terroir to make a good wine, but to get the best out of it you need good winemakers.
To what do you owe your success?
In my view there is no such thing as success in our profession because you have to start afresh with every vintage and the rules of the game change every year, even during the year. You need a steely resilience, which is a winemaker's primary attribute. Rather than talk of success in the sense of "winning the cup" at the end of a tournament, I prefer to focus on recognition for the product and the work. Success is bringing home a vintage. If a winemaker starts thinking he has succeeded, he is on the brink of retirement!
Is your family proud of you?
I know that my children are proud of me. I hope that my wife is proud of me. As for my father, we seldom talk about our feelings. What matters is a job well done.
Who is your biggest supporter?
Nature. There are times when that doesn't work out, but nature is the only certainty we have.
Your favourite colour? 
Red, because I am immersed in this world which captivates me. Otherwise it's blue, which represents both a sunny sky and rain – and thus our daily lives.
Your favourite grape variety?
It has to be Merlot. It is delicate and requires a lot of attention, but its main attribute is generosity, and that is what I look for in wines.
Your favourite wine?
The one we are working on right now and for which, on a daily basis, we put all our passion on the line. So it's 2023 and, if I have to pick out a single wine, Bélair-Monange.
Your favourite vintage?
To date, 2010, because it combines power and generosity with exceptional ageing potential.
If your wine was a person, who would it be?
It is like our imaginary ideal, even though we may sometimes be a little disappointed.
What are the best circumstances in which to taste your wine?
Whenever the mood takes you. At any time of the day or night, alone or in the company of people who appreciate and understand what the wine has to offer. Wine is for the benefit of the consumer.
Have you ever thought about chemically enhancing yourself, or your wine? 
No, because that just provides an instant and short-lived effect, whereas we are working for the long term.
For what price would you be prepared to sell your estate?
There would have to be a compelling reason to sell a family estate and, thus far, I haven't encountered one. Only the other day I asked my son, Pierre-Henri, who is 11, what he would like to do when he grows up, and he replied: "At first I want to be a sports coach, and then I want to be a winemaker."
Who is your strongest competition?
My strongest competition is also my best friend, namely the climate. It is a friend to the extent of its generosity.
Which competition do you dread the most?
I worry most of all about the simplification of communications, which is unavoidable these days because of social networks and the like. Wine is such a complex and sophisticated product that you cannot just reduce it to a comment, or a photo, or a rating.
What is your greatest source of pride?
That we have managed to bring Bélair-Monange to the level it enjoys today, while overcoming all the challenges we faced, such as the quarry which was on the brink of collapse when we arrived here. And we took a bold gamble when we went ahead and merged the two vineyards of Magdelaine and Bélair. More recently, there is the construction of our new cellar which, I hope, will provide the ideal setting for us to produce the finest possible wines. Finally, more broadly, there is our high level of consumer confidence: it is the greatest trophy we could have hoped to win.
What has been your most innovative strategy in the vineyard and in the cellar?
We have ever more innovations at our disposal, and we need to be able to use them without losing our innate peasant nous and, above all, our patience. Here at Bélair-Monange we have performed the labours of Hercules in a very short time, albeit a very short time that has taken 15 years! We have to give nature the time to adapt and to express itself.
Who would be your ideal successor on the podium?
A member of my family. Were it to be the next in line purely on merit, I would suggest Boris Champy, our former oenologist at Dominus (a Moueix family estate in the Napa Valley, ed.). He took on a major challenge, building up his vineyard in Burgundy pretty much from scratch. He has an innovative approach, taking a gamble on the climate. I think he deserves our very close attention.