France's 50 best winemakers: Château de Beaucastel's César Perrin
Fifth-generation winemaker of this renowned family estate: "My first internship supervisor was Aubert de Villaine, of Domaine Romanée-Conti"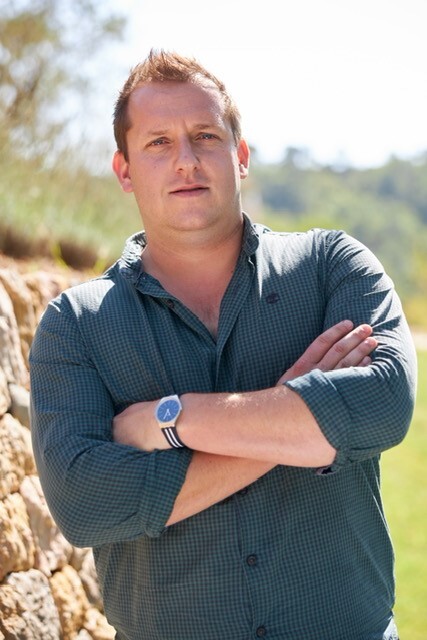 For the 16th interview in Le Figaro Vin's series we head south down the Rhône Valley to one of its finest appellations, Châteauneuf du Pape, where we meet César Perrin, #35. Vintage after vintage he and his family devote themselves to their labours with total commitment.
An Eden in the Rhône Valley, surrounded by hills, vines, and olive trees, Château de Beaucastel is widely recognised as one of the most inspiring estates in Châteauneuf du Pape. While its origins date back to the 16th century, it was in the early 1900s that Pierre Perrin took it over. His son Jacques proved to be a true master of the winemaking craft, capable of taming the wilfulness of Grenache, while his innovative spirit led to the estate's early adoption of biodynamic viticulture at the start of the 1970s. Today César is part of the fifth generation to carry the torch, alongside eight other members of his family, made up of his parents, uncles, brothers, and cousins. Through each successive vintage we have found ourselves utterly enchanted by the supple grace of their reds, perfectly balanced between the intensity of the fruit, the smoothness of the tannins, and an aromatic complexity which just keeps on growing deeper.
Le Figaro Vin: How does it feel to be crowned a winemaking champion?
César Perrin: I don't think of myself as a champion. We are, more than anything, champions for our generation, continuing the achievements of our parents, grandparents, and great-grandparents before us. We have to be champions in preserving and passing on our inheritance, for we are all just passing through. It is always gratifying to know that our wines are tasted all around the world.
Have you been training for long?
Winemaking is a vocation, so we all devote a great deal of time to it, much to the detriment of our families. We train every day from a very young age. Whether in the cellar, among all the smells, or playing Le Nez du Vin and trying to recognise the fragrances, it is a little like The Drops of God. Already with my daughters, aged three and two, we taste different fruits, such as unripe cherries.
Who is your mentor?
I would say my father, who initiated us. Apart from him it would have to be my first internship supervisor, Aubert de Villaine, in 2008. He told me something that has always stuck with me: "Here at Romanée-Conti, no matter what your task is, whether it takes you an hour, or a day, or a month, you have to do it perfectly." Ever since, I have tried to do my best on a daily basis.
Is wine a team sport?
It is for me, but most importantly wine is made to be shared and is, in that respect, a team sport. Wine is, above all, a moment for sharing, a shared emotion. You can go fast on your own, but together you go further.
What is the key to making a good wine? The terroir or the winemaker?
A great wine requires four elements: the terroir, the vine selected for planting, the climate that supports it, and the man who tends that vine. It is a combination of the four.
To what do you owe your success?
To my grandfather Jacques and my grandmother Marguerite, who turned Beaucastel into a jewel. They were pioneers, going organic in the 1950s and biodynamic in the 1970s. In rejecting the incursions of chemistry they were true visionaries.
Is your family proud of you?
I hope so. In any case, that is the great benefit of working as a family: we are very candid with each other and there is a real honesty between us. That only adds to the pressure and makes it even more imperative that we ensure our family can be proud to represent our wines.
Who is your biggest supporter?
Château de Beaucastel Châteauneuf-du-Pape Hommage à Jacques Perrin, which is our finest wine.
Your favourite colour? 
Red.
Your favourite grape variety?
Mourvèdre. My grandfather was very fond of it. The grape variety was introduced to Beaucastel in the early 1930s. My grandfather went to school with Lucien Peyraud of Domaine Tempier, which is still, in my view, the greatest of the Bandols.  I have noticed that the great Bandol wines were always made in the northernmost part of that appellation, while here in Châteauneuf we are at the northern boundary of our appellation. That explains why we brought Mourvèdre, which is an archetypal Bandol grape variety, to our own terroirs.
Your favourite wine?
Our whites. We have relatively very few of them, only eight to ten per cent of our production. But our Roussanne Vieilles Vignes is my favourite.
Your favourite vintage?
My first, 2012.
If your wine was a person, who would it be?
It would be a countryman.
What are the best circumstances in which to taste your wine?
With friends.
Have you ever thought about chemically enhancing yourself, or your wine? 
No, quite the opposite, we have to preserve the distinctive quality of each vintage, and take what nature gives us. Nature is not always congenial, but it is what it is.
For what price would you be prepared to sell your estate?
Everything has a price, apart from family. So the question will never arise, since we want to pass it on forever.
Who is your strongest competition?
The weather.
Which competition do you dread the most?
Pruning the vines, which is such a key moment in their development.
What is your greatest trophy?
My grandmother's pride. When she made family meals, she used to say to us: "When I am gone there is a case of wines with vintages made by me and your grandfather. I want you to open it together." They were old magnums from 1950 and the family drank them together. It was a uniquely special experience.
What has been your most innovative strategy in the vineyard and in the cellar?
That goes back to my grandparents, with their decision to reject chemical products after the war. That has allowed us to maintain a unique ecosystem, with soils that have never been touched by chemicals.
Who would be your ideal successor on the podium?
A member of the Perrin family.