Bordeaux 2022 – part I
Tasting for Le Figaro, Ella Lister and her colleague, Béatrice Delamotte, spent a fortnight in Bordeaux tasting 600 wines en primeur from the extraordinary 2022 vintage – extraordinary in terms of its textures, its accessibility, and its unexpected freshness in such a dry, hot year – that has produced wines with technically high levels of tannin which somehow just melt into the background. We tasted many of the wines together, and sometimes two or three times in order to be able to judge each sample as faithfully as possible.
Château Lafleur
The Vintage
After a difficult 2021 vintage, 2022 is without doubt a contender for the vintage of the century – so far –, showing signs at this early stage of outdoing the magnificent triptych 2018, 2019, and 2020, and will perhaps go down in history as the 1982 has done. After almost 20 years as Technical Director at Château Cos d'Estournel, Dominique Arangoïts expressed this in slightly different words, suggesting that 2022 "might be the wine of my life".
And the most extraordinary thing is that nobody expected it. The vines were subjected to some of the driest conditions on record, as well as above-average temperatures. However, there were no extreme heatwaves (as in 2003), and night-time temperatures remained relatively cool, dropping on average to around 15°c. The vines grew accustomed to the hot, dry conditions early in the growing season, which meant they adapted their consumption and their canopy growth in order to cope with what little water they had, making do with reserves amassed during a rainy 2021, then a top-up in June, and then surviving 50 dry days until mid-August. Refuting any comparison with 2003, Nicolas Audebert, Managing Director of Châteaux Canon and Rauzan-Ségla, uses the analogy of an office worker being cooped up until August, and getting sunburnt going out into the bright sun for the first time, whereas 2022 was a more gradual acclimatisation for the vines.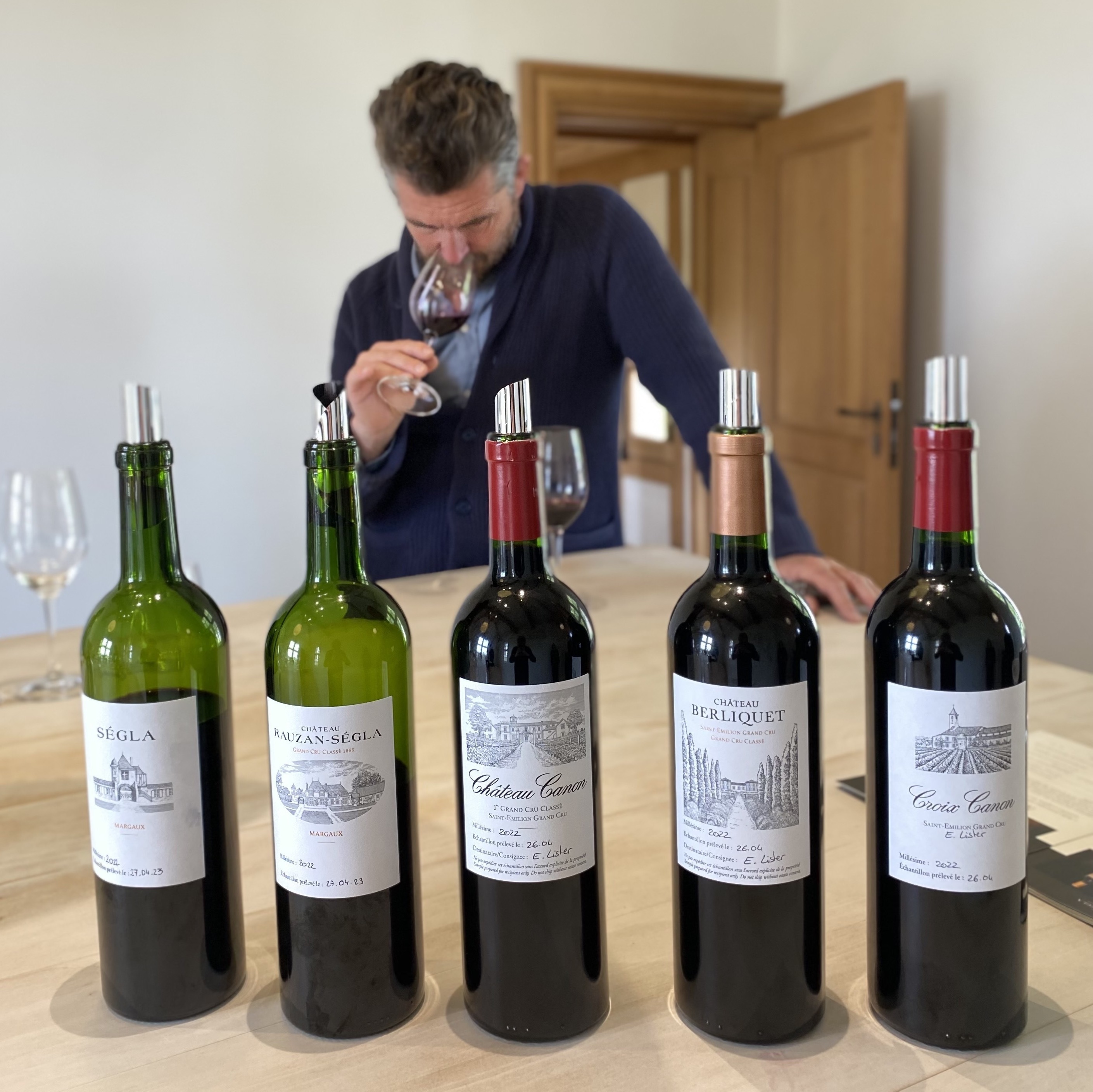 Nicolas Audebert, Managing Director of Châteaux Canon, Rauzan-Ségla and Berliquet
One of the buzzwords of the vintage, cited over and over again in our conversations with owners, winemakers, and consultants in the region was 'resilience'. " The vines, the soils, and the people were resilient," said Omri Ram, Cellar Master and Head of Research and Development at Château Lafleur. That the vines survived the prolonged drought with relative ease and produced such stunning results was a shock to everyone, with many vignerons telling us they were more stressed than vines. Mathieu Cuvelier, owner of Clos Fourtet, found the experience quite stressful, even though "there was little that needed doing – no green harvesting, no de-leafing, very light vinification". Pierre-Olivier Clouet, Technical Director at Château Cheval Blanc concurs, recounting "the vineyard made the wine all by itself".
By early August the pips were already brown, i.e. phenolically ripe, "We had never witnessed that before" explains Frédéric Faye, the Managing Director of Château Figeac. However, the extreme weather conditions did leave room for mistakes for those were not attentive enough to picking dates or not gentle enough with their extraction. So 2022 wasn't a vintage of homogenous quality, but overall, it was a pleasure to taste, and much easier for professional tasters than 2021, where we battled with oak, firm tannins, and biting acidity to assess potential quality. This year, the majority of wines are already so expressive and caressing as to be almost ready to drink, while possessing all the necessary attributes to age well.
"The wonderful thing this year is that every grape variety did rather well," exclaimed Christian Seely, Managing Director of AXA Millésimes, parent company of Château Pichon Baron, explaining that while above all it's a great Cabernet year, "the Merlots are as beautiful as they've ever been". Many wines in 2022 featured a higher proportion of Merlot than usual, as the Cabernet berries were small and yielded less juice. In fact, 2022 sparked lots of positivity around Merlot, with Stéphanie de Boüard-Rivoal, co-owner of Château Angélus, commenting that the vintage shows "Merlot can exist long into the future", contrary to recent concerns about its capacity to stand up to a warmer, drier climate.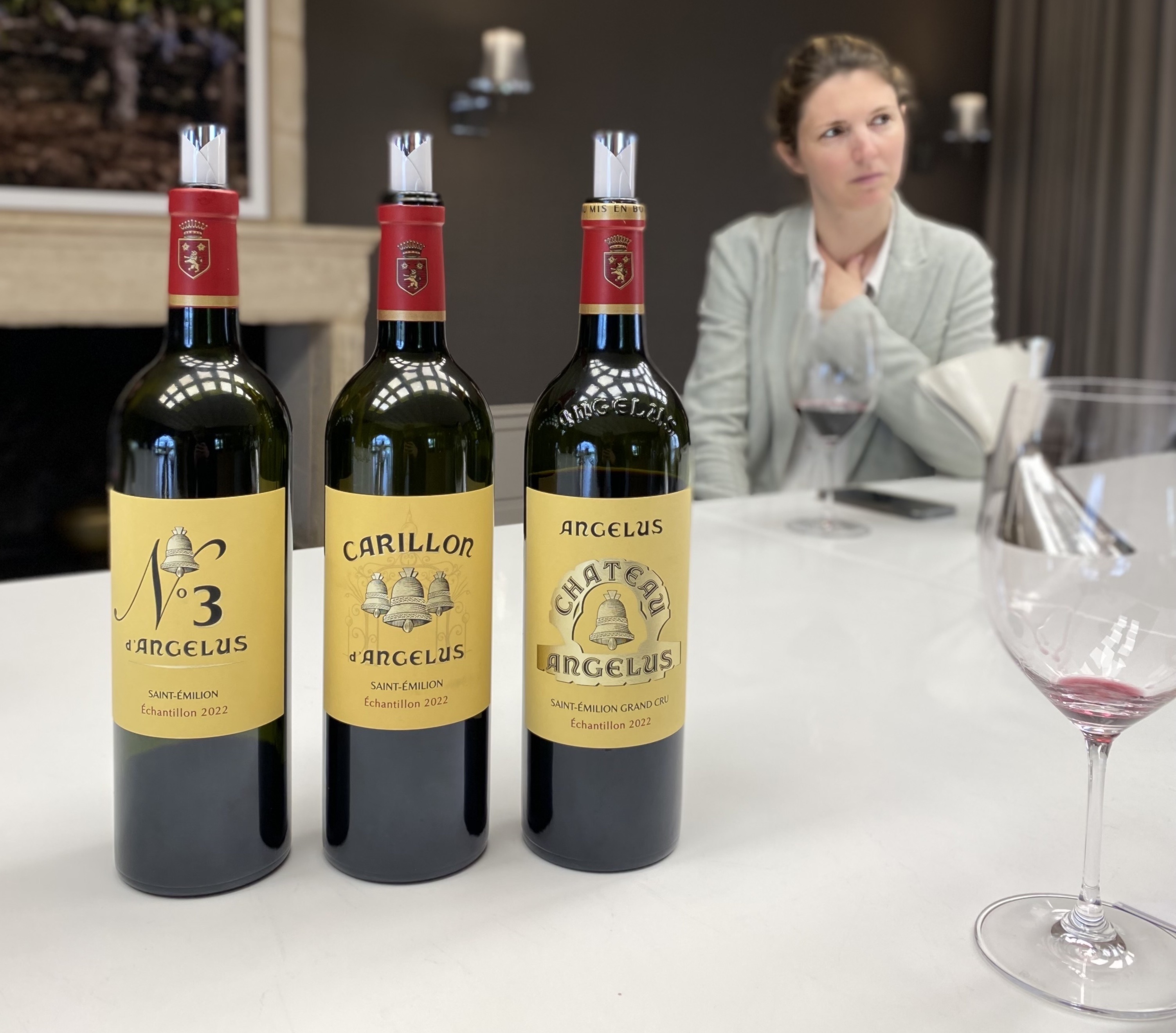 Stéphanie de Boüard-Rivoal, co-owner and CEO of Château Angélus
The Wine
The red wines – the unquestionable winners in 2022 – are dense and concentrated, yet fresh, fruity, floral, and sappy. Above all, the best wines display a range of magical textures from silk and cashmere to duckling feathers, and a common and delightful thread through many of the wines is a vegetal florality reminiscent of the sap of fresh cut flowers. The least successful wines present harsh tannins. The best ones, on the other hand, are so fresh and tender that you would never know they came from such a dry, hot vintage, nor guess the resulting high IPTs and low pHs.
The dry whites, however, found it harder to contend with the vintage, and the low acidity levels can be more apparent than in the red. There are, nonetheless, a handful of successful whites worth looking out for, which possess the best and subtlest exotic notes, a finesse and softness that counteract the richness of the vintage. The sweet wines are very good, if not incredible, rich with delicious botrytis flavours and very high residual sugar levels.
The 2022 vintage is not one with an obviously overperforming appellation or subregion. Left and Right Bank made astonishing wines, and we have been inspired by our tastings to bestow an unprecedented number of potential 100-point scores to the wines. You can discover all eight possibly "perfect" wines, and hundreds more, on the Wine Lister and Figaro Vin  websites now.