France's 50 best winemakers: Patrimonio's Muriel Giudicelli
Founder and first-generation winemaker of Domaine Giudicelli: "Making wine requires serious commitment".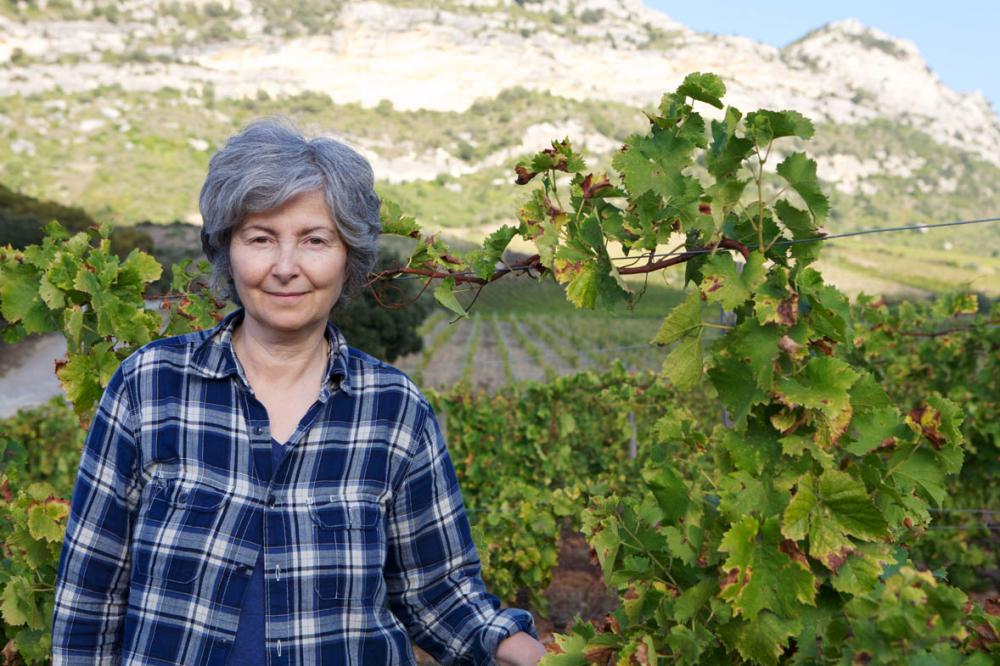 For the fourth in Le Figaro Vin's series, we cross the water to Patrimonio, in Corsica, where Muriel Giudicelli, #47, creates her exquisite island wines. Here she shares her journey as a self-taught winemaker, on land she cherishes with a deeply-felt love.
Le Figaro: How does it feel to be crowned a winemaking champion?
Muriel Giudicelli: I am very proud for my appellation and for raising the profile of Patrimonio. I am a first-generation winemaker in Corsica, not a Corsican by birth. I want to play my part as an ambassador for this splendid terroir.
Have you been training for long?
From the age of thirteen! I have always been in it for the long haul. Wine was a shared family passion, which gave me an early appreciation of it and spared me the messy pitfalls of adolescent drinking.
Who is your mentor?
My parents, who were engaged in a continual tug of war. My father was on team Bordeaux, my mother team Burgundy. So I was the fortunate beneficiary of a double initiation, even if I have to acknowledge that Burgundy won out.
Is wine a team sport?
Yes, absolutely, as embodied in our estate: my husband takes care of the vines while I take care of the wine. And our team is soon going to get bigger, as our children are joining us. That makes me very happy and it will keep our egos in check.
What is the key to making a good wine? The terroir or the winemaker?
The terroir. A great winemaker can make a decent fist of inferior terroir but never a great wine. On the other hand, on good terroir, even a poor winemaker given a fair wind, who sits back and largely lets nature take its course, has a chance of producing something good.
To what do you owe your success?
I was lucky to love cooking, combining the right ingredients with a good sense of taste, without ever following recipes. I use the same process in my cellar. While my daughter is studying cookery, I don't think that studying viticulture and oenology is essential, because you are always having to unlearn what you have learnt. In order to make wine you need to know how to taste, think ahead creatively, and, above all, make the best of what you've got. It all comes down to balance.
Are your parents proud of you?
Yes, very proud. They are great wine lovers. That said, my father is completely partisan. Even when my first efforts at winemaking were dreadful, he was full of praise. My mother, who taught in primary schools, has a discerning palate and strictly objective standards. As a result, she is far harder to please. When she tells me that a wine is "not bad", that's a real compliment.
Your favourite colour? 
Red. Because it's hard to mess up a white wine in Patrimonio.
The king of grape varieties?
Niellucciu (a red grape variety native to Patrimonio, ed.). It has the temperament of a Corsican, so you need to handle it with tact and diplomacy. You must always take pains to understand it. I didn't understand it when I started, so that drinking my wines was truly like scaling your teeth.
Your favourite wine?
A blend of Niellucciu and Sciaccarellu, which comes out in 2024. Its name will be Terra Ros (Red Earth, ed.) because the vines are rooted in red clay soil.
Your favourite vintage?
2016, for both reds and whites.
If your wine was a person, who would it be?
I hope it is like me.
What are the best circumstances in which to taste your wine?
Among friends around a good meal. The psychological factor plays a big part in tasting, perhaps even more than the wine itself.
Have you ever thought about chemically enhancing yourself, or your wine? 
I used additives when I started, not knowing how to vinify. I was all over the place, trying out different concoctions, which is why I want to spare my children from making the same mistakes. It was truly sad, I was hopeless.
For what price would you be prepared to sell your estate?
The question has come up, because there was a long period when my children didn't want to take it on. But we could never bring ourselves to fix a price, because of our visceral attachment to our land. I cannot put a price on it.
Who is your strongest competition in Corsica?
Rather than a competitor, it is someone who has been much more a mentor. Antoine Arena's opinion really matters to me and he was the person who helped me get established. I think that, by now, I have earned his approval, which is a big thing, because he has an overall responsibility for the appellation. I would hate to disappoint him. He is something of a spiritual father to me.
What has been your most innovative strategy in the vineyard and in the cellar?
A battle I won with myself. I had some pretty fixed ideas when I started and didn't believe in temperature regulation. Although I remain convinced that it's a heresy in the case of white wines, I was forced to use it to deal with a micro fungus which affects the vines we use for my reds. This has required maintaining a temperature of around 25°C. I now realise that this has greatly improved the tannin extraction. It has markedly changed the profile of my reds.
Who would be your ideal successor on the podium?
I hope it will be my children. They have learnt that making wine is not just about having fun; it's a serious business, which requires serious commitment. It is also a commitment to the appellation.