On the money: Bordeaux 2021 reds at five different price points
Bordeaux en primeur 2021 had its share of surprises – and challenges – when it came to pricing. Wine Lister examines some of the best offerings from the 2021 vintage at five different price points, to inform those still considering their en primeur purchases this year. (All prices are quoted in-bond per bottle when purchasing by the case).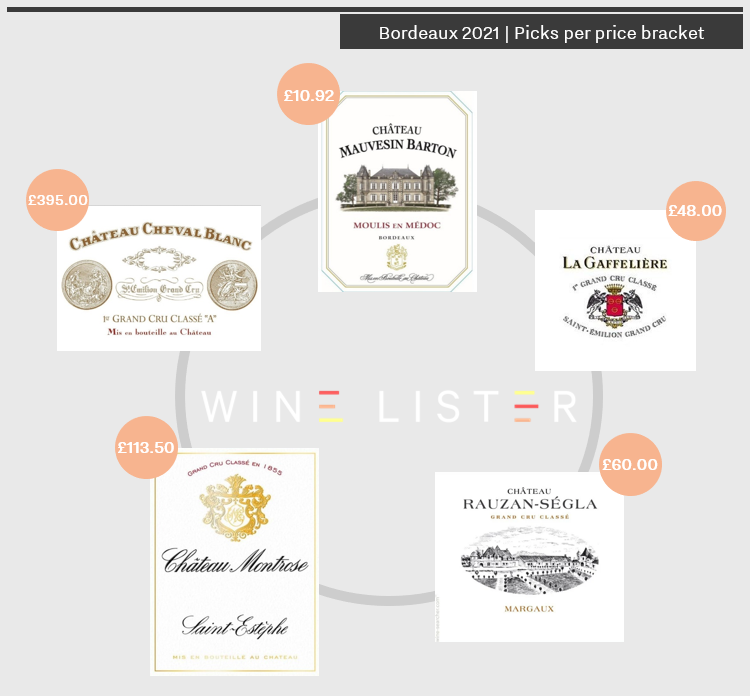 Under £15 – Mauvesin Barton
Owned by the Barton family – whose portfolio also includes Léoville Barton and Langoa Barton – the 2021 vintage from the Mauvesin Barton estate has been described as "well-balanced and surfeit with freshness" by Neal Martin (Vinous). To compensate for the extensive frosts of 2021, the vintage's blend contains more Cabernet than usual. It is the first vintage to be made in Mauvesin Barton's new winery, which is equipped with smaller vats for greater precision, and it shows.  This offering from Moulis-en-Médoc can be purchased for £10.92 per bottle from Justerini & Brooks.
Under £50 – La Gaffelière
One of the star releases of the 2021 en primeur campaign, La Gaffelière is on a continuous upward trajectory. The 2021 vintage received the Saint-Émilion estate's joint-highest ever Wine Lister score, and a score of 95-97 from Antonio Galloni (Vinous). This is a very strong showing from the estate, which features in Part II of Wine Lister's 2022 Bordeaux Study as a quality outperformer – meaning that its 2021 vintage has outpaced its average quality. La Gaffelière 2021 can be purchased from Millésima for £48 per bottle.
Under £75 – Rauzan-Ségla
Nicolas Audebert, Managing Director at Rauzan-Ségla and Canon, told the Wine Lister team that 2021 was "the most stressful and exhausting vintage ever". Strong praise from critics is a testament to the hard work carried out by the estate's team – including the highest amount of intra-parcel zoning ever done in the vineyard, identifying the best lots. Antonio and Neal rated it 94-97 and 94-96 respectively, while James Lawther (for JancisRobinson.com) describes it as "Very well-judged and very Margaux". Rauzan-Ségla 2021 can be bought from Farr Vintners for £60 per bottle.
Under £125 – Montrose
Montrose 2021 marks the first year of organic conversion at the estate. In such a challenging vintage, the Saint-Estèphe estate's Technical Director, Vincent Decup, told Wine Lister, "We have never done so much [in the vineyard]". It receives a score of 94-96 from Ella Lister (for Le Figaro Vin), who notes its "very long and increasingly delicate finish". Montrose 2021 can be purchased from Berry Bros. & Rudd for £113.50 per bottle.
Under £400 – Cheval Blanc
Following last year's en primeur success, Cheval Blanc is once again a standout release in 2021. The estate's Technical Director, Pierre-Olivier Clouet, remarked to the Wine Lister team that "the 2021 vintage was like cooking at low temperature after six years of cooking on a high heat", and "given the choice, every Cheval Blanc team member would choose a case of 2021 for their cellars over 2020". Indeed, the 2021 vintage received even more resoundingly positive reviews from critics than last year. Antonio awards it his joint-top score in 2021 (96-98) and proclaims it "one of the wines of the vintage… Stunning". The Saint-Émilion star is available from IG Wines for £395 per bottle.