Solidarity with Ukraine: Wine Lister and Le Figaro Vin band together
In light of the relentless atrocities taking place in Ukraine, the Wine Lister team joined forces with its parent company, Le Figaro, on May 6th for a fundraising initiative for those impacted by the war.
As we enter the sixth month of conflict, the war in Ukraine remains particularly personal for the Wine Lister team, with our lead developer, Sasha, currently based in Western Ukraine having left his home in Kyiv. Sasha is part of the estimated 7.13 million people (approximately one-third of Ukraine's population) who have been displaced in Ukraine, while a further 6.98 million people have fled to neighbouring countries.
In a bid to support those forced to reach safety and get access to medical care, we have come together to raise funds for Sasha's chosen charity, Ukraine Charity. This London-based organisation was established with the goal of supporting various charitable causes in Ukraine, turning its attention this year to providing humanitarian aid across the country, including the provision of life-saving emergency medical equipment to those affected.
We have embarked on the challenge of collectively covering the distance between Wine Lister's London office and the Ukrainian border (1,882km) by Friday 15th July, with the hope of raising £10,000 for Ukraine Charity. This distance represents the journey that thousands of Ukrainian refugees have been forced to make to reach safety in the United Kingdom, and one that Sasha could previously make with ease to join us in London.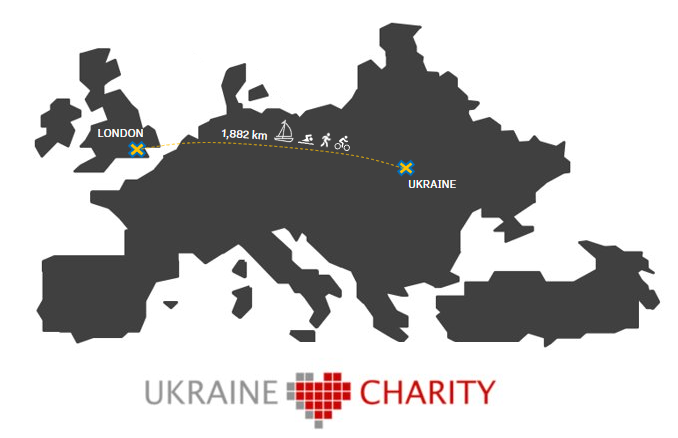 The team's incredible effort to cover the distance from Wine Lister's London office to the city of Lviv, close to the Ukrainian border
Across both Wine Lister and Le Figaro Vin, 12 team members have been running, cycling, swimming, walking, and even sailing at every available opportunity since starting the challenge in May, logging our routes on Strava and tracking our miles on our JustGiving page. Despite a slow start coinciding with the Bordeaux en primeur campaign, we picked up the pace in June and redoubled our efforts for this extremely worthy cause.
We are now proud to have achieved our target distance ahead of our deadline.
We have so far raised £2,107 of our fundraising goal of £10,000. With just two weeks until we donate the final amount, we would be incredibly grateful for any further donations to support the life-changing services and vital aid provided by Ukraine Charity.
Click here to donate and to find out more about the fundraising initiative.