Bordeaux en primeur 2021 – top wines by Wine Lister score
As the Bordeaux en primeur campaign continues, Wine Lister examines the best-quality wines from a challenging vintage (read our vintage report here).
Wine Lister's partner critics' scores are now all in, and with one new addition for the 2021 en primeur campaign: Le Figaro's scores have been added to those of Wine Lister's existing critics (Antonio Galloni and Neal Martin from Vinous, Jancis Robinson, Bettane+Desseauve, and Jeannie Cho-Lee) to create the overarching Wine Lister 100-point score. The top 29 wines of the vintage are shown below.
From a year acknowledged as the most complicated vintage since 2013, 29 wines achieve WL scores of 95 and over, compared to 43 last year. Wine Lister's 100-point score combines normalised scores from Wine Lister's partner critics. For the first time this year, the score also includes ratings from Wine Lister's parent affiliate, Le Figaro Vin.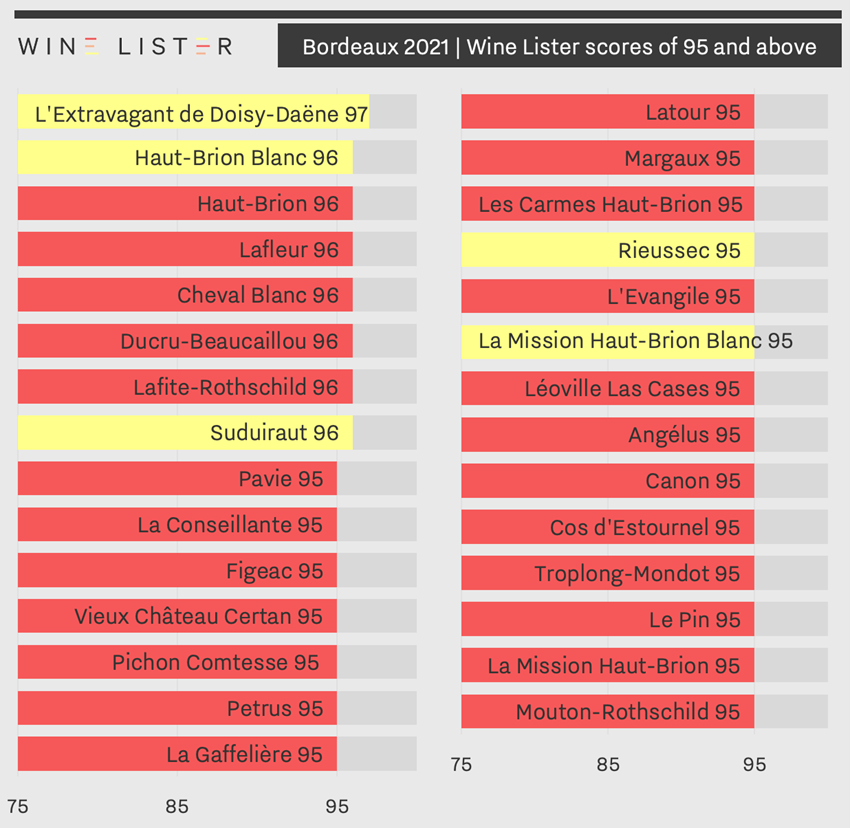 Bordeaux 2021 – Wine Lister scores of 95 and above
In 2021, the top- scoring wine is L'Extravagant de Doisy-Daëne from the Sauternes appellation with a score of 97 points – one point up on its score in 2020 . Two other sweet wines make the top cut – Suduiraut and Rieussec – in a year that has produced beautiful Sauternes and Barsac wines, if very little of them. Indeed, wines from sweet appellations in 2021 show quality overall that is unsurpassed since the 2015 vintage.
These are joined by two dry whites – Haut-Brion Blanc and La Mission Haut-Brion Blanc, earning 96 and 95 points respectively. Haut-Brion's red counterpart and Lafite take an equal lead over fellow first growths, Latour, Margaux, and Mouton in 2021.
Also equalling the impressive score of 96 is super-second, Ducru-Beaucaillou, and left bank darlings, Cheval Blanc and Lafleur (both already released – see our latest release blog for details).
Of the 19 reds earning a score of 95, 11 (or 58%) hail from Saint-Emilion and Pomerol collectively. This is perhaps surprising, given that the vintage is reported as having been more difficult for Merlot than Cabernet Sauvignon. With fewer top-scoring wines than last year, the 2021 vintage is all about terroir and resources, with first growths and renowned right bank stars dominating the list.
However, even top scores are lower than in 2020. In 2020, the highest scoring wine was Chateau Margaux with a Wine Lister score of 98, 10 wines scored 97 points and 14 wines scored 96 points (compared to just one 97-pointer in 2021, six 96-point wines and 22 95-point wines).
That's an average top 29 score of 96.3 in 2020 compared with 95.3 in 2021. That the difference is only one point in the context of such a difficult vintage is surely a reflection of excellent wine making across the region.
Most of the ranking movements are therefore relative, reflecting the fact that scoring 96-97 points in the 2020 vintage was more widespread that in 2021. For example, Suduiraut gains 31 places in 2021 despite also achieving a 96-point rating in 2020. Similarly, Troplong-Mondot and Le Pin are also risers despite their scores remaining unchanged compared to 2020.
One particular success among this is La Gaffelière, which ranks 15th in 2021 with a score of 95, a three point increase on its 2020 score of 92.