Ella Lister's Le Figaro scores are integrated into the Wine Lister 100-point aggregated score
Wine Lister is excited to announce the addition of a new partner critic in time for the Bordeaux 2021 en primeur campaign. Scores from Le Figaro are now included in the 100-point Wine Lister aggregated score, alongside those of existing partner critics (Jancis Robinson, Bettane+Desseauve, Antonio Galloni and Neal Martin from Vinous, Jeannie Cho Lee, and Jasper Morris).
Since Wine Lister's acquisition by Groupe Figaro in 2020, founder and CEO, Ella Lister, has been in charge of tasting for Le Figaro, including Bordeaux as well as other regions such as Burgundy and Champagne, with the support of a panel of expert tasters across these and other French regions*.
Having tasted 380 Bordeaux wines during en primeur, we examine below Ella's top scores for the 2021 vintage.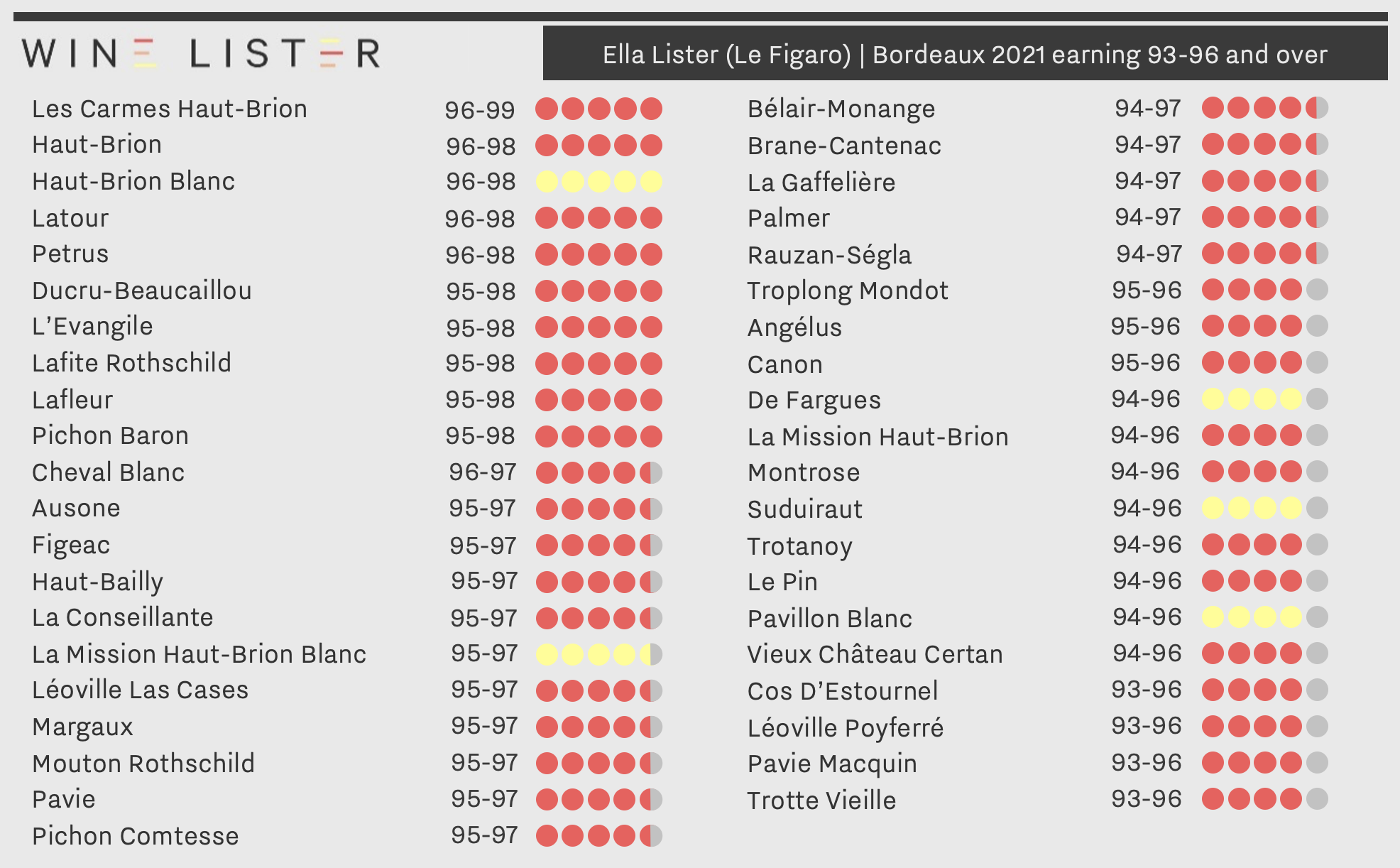 41 wines achieve a score of 93-96 or above. While none receive a full 100-point rating, Les Carmes Haut-Brion comes the closest to perfect, with a potential score of 99.
The 36 reds are otherwise split evenly across both banks, with 17 left bank, and 19 right bank stars. Of first growths, Ella awards the highest scores to Haut-Brion and Latour (96-98), while Lafite receives 95-98, and Margaux and Mouton share a score of 95-97.
Super-seconds Ducru-Beaucaillou and Pichon Baron earn the highest scores of their classification (95-98), while Léoville Las Cases and Pichon Comtesse also fare well, matching Mouton's score of 95-97.
Three dry whites – Haut-Brion Blanc, La Mission Haut-Brion Blanc, and Margaux's Pavillon Blanc appear in Ella's top 41. Two sweet white gems – de Fargues and Suduiraut complete the set of top scorers.
Click here to view and search all Figaro scores on the Wine Lister website.
*including for de Fargues, rated by Figaro journalist Béatrice Delamotte, who also tasted a handful of the other wines in the table above alongside Ella Lister.