Bordeaux en primeur 2021: our view of the vintage
Wine Lister's Founder and CEO, Ella Lister shares her thoughts on Bordeaux's 2021 vintage.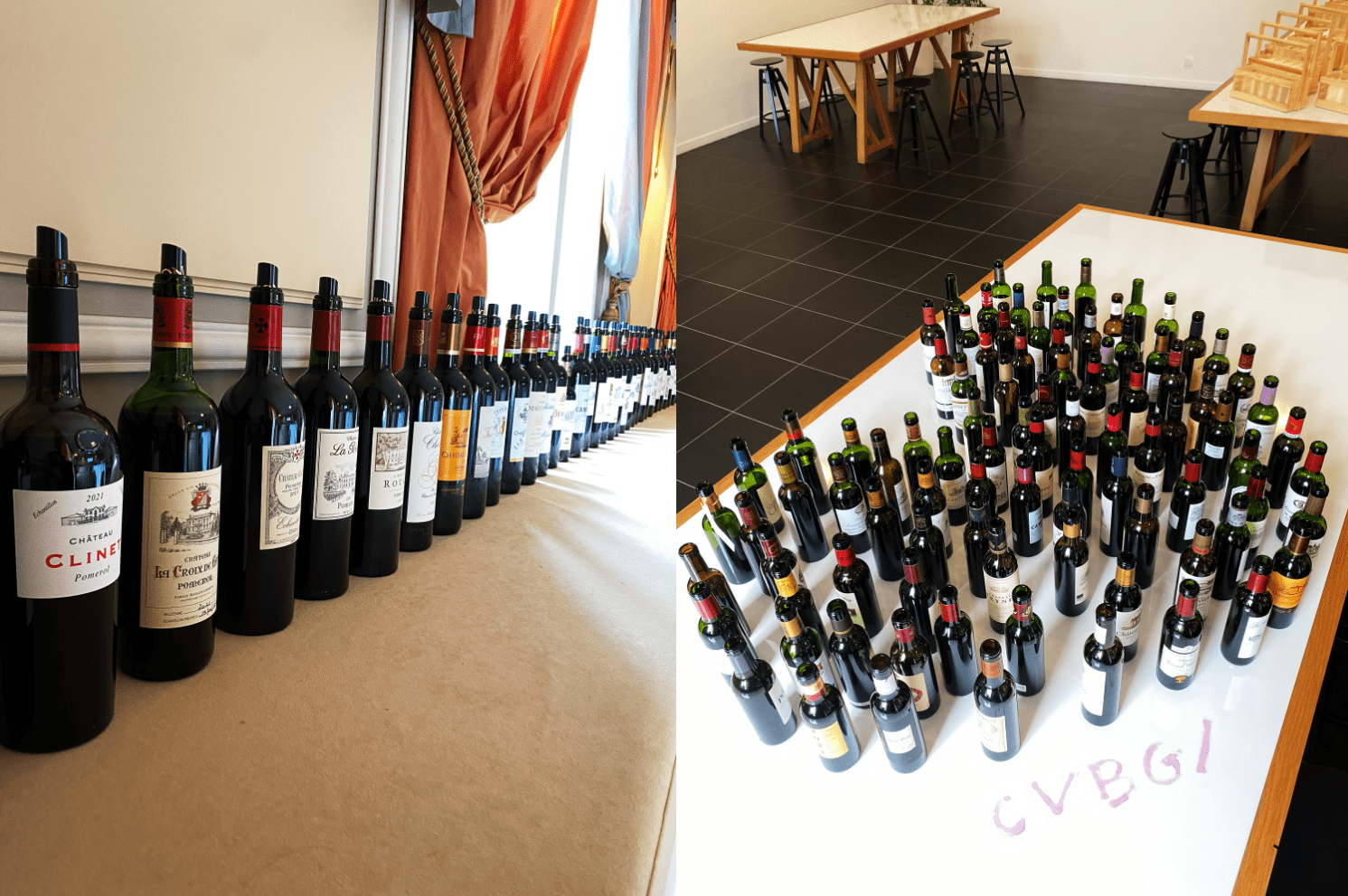 Bordeaux en primeur tastings: UGCB (left) and CVBG (right)
What can we expect from Bordeaux 2021?
The most complicated vintage since 2013, Bordeaux 2021 had everything thrown at it. The vines suffered a barrage of challenges during the growing season, from frost, then mildew, to a lack of the all-important hydric stress during a cool, cloudy summer. "It was a tiring vintage for us, and psychologically difficult" recalls Juliette Couderc, the new technical director at Château L'Evangile.
Bordeaux had been lucky with six relatively clement vintages in row, and en primeur tasters had been spoiled – especially with the trio of 2018, 2019, and 2020. Tasting more than 350 wines from the 2021 vintage in late April, we were reminded of en primeur tastings of old – the art of seeing through the wood, the hard tannins, the searing acidity, and attempting to form an idea of the wine's future potential. And potential there is, if much less widespread than in the last three years. Buying decisions will need to be made carefully, and the critics' views will be more important than in recent vintages blessed with high quality across the board.
Vinegrowing and winemaking have come on even in nine years, with know-how and tools at the disposal of producers that they didn't necessarily have in 2013. Furthermore, 2021 had a saving grace – an unusually long growing season, beginning with early bud break, around the beginning of April, and ending with harvest dates running well into October, thanks to an Indian summer that finally provided some much-needed sunshine, with the sunniest October since 1991. Pierre-Olivier Clouet, technical director of Château Cheval Blanc, referred to a vintage "slow-cooked at a low temperature" following six years of cooking "on a high heat".
The vintage was more challenging for merlot than for cabernet (franc or sauvignon), as the grape variety is more susceptible to mildew. Being an early ripener, merlot also missed out on the best of the Indian summer, whereas much cabernet benefitted from a warm and sunny early October, where vignerons dared to ignore the pessimistic weather forecasts for the weekend of 3rd and 4th October and hadn't already rushed to pick before the non-existent rain. "The weather forecast was predicting an apocalypse," recalls Vincent Millet, managing director of Château Calon-Ségur in Saint-Estèphe, but the cabernet grapes weren't ready, so he waited, "and in the end there was no rain at all, and then a good stint of sunshine". Further south in Margaux, Alexis Leven-Mentzelopoulos, co-owner of Château Margaux, echoes, "It was out of the question to pick unripe grapes ".
At Château Ducru-Beaucaillou in Saint-Julien, owner Bruno Borie says the 2021 vintage is an "ode to cabernet sauvignon, which was much more resistant than merlot at every step." However, cabernet's upper hand in 2021 does not neatly translate into a left-bank vintage as might be expected. The right bank has its fair share of hits, and, bizarrely, fewer misses.
The watchword in 2021 is heterogeneous, and quality is undoubtedly very patchy in 2021, ranging from the seriously disappointing to the truly exceptional (though we are not in 100-point territory in this vintage). This makes it a hugely interesting en primeur campaign to taste, to sell, and to buy. It is a year where châteaux had a real opportunity to stand out from the pack, usually thanks to outstanding terroir and the application of significant resources – both financial and human. "It was viticulture seven days a week," explains Jean-Emmanuel Danjoy, estates manager of the Château Mouton-Rothschild stable, who, like many others, underlined the vital importance of the team's unstinting dedication. It was necessary to adapt tirelessly in the vineyard and in the winery; to accept that the fruit coming in at the end of the season wasn't that of the three previous vintages, and be willing to throw out tried and tested recipes to make a different kind of wine, suited to the vintage. "We didn't go looking for density that simply wasn't there", underlines Vincent Decup, technical director at Château Montrose in Saint-Estèphe. Down the road at Cos d'Estournel, Dominique Arangoïts points out "it's an opportunity for wine lovers to really uncover the terroir, because the wines are stripped right back."
The biggest challenges were to achieve a full enough body and to avoid vegetal (pyrazine) notes, without over-extracting hard, green tannins or being over-reliant on new wood, which the more delicate fruit couldn't absorb. Many of the more successful properties used gentler extraction techniques than ever, and added a significant proportion of press wine to fill out the mid-palate. Chaptalisation was widely resorted to for the first time since 2013. The 2021 vintage nonetheless offers refreshingly modest alcohol levels – around 13% rather than the 15% or 15.5% which had become ubiquitous in recent years – potentially a key selling point with consumers.
Generalisations are not easy (or wise) in a vintage of such disparity of quality and style, but with few exceptions, the red wines tend to come in a lighter, fresher vein, recalling the classical clarets of the 1980s and 1990s. "It's a wine style from the 80s, but with ripe grapes," muses Aymeric de Gironde, president of Château Troplong-Mondot. The fruit is more red than black, with lots of raspberry and even some rhubarb. The vintage is less opulently floral than the last three, and floral notes are more often on a slightly more vegetal spectrum – iris, violet and lily. The worst wines have hollow mid-palates and searing acidity, and often an overdose of oak. The very best are so pure and soothing that you would never imagine the sweat and tears that went into making them. For Olivier Gautrat, maître de chai at Château L'Eglise Clinet, it was "a difficult and exhausting vintage. We've been out of the habit of less explosive flavour in the grapes, so we were really scared, but the more we taste, the more we find real charm in the 2021s. "
The dry whites are pure and fresh, and the best have a sumptuous complexity. The sweet whites are remarkable, but produced in tiny quantities, if at all. For this reason Christian Seely describes Château Suduiraut 2021 as "tragically beautiful", with yields of less than 1 hl/ha. What the reds, whites, and sweet wines all share is high acidity, which will likely result in long ageing capacity. We look forward to tasting the wines again in bottle in a couple of years to confirm that!
350+ tasting notes will be published (in French) at Le Figaro Vin next week. In the meantime, watch this space for part II of this blog series, with a focus on the Bordeaux market, to be published next week. To track the impending Bordeaux en primeur releases, click here to discover our en primeur page.