Neal Martin's top Burgundy 2020 scores
The first of Wine Lister's partner critics to release scores for the latest Burgundy vintage, Neal Martin's assessment (for Vinous) provides initial insight into some of the top en primeur picks in 2020.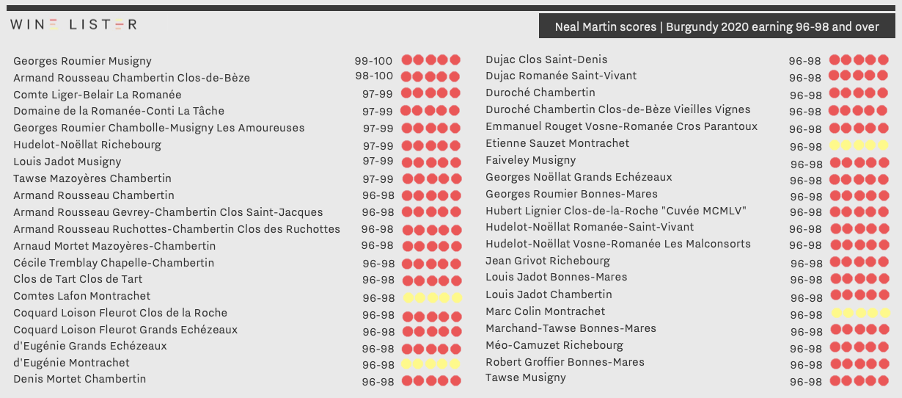 What do we know about Burgundy's 2020 vintage so far?
2020 will be remembered as a year that saw some of the earliest harvest dates ever recorded in Burgundy, with several of the region's producers picking as early as 12th August. Though following the pattern of recent vintages marked by warm and dry growing seasons, the threat of drought was partly alleviated by significant rainfall during the winter months through to spring, which ensured water reserves were replenished ahead of the heat. Some Pinot Noir producers nonetheless saw a drop in yields, particularly on sites with poorer soils, and thus restricted water retention ability.
Dry conditions during ripening minimised the threat of disease and mildew, which was valuable for the healthy growth of red and white grapes. Despite the earlier harvest, the grapes saw excellent ripening and phenolic development, while high levels of evaporation concentrated sugars, flavours, and acidity.
The top-scorers
Compared to the 19 wines that Neal Martin awarded 96-98 and above last year, there are an impressive 40 wines within the same parameter for the 2020 vintage. While there were no wines that earned a potential perfect score in 2019, Georges Roumier's Musigny and Armand Rousseau's Chambertin Clos-de-Bèze receive 99-100 and 98-100 points respectively in 2020.  Neal Martin notes that the top-scoring reds of the vintage all share an excellent acidity, which "lends the 2020s a sense of brightness".
Also faring notably well, Comte Liger-Belair's La Romanée, Domaine de la Romanée-Conti's La Tâche, Georges Roumier's Chambolle-Musigny Les Amoureuses, Hudelot-Noëllat's Richebourg, Louis Jadot's Musigny, and Tawse's Mazoyères Chambertin earn scores of 97-99.
Whites worth trying
Four whites hailing from Montrachet appear on the list, with offerings from Comtes Lafon, Domaine d'Eugénie, Etienne Sauzet, and Marc Colin each earning a score of 96-98. Neal Martin describes mineral notes across each, having written that this was one of the great attributes of the top whites in the vintage – especially across those grown on more "calcareous soils" akin to that which Montrachet boasts. Following the trend of white burgundy producers using less new oak, Marc Colin uses only old oak barrels for the first time in this vintage, while Comtes Lafon matured Montrachet in one-third new oak instead of 100%.
Discover Neal Martin's full list of Burgundy 2020 scores here. Watch this space for further Burgundy 2020 score updates from Wine Lister's partner critics, JancisRobinson.com, and specialist Burgundy critic, Jasper Morris MW.