How does climate change affect fine wine production?
Change and adaptation on the banks of Bordeaux
Unpicking the challenges of the 2020 growing season, we talk to seven top Bordeaux producers to understand more about how climate change continues to impact the region's fine wine industry.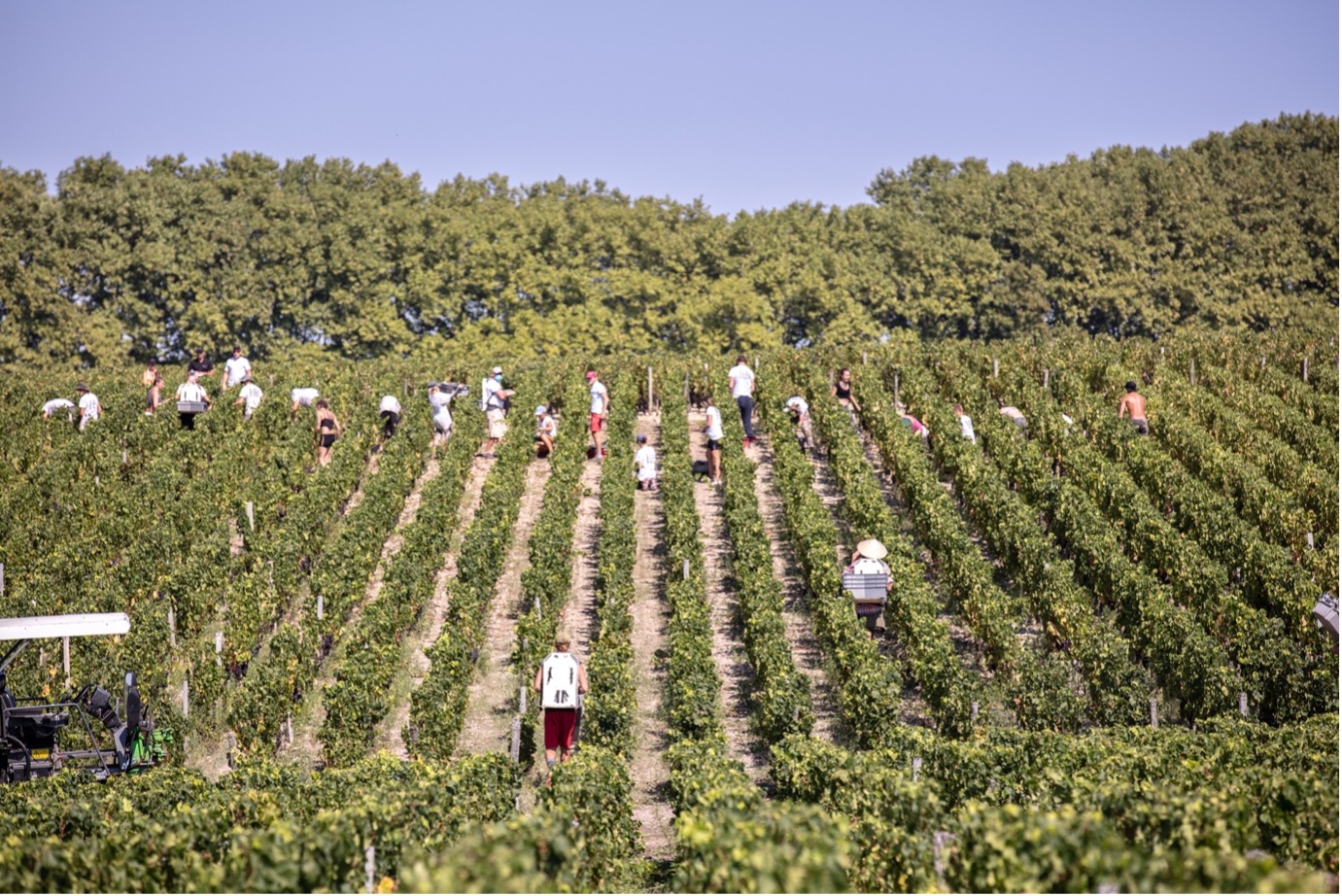 Haut-Bailly harvest under the scorching September sun
How is Bordeaux adapting to climate change?
Bordeaux has been no stranger to extreme climatic conditions in recent years, culminating in what some may describe as climatological confusion for many châteaux last year. While witnessing 15% more rainfall between March and September 2020 than its 30-year average for this period, Bordeaux also saw 54 days of excessive drought during the summer. It would appear that now, more than ever, adaptation and innovation are key to the successes of the region's releases.
Dealing with drought
Extensive dry spells have become a common phenomenon in Bordeaux, with Margaux's Business Development Director, Alexis Leven-Mentzelopoulos, sharing with us his concerns that the vines "could end up with wilting" leaves, leading to "a loss in terms of yields but also eventually in terms of quality". Despite also being one of the wettest years on record, 2020 was no exception with its pattern of heatwaves and ensuing drought.
Saint-Émilion's Cheval Blanc experienced its driest vintage since 1959, though Technical Director Pierre-Olivier Clouet explains the humid spring fortunately allowed the vines to accumulate "water and nutrients much needed later in the season". He elaborates that despite the drought, this allowed vines to "grow calmly and homogenously".
Across the Gironde, Haut-Bailly's Véronique Sanders tells us that "work in the vineyards has evolved enormously", and that "the fundamental process of pruning has been re-examined" as part of a wider series of viticultural practices that have been changed to adapt to climate change, enabling Haut-Bailly to make the most out of the varied conditions.
Coping with concentration
Several properties such as Larrivet Haut-Brion saw small and concentrated berries as a result of high temperatures and persistent drought in 2020. The estate's Cellar Master, Charlotte Mignon tells us that it has had to adapt its winemaking in recent years, opting for punching down versus pumping over in order "to control light and elegant extractions" in such hot years.
Alexis similarly tells us of Margaux's recent investment in more highly advanced phenolic analysis equipment, which reports the levels of tannin and pigment in the individually-vinified lots and allows the team to "precisely plan extraction with lower temperatures, fewer and gentler pump-overs, and limited maceration time".
Increasingly concentrated grapes have also reduced yields across the region, as told to us by Calon Ségur's Managing Director, Vincent Millet, whose volumes in 2020 fell to 33hl/ha (down from 40hl/ha in 2019) due to the heat.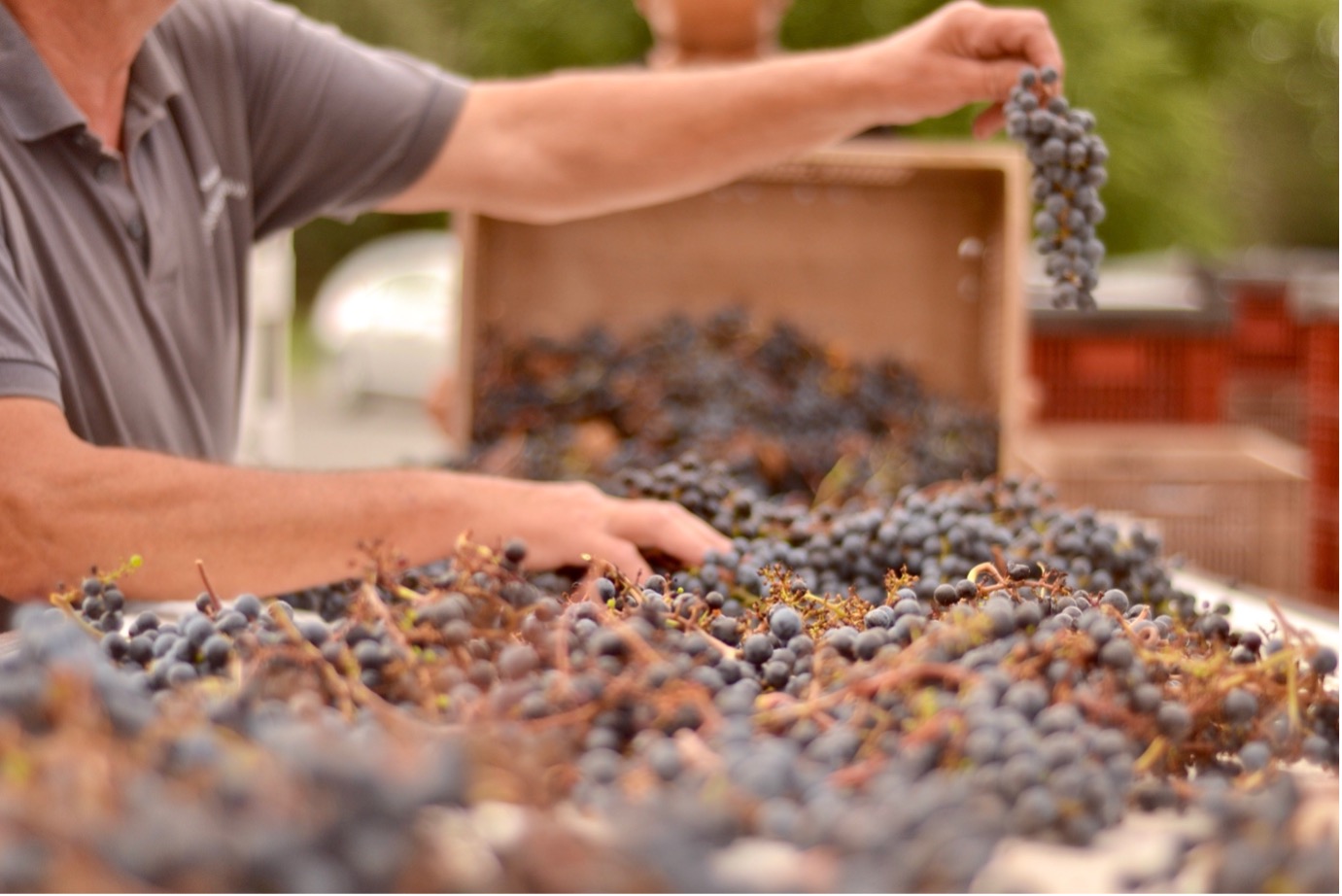 Larrivet Haut-Brion incorporating recently harvested whole bunches into their blend
A move away from Merlot
With global warming affecting the evolution of certain grape varieties, Palmer CEO, Thomas Duroux tells us that the "classic complex finish of Merlot" is particularly threatened by rapid ripening induced by hot summers.
This concern was shared amongst several properties, with Charlotte finding Larrivet Haut-Brion's Merlot grapes to be heavier, with greater sugar levels and thus a higher alcohol potential. To regain freshness in their Merlot juice, she now "incorporates the whole grape bunch, including the stalk", to add more structure and tannins. In the long term, the estate is planning to replant more plots to Cabernet Sauvignon due to the varietal's slower ripening, while Margaux is similarly including "more and more" Cabernet Sauvignon and Cabernet Franc in their blend, and "even thinking of perhaps experimenting with a few rows of Carménère", to study how it reacts to high temperatures.
In similar vein, Claire Villars-Lurton of Ferrière remarks on the advantage of less Merlot in the changing climate: "We have prioritised replanting of Cabernet Sauvignon, rather than Merlot, as even young the latter variety is more sensitive to water stress".
Nourishing nature
Several of the châteaux we spoke to highlighted their aim of counteracting the effects of climate change by enriching the natural environment and the soil. Thomas emphasises the importance of having a "living soil" in the face of ecological stress, noting that biological compost and plant growth amongst the vines offers "greater stability, root resilience, and nourishment" in increasingly hot and dry years.
The benefits of a living soil are echoed by Vincent, who tells us that at Calon Ségur they plant grass cover in the vine rows maintains "some moisture in the soil during dry periods".
Claire notes that cover crops help to maintain soil biodiversity, but the approach she takes goes beyond this purpose: "we adopt a minimal intervention approach in the vines. We plant cover crops between the rows, that we fold over or cut so as to have a natural mulch – this protects the soil from the damaging effects of strong sunlight, allows the soil to keep a good level of humidity, and means any rain that falls can seep deeper into the subsoils".
Shading from the sun
Like several châteaux adapting viticultural practices vintage-by-vintage, Larrivet Haut-Brion withheld leaf removal until later in the 2020 growing season, to shelter grapes from the scorching sun.
A similar strategy has been adopted at Haut-Bailly, who revise their canopy management every year to reflect the concurrent needs of vines.
At Calon-Ségur, Vincent explains they are "careful about thinning out the leaves in order to avoid burns", and are considering "adjusting the height of the trellis" to provide shade from one row to another. Opting for a more permanent solution, Margaux have gone so far as to "change the orientation of the vine rows" in order to "expose each side of the vine to the heat equally and minimize sunscald".