The best for your buck: Bordeaux 2020 at five different price points
Bordeaux en primeur 2020 saw mixed pricing decisions throughout the campaign. To help those still looking to purchase en primeur this year, we examine some of the best offerings from the latest vintage at five different price points. (All prices are quoted in-bond per bottle when purchasing by the case).
Click here to view all Bordeaux 2020 releases, or read more below.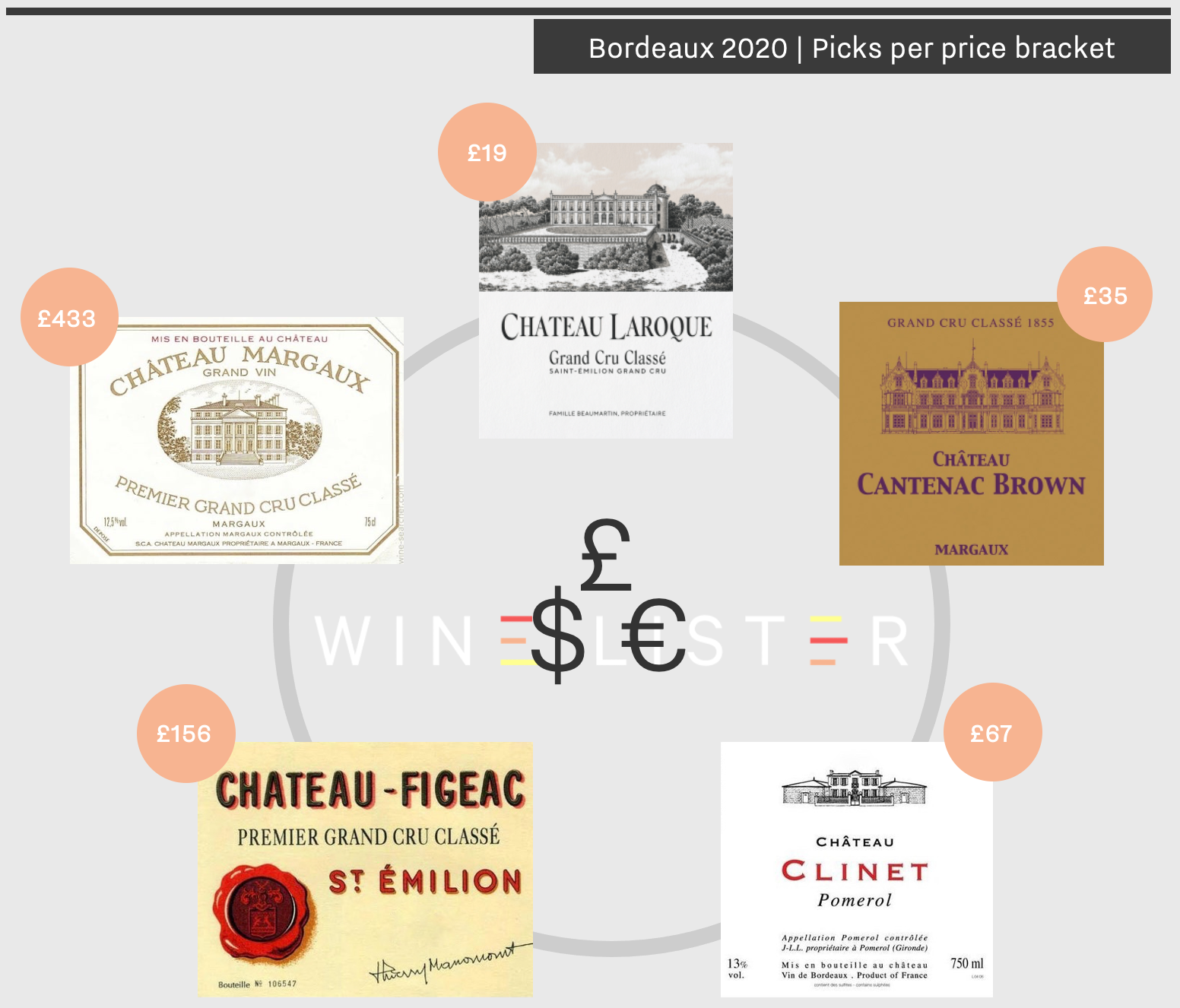 Under £20 – Laroque
Attesting to the estate's sustained step-up in quality since its 2018 vintage, Laroque receives strong critical praise in 2020. Antonio Galloni and Neal Martin (Vinous) both award 93-95, with the latter calling it, "Possibly the best Laroque that winemaker Suire has overseen to date." Having worked at fellow Saint-Émilion estates, Bellevue, Beauséjour Héritiers Duffau Lagarrosse, and Larcis Ducasse over the past 15 years, winemaker David Suire joined Laroque in 2015. He has since invested in making significant quality improvements, changing the winemaking process of the Grand Vin to now consist solely of free-run juice and no press wine. The third Laroque release in a row to achieve Value Pick status, the 2020 vintage can be bought from Justerini & Brooks for £18.92 per bottle (in-bond).
Under £50 – Cantenac Brown
The recent acquisition of Margaux Third Growth, Cantenac Brown, by agro-engineer, Tristan Le Lous, brought about a buzz of excitement for his first full vintage at the estate. Under its new ownership, the estate has expanded its vineyards by 9.5ha to incorporate high-quality vines from neighbouring estates, La Galiane and Charmant on the iconic Margaux plateau. Efforts to improve their blend, through the introduction of 70% of the grapes harvested on these new parcels, are reflected in top scores for the 2020 vintage, which receives its highest ever score from Antonio Galloni (94-97). Tasted by Wine Lister CEO, Ella Lister, she calls it, "A very successful Cantenac Brown." Cantenac Brown 2020 can be purchased en primeur from Goedhuis for £34.33 per bottle (in-bond).
Under £100 – Clinet
Pomerol's rising star, Clinet once again provides good value within its appellation in 2020. With traces of the vineyard dating back to 1595, one of Pomerol's oldest estates is managed under the watchful eyes of a small team, co-headed by President of the UGCB, Ronan Laborde. Receiving a score of 94-96 from Neal Martin, he notes, "This is a Pomerol that really wants to make an impression." Ella found the 2020 vintage to be, "Seamless and languorous. A triumph." Clinet 2020 is available en primeur at IG Wines for £66.50 per bottle (in-bond).
Under £200 – Figeac
Completing a trilogy of top-scoring vintages, Figeac 2020 highlights the estate's skilled adaptation to the extreme climate conditions it faced in the year. The team recently reflected on the challenges brought about by "mild winter temperatures, summer heat-waves, and unusually variable rainfall" in 2020, which nonetheless produced one of Ella's favourite wines from the vintage. Tasting in Bordeaux, she notes a "Trademark Figeac texture. The harmony is mind-blowing." This Saint-Émilion star can be purchased en primeur from Farr Vinters for £156 per bottle (in-bond).
Over £300 – Margaux
Margaux is one of Wine Lister's top picks at the premium end of the en primeur spectrum. The highest-scoring wine of the vintage, Margaux is the only 2020 to receive a WL score of 98 (an average combining all Wine Lister's partner critics on a 100-point scale). According to the Margaux team, the success of the vintage is down to the amalgamation of "homogenous flowering, summer conditions that favoured small berries, and excellent harvesting conditions." Indeed, the 2020 receives a score of 19 from James Lawther for JancisRobinson.com, who describes it as the "Perfect pitch", while Ella was "Wowed", stating "This will age into eternity, and yet the texture is already soft now." For those looking to find this First Growth, Margaux 2020 can be reserved for £433 per bottle (in-bond) via Petersham Nurseries.