Bordeaux 2020 en primeur: the Clarence Dillon clan
As we approach the end of this busy Bordeaux en primeur campaign, yesterday (Wednesday 23rd June) saw the release of the Clarence Dillon family wines, Saint-Éstephe superstar, Montrose, and promising Pessac-Léognan pick, Haut-Bailly.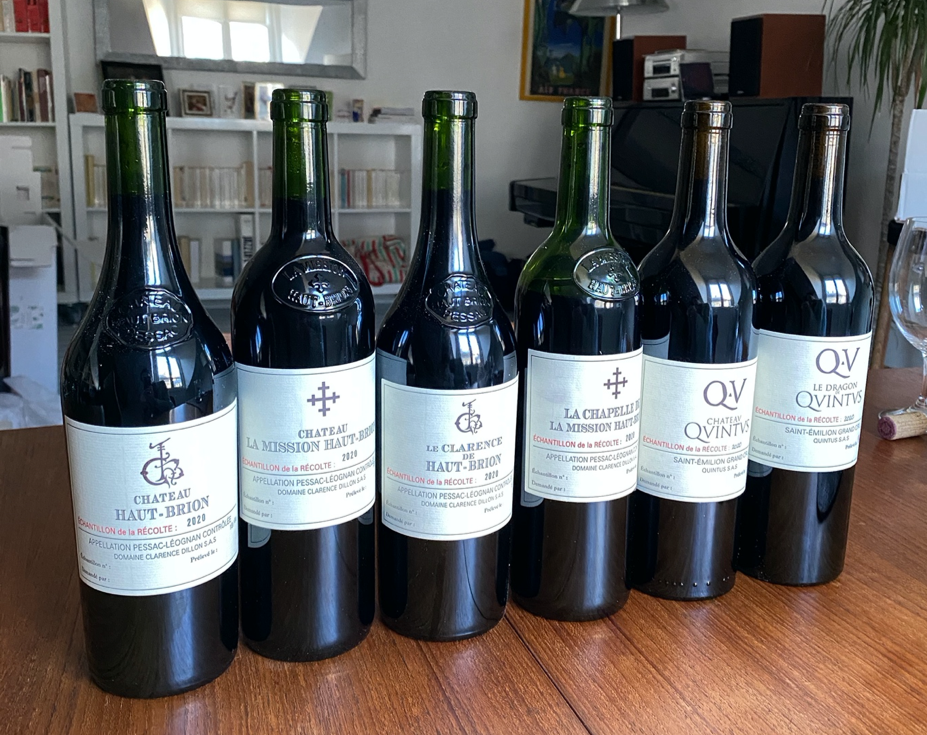 A family affair: Wine Lister CEO, Ella Lister tasted the Clarence Dillon family wines in Bordeaux
Haut-Brion released its red and white grands vins at £433 and £600 per bottle respectively, with both wines receiving strong praise from critics in 2020. The former gains 97-99 points from Wine Lister's partner critic Antonio Galloni (Vinous), who notes "The 2020 Haut-Brion is shaping up to be one of the wines of the year. […] Wow." Wine Lister CEO, Ella Lister was also impressed, describing "Focussed purple fruits, with a fresh lift of aloe vera, pepper, and fading peonies" on the nose, with "Classical flavours of cassis and violet, [and] a beautiful, beamish balance" on the palate.
Ella also provides a positive perspective on the latest release of Haut Brion Blanc, describing an "almost Burgundian minerality" on the nose, a "golden" palate. It gains the joint-highest WL score of all dry Bordeaux whites in 2020, tying for first place with its cousin, La Mission Haut-Brion Blanc.
La Mission Haut-Brion's red and white entered the market yesterday at £252 and £480 per bottle, respectively. Gaining an impressive score of 97-99 from Neal Martin (down from the potential 100-point score of 98-100 in 2019), La Mission Haut-Brion 2020 is described by the critic as "An enthralling wine in the making from Jean-Philippe Delmas and his team". Ella is also impressed with the latest release, noting "brooding, poised aromas of pomegranate and fig" on the nose, with a "layered and expressive" palate. Falling under the current market price of the 2018 and 2019 (whose price has increased around 63% since its release), while sporting similar average critics scores to the 2015 and 2016 vintage, this could be an attractive buy.
Outside of the Clarence Dillon clan, Montrose entered the market at £128.35 per bottle, having been well received by the few critics who tasted in Bordeaux this year (the estate was among those that did not send samples abroad). Wine Lister's partner critics, Bettane+Desseauve award 98 points on their new scale of 100 points, while James Lawther for JancisRobinson.com gives 18+ points. Tasting in Bordeaux, Ella notes that "The fruit this year is ethereal. Luminous, racy, and as with the second wine, with an incredibly gentle touch" on the nose, whilst the palate "has that Montrose silkiness in spades". Gaining the highest WL score of Saint-Estèphe 2020s (96), this may well see demand from fans of the estate and its appellation.
Haut-Bailly also released yesterday at £96 per bottle, having gained positive scores of 95-97 from both Antonio Galloni and Neal Martin. Hosting a virtual tasting of the estate's 2020s for our London office, owner Véronique Sanders told us that the château confronted extreme climatic conditions last year, akin to the past three vintages, which have all produced top quality wines. Indeed, tasting at the estate, Ella found Haut Bailly's Grand Vin to be "poised, savoury, and relaxed" on the nose, with "a lovely weight, and trademark ribbon mouthfeel".⁣