Bordeaux 2020 en primeur: releases from big names across both banks
The past two days have seen the 2020 campaign pick up speed, with more releases from Margaux, some promising picks from Pessac-Léognan, Pomerol, and Pauillac, as well as an entry from top Saint-Emilion estate, Ausone.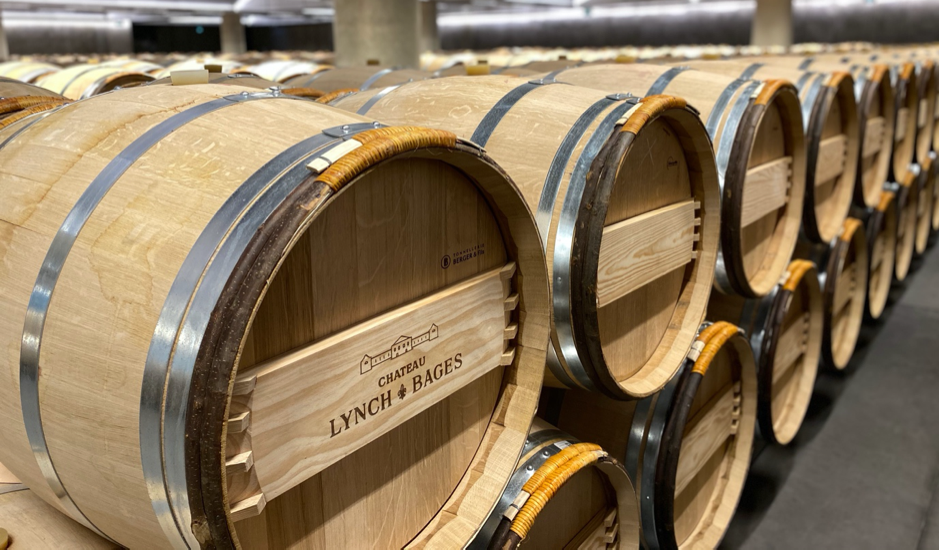 Barrels of Lynch-Bages, whose 2020 vintage was released en primeur yesterday (Wednesday 16th June)
Released on Tuesday (15th June) at £500 per bottle, Ausone 2020 is awarded strong scores from the small selection of Wine Lister partner critics who have tasted it. Akin to its Saint-Emilion Grand Cru Classé "A" neighbour, Cheval Blanc (who released its 2020 over a month ago), Ausone maintained its policy of not sending samples to critics abroad this year. Tasting at the property in Bordeaux, James Lawther for JancisRobinson.com awards it 18+ points (up from 17.5 in 2019 and 2018), while Wine Lister CEO, Ella Lister, is also positive, noting that it is "perhaps the mascot for the vintage of gentle power".
Across the Garonne, Les Carmes Haut-Brion followed suit at £79 per bottle, having once again received successful ratings from critics this year. Wine Lister partner critic, Antonio Galloni (Vinous) awards the 2020 95-97+ points, calling it, "dazzling, but also a wine of reserve and understatement", while Ella notes "a velvety, decadent crescendo" on the palate. The estate's impressive price-performance post-en primeur release saw Les Carmes Haut-Brion 2020 enter the market 24% and 30% below market prices of the 2019 and 2018 vintages respectively, and sold out within minutes.
Top Margaux properties Brane-Cantenac and d'Issan also entered the market on Tuesday, at £50 and £42.20 per bottle, respectively. Neal Martin (Vinous) awards the former its highest score ever received from the critic body (95-97), and calls it "an absolutely fantastic Brane-Cantenac, in my mind superior to the previous two vintages". Ella was also impressed with the 2020 vintage, describing the nose as "profound and complex" and observing "supple, lithe, thoroughbred (racé) tannins".
Awarding 17.5 points, James Lawther for JancisRobinson.com calls d'Issan 2020 a "Classic Issan but with more aromatic complexity and a tad more length", while Antonio Galloni (Vinous) gives his highest score to the estate since 2015, noting that it is "shaping up to be a jewel of a wine'.  The latest release marks a historical year for the property, with the addition of three new grape varieties to its blend in 2020 (which comprises 55% Cabernet Sauvignon, 39% Merlot, and for the first time 3% Cabernet Franc, 2% Petit Verdot, and 1% Malbec). The critics' praise across the board in 2020 suggests that the additional varieties have indeed achieved Emmanuel's goal of "creating more complexity".
Released yesterday (Wednesday 16th June) at £134.50 per bottle, Pichon Comtesse 2020 was awarded 96-98 points from Neal Martin (Vinous), who describes "a magnificent, cerebral Pichon-Lalande". Ella is similarly optimistic about the latest vintage, noting "energetic fruits that span the colour palette from black to red." Pichon Comtesse's successful 2019 vintage has seen its price increase by over 50% since its release last year, which should encourage interest in the 2020.
Popular Pauillac powerhouse Lynch-Bages also entered the market yesterday, and merchants have been offering the wine for just under £87 per bottle. Tasting in Bordeaux, Ella found it to be "monumental as it first hits your nostrils" with a palate that " boasts focussed, tart, crunchy red fruit, with a subtle toastiness on the finish". The estate's strong brand strength and loyal following, particularly on the UK market, will likely help the 2020 find buyers, not to mention that 2020 is the first vintage made in the property's long-awaited new cellar.
Also released during this period are: Malescot Saint-Exupéry, Nénin, Réserve de la Comtesse, Pibran, Echo de Lynch-Bages, Blanc de Lynch-Bages, Trotte Vieille, Chapelle d'Ausone, and Blason d'Issan