Bordeaux 2020 en primeur: the pace is picking up
The Bordeaux 2020 en primeur campaign has shifted up another gear this week, with a flurry of releases from both banks entering the market. Below we examine some of the highlights, including several wines who receive some of their highest critics scores in 2020.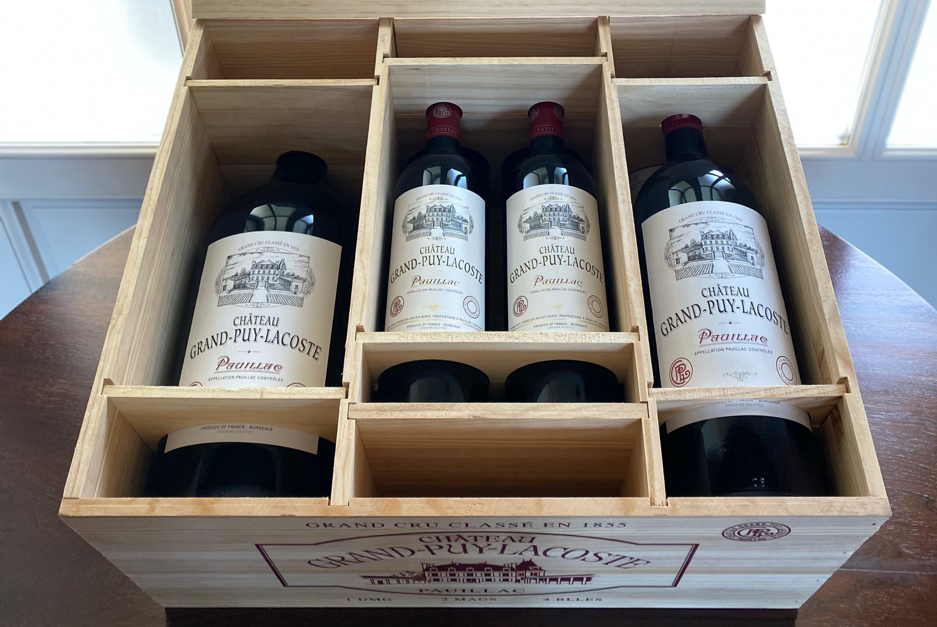 Grand-Puy-Lacoste's new mixed-format case, which includes one double magnum, two magnums, and four standard bottles of the 2020 vintage – equivalent to 12 bottles in total.
Kicking off the week, Claire Villars Lurton's Haut-Bages Libéral 2020 was released on Monday (7th June) at £25.92 per bottle – a significant 23% under the average market prices of the 2018 and the high-scoring 2016. Receiving its joint-highest score from Wine Lister partner critic outfit, JancisRobinson.com in 2020 (shared with 2015), Haut-Bages Libéral gains 17 points from James Lawther who notes that the "property continues to improve".
Sister property Ferrière also entered the market on Monday at £26.42 per bottle, having similarly shown a step-up in quality in 2020. Wine Lister partner critic, Antonio Galloni (Vinous) awards it 94-96 points this year – its highest-ever score from the critic – noting that "Readers will find a wine of tremendous gravitas".
Released on Tuesday (8th June) at £34.35 per bottle, Cantenac-Brown likewise receives its highest score ever given by Antonio Galloni in 2020 (94-97), who describes it as "shaping up to be one of the wines of the vintage". With exciting renovations underway for a new underground eco-cellar at the estate following its acquisition by agro-engineer, Tristan Le Lous, at the end of 2019, the estate shows promising potential.
Grand-Puy-Lacoste followed suit at an opening price of £50.60 per bottle, having similarly gained strong critic praise in 2020. Writing for Vinous, Neal Martin awards it 95-97 points, while Wine Lister CEO, Ella Lister (who tasted at the estate in April) describes a "Clean, pure, chiselled, classy" palate with "Fine-grained, sinewy tannins and generous fruit, delicately framed." Pictured above, Grand-Puy-Lacoste's latest release also boasts a new mixed-format case designed by co-owner Emmeline Borie's little brother, Pierre-Antoine.
Entering the market yesterday (Wednesday 9th June) at £38.40 per bottle, Saint-Pierre was praised by Ella as offering "A vibrant, confident bouquet, with smoky, stony, spicy notes", on the nose, and "a very attractive, potent palate, full of black fruit, black liquorice, and cardamom spice". Having shown consistently strong critics scores over recent years, this under-the-radar fourth growth merits backing in 2020. Sibling property, Gloria, also released its 2020 (at £26.40 per bottle) and presents great value within the Saint-Julien appellation.
Two further releases with great potential also come out this week. La Gaffelière 2020 gains the estate's highest score ever from Neal Martin for Vinous (96-98), who calls it "a magnificent prospect". Ella notes that the latest release has a "Captivating nose, elegant and inviting", and a palate with "Stunning freshness [and] poise". The property's upward quality trajectory and increasing interest from the trade should see good demand for the 2020, which enters the market at £48 per bottle.
Finally, the newest jewel in the Cazes family crown, Haut-Batailley, released its 2020 vintage yesterday at £39.76 per bottle. Described by Ella as showing "rich opulent fruit [and] floral freshness" with a "toasty and expressive" finish, the latest release may see increased demand as a result of its recent acquisition by the popular new owners.
Also released during this period: Phélan Ségur, Fieuzal, Fieuzal Blanc, Ducru-Beaucaillou La Croix, Clerc-Milon, La Violette, Le Gay, Palmer Alter Ego, and de Camensac.