Bordeaux 2020 en primeur: a family affair – Guinaudeau, von Neipperg, and Bernard wines released
The past week has once again seen a trickle of 2020s enter the market, with highlight releases from the likes of the Guinaudeau family, Vignobles von Neipperg, and Domaine de Chevalier.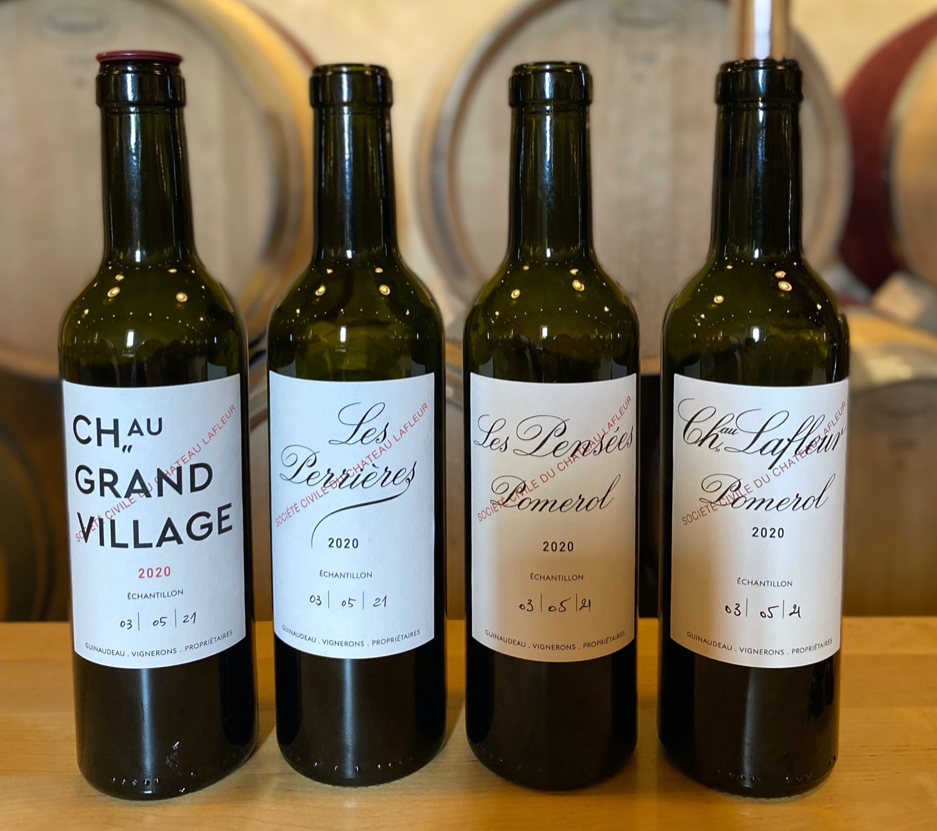 A Lafleur line-up: Ella joins Baptiste Guinaudeau in Bordeaux to taste the 2020s
One of the most in-demand wines from Bordeaux, Lafleur was released on Wednesday (2nd June) at a UK price of £526.67 per bottle. While samples have not been sent to critics abroad for the last two remote campaigns, Wine Lister's CEO, Ella Lister tasted the 2020 at the estate. Giving it high praise, she notes "aristocratic blue fruit, cherries, and a relaxed smoky character" on the nose, and a mouthfeel that is "out of this world".
For those unable to access the small-production grand vin, the estate's Pensées de Lafleur, or the relatively new Perrières (in its third vintage since its official baptism following 15 years of research under the beta pseudonym, "Acte") provide great-value alternatives, having been released at £113.33 and £47.50 per bottle, respectively.
Another promising pick for cellaring is d'Armailhac 2020, which released on Tuesday (1st June) at £33 per bottle. Former Director, Philippe Dhalluin (who retired last year) called d'Armailhac a "rugby player in black tie", and this year, new Estate Manager, Jean-Emmanuel Danjoy calls it an "athlete in black tie". Ella agrees, describing it as "very dense, but more athletic than some d'Armailhacs of old".
Kicking off Wednesday's releases at an opening price of £57.90 per bottle, Beychevelle 2020 was described by Ella as having a nose of "delicate flowers and hypnotising fraises de bois", and a palate that shows "a rush of fresh fruit and the flowers again on the finish". Beychevelle's strong post-release track record may well encourage buyers to back the latest release.
The Neipperg family wines followed suit, having received strong critic praise across the board this year. Tasting the 2020s in London, the Wine Lister team were extremely impressed with La Mondotte, noting its heady, luscious black fruit, and dense yet velveteen texture. An alternative pick from the Neipperg properties  for value, d'Aiguilhe was released at £12.10 per bottle, and is described by Wine Lister partner critic, Antonio Galloni (Vinous) as "bright, punchy and so expressive".
Vignobles Comtes von Neipperg: tasting the 2020s in Wine Lister's London office
Released on Thursday (3rd June), Domaine de Chevalier Rouge and Blanc both receive strong praise from Antonio Galloni, who noted that "Domaine de Chevalier remains one of the most under the radar wines in all of Bordeaux", and "The Blanc is one of the world's great wines, hands down". With both the red and white entering the market over 10% above the 2019 release prices (at £47.10 and £66.40 per bottle respectively), the rave reviews from Galloni should help find buyers.
Rounding out the week, Malartic-Lagravière and its white counterpart were released on Friday (4th June). Ella was impressed with the 2020, describing "deep, dusky fruit and a touch of spice" on the nose, and "a satin mouthfeel, beautiful midweight body, and a chocolately gravitas on its long finish". At £28.90 per bottle, the latest release comes onto the market c.15% below the 2018 and even further below both 2015 and 2016 vintages (while sharing average critics' scores), making this a very attractive buy.
Also released this week are: La Tour Carnet, Lagrange, Lascombes, Gazin, Les Ormes de Pez, Siran, Cos Labory, Pédesclaux, La Pointe, Sociando-Mallet, Clos du Marquis, Meyney, Potensac, and Grand-Puy-Ducasse.