New MUST BUYs to put a spring in your step
To mark the first day of spring (Saturday 20th March), this week's blog takes a deep dive into Wine Lister's latest MUST BUY update, helping you to discover some excellent wines to enjoy over the next few months. The 19 new MUST BUYs cover a range of regions, varieties, and styles, providing inspiration for top picks to drink now or put away for the future.
Click here to view all MUST BUYs, or read more below.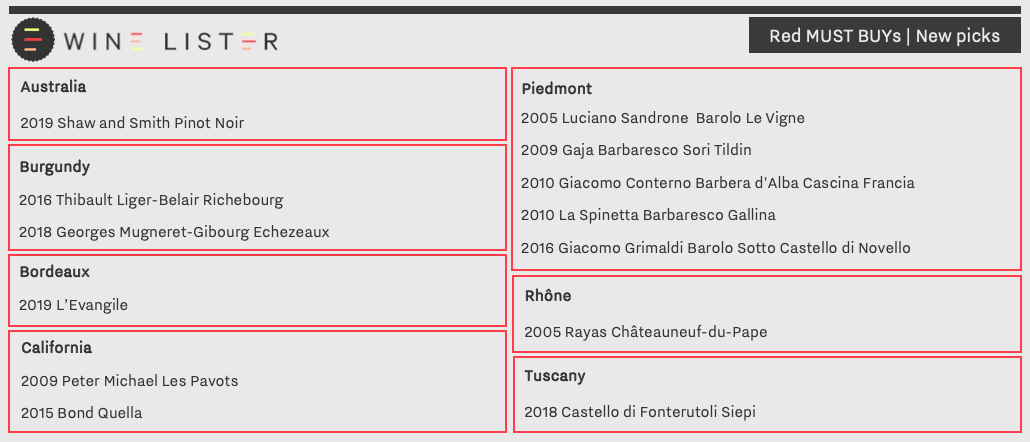 Piedmont constitutes over a quarter of the new MUST BUY picks, with entries from five of the region's leading producers. Currently at its peak drinking, Luciano Sandrone's 2005 Barolo Le Vigne comprises a blend of fruit from four of the estate's top vineyards, each with different terroirs, altitudes, and exposures. Harvested, vinified, and aged separately, the final assemblage is intended to express the best characteristics of each plot. Wine Lister's partner critic, Jancis Robinson, describes it as "complex", with "already very integrated aromas". It can be purchased from Farr Vintners for £79 per bottle (in-bond).
In Burgundy, Thibault Liger-Belair's 2018 Richebourg achieves its highest WL score since the successful 2010 vintage (96), and is described by Wine Lister's Burgundy specialist critic, Jasper Morris, as possibly "[Thibault's] best Richebourg to date". Awarding it 95-98 points, Jasper notes that "the oak […] is so suffused by a brilliant dense entirely red fruit, soft strawberry and more pronounced raspberry". It is available to buy from Corney & Barrow for £450 per bottle (in-bond).
Representing the Southern Hemisphere, Shaw and Smith's 2019 Pinot Noir also has Value Pick status, with a WL score of 92 at £26 per bottle (in-bond). The first vintage to include fruit from the property's Lenswood vineyard, which boasts mature vines and high altitude, it marks an exciting development for Shaw and Smith. Richard Hemming for Jancis Robinson describes it at "superbly fragrant" and representative of "the sheer pleasure of the variety". It can be bought from The Fine Wine Company.

Pierre-Yves Colin-Morey makes up two of three Burgundy whites to feature in the latest MUST BUY update, with its 2016 Meursault Perrières and 2018 Corton-Charlemagne. At £210 per bottle (in-bond), the former achieves 94 points from Jasper Morris, who notes "riper fruit, almost some orange blossom, but still an underlying freshness". Meanwhile, Julia Harding for Jancis Robinson awards 19 points to the 2018 Corton-Charlemagne, describing it as "powerful and elegant" with a "smoky and quite subtle" nose. While both wines are more difficult to source, it is worth informing your merchant of your interest in purchasing them.
Other wines featured in the new MUST BUY selection are: 2005 Rayas Châteauneuf-du-Pape, 2009 Gaja Barbaresco Sori Tildin, 2009 Peter Michael Les Pavots, 2010 Giacomo Conterno Barbera d'Alba Cascina Francia, 2010 La Spinetta Barbaresco Gallina, 2014 Bouchard Père et Fils Montrachet, 2015 Bond Quella, 2016 Giacomo Grimaldi Barolo Sotto Castello di Novello, 2017 Gangloff Condrieu, 2017 Kistler Vineyards Hudson Vineyard Chardonnay, 2017 Kistler Vineyards McCrea Vineyard Chardonnay, 2018 Castello di Fonterutoli Siepi, 2018 Georges Mugneret-Gibourg Echezeaux, and 2019 l'Evangile.