The best bottle for your budget: Tuscany MUST BUYs at five different price points
Home to a range of grape varieties, styles, and DOCGs, Tuscany also offers excellent wines at a variety of price points. To help you on your hunt for a top Tuscan bottle within your budget, Wine Lister has compiled a selection of Tuscany MUST BUYs at five different price points.
Click here to view all Tuscan MUST BUYs, or read more below.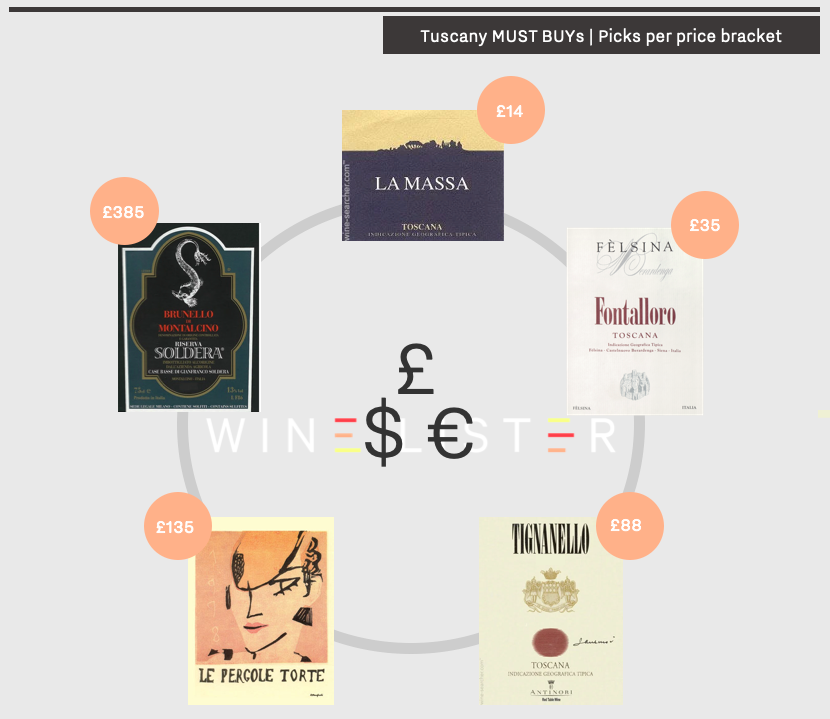 Prices are shown per bottle in-bond (when buying by the case).
Under £20 – 2011 Fattoria La Massa La Massa
Founded in 1992 by prominent Chianti winemaker, Giampaolo Motta, Fattoria La Massa represents his aim of applying Bordeaux vinification techniques to a Tuscan terroir. With the counsel of famed Bordeaux vigneron, Stéphane Derenoncourt, Motta now grows Cabernet Sauvignon, Merlot, and Petit Verdot alongside native Sangiovese. La Massa comprises 60% Sangiovese, 30% Cabernet Sauvignon, and 10% Merlot in 2011, and is described by Wine Lister partner critic, Antonio Galloni as "jumping from the glass with dark red cherry, raspberry jam, plum, spices, violets, smoke and cloves". With a WL score of 92, it is available to purchase from Bordeaux Index for £16 per bottle (in-bond).
Under £50 – 2015 Felsina Fontalloro
Felsina has seen a significant shift toward organic and biodynamic practices since its founder, Domenico Poggiali's son-in-law, Giuseppe Mazzocolin, took over in the late 1970s. As well as investing heavily in a more natural viticulture, the estate has adopted a dedication to revealing the expression of its terroir. The 2015 Felsina Fontalloro was awarded 96 points from Antonio Galloni, who indeed notes that "sandy soils confer aromatic intensity to this super-expressive, arrestingly beautiful wine". It can be purchased from Brunswick Fine Wines for £44 per bottle (in-bond). 
Under £100 – 2016 Tenuta Tignanello Tignanello
Antinori's Tenuta Tignanello property fared notably well in 2016, with its namesake wine, Tignanello achieving its joint-highest WL score alongside its 2015 vintage (98). Antonio Galloni describes the 2016 Tignanello as "flat out stunning", and muses, "I don't think there is another wine anywhere in the world made entirely from estate fruit that can match Tignanello for quality, consistency and value". A blend of 80% Sangiovese, 15% Cabernet Sauvignon, and 5% Cabernet Franc, it can be acquired from Fine+Rare Wines for £92 per bottle (in-bond).
Under £200 – 2015 Montevertine Le Pergole Torte  
Considered a difficult place for any agricultural production, Radda was an unusual location for Montevertine's founder, Sergio Manetti to establish his property in 1967. In one of the highest and rockiest sites in Chianti Classico, its steep hills are now home to top-quality Sangiovese vines from which its three wines – Pian del Ciampolo, Montevertine, and Le Pergole – are produced. Antonio Galloni awards 97 points to the 2015 Montevertine Le Pergole Torte, calling it "deep, powerful and resonant […] exotically ripe and flamboyant, not to mention utterly captivating". It can be bought from IG Wines for £129 per bottle (in-bond).  
Over £300 – 2008 Soldera Case Basse Sangiovese
Achieving 18 points from Wine Lister's partner critic, Jancis Robinson, Soldera's 2008 Case Basse Sangiovese is described as "so different from most Brunello" with a "reserved nose of autumnal leaves", and a "real tang on the end". Having separated from the Brunello di Montalcino DOCG in 2006, all vintages from 2007 onwards are labelled as Toscana IGT. The 2008 marks a shift away from the estate's usual vinicultural methods, having been aged for a period in stainless steel before bottling. Antonio Galloni notes that it is indeed "quite different from virtually every other wine made at Case Basse". The 2008 Case Basse Sangiovese can be bought from Fine+Rare Wines for £387 per bottle (in-bond).