New year, new tool – Wine Lister's Vintage Chart
As we stayed hunkered down for much of 2020, Wine Lister was working on a new interactive tool for its website users: the Vintage Chart. Adding further breadth to our rating and information hub, this new feature allows side-by-side comparisons of top vintages from various countries, regions, and appellations.
See the example of Côte de Nuits reds below for some of the best of Burgundy's back vintages, or explore the Vintage Chart for yourself here.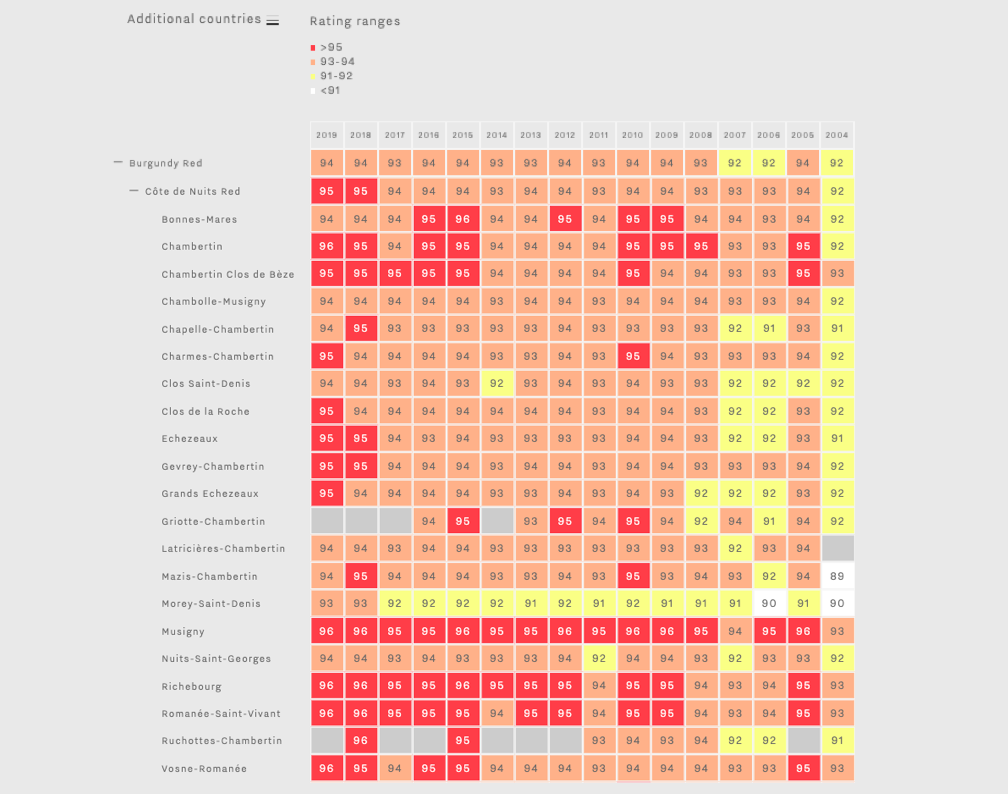 The Vintage Chart above compares the past 16 vintages of Côte de Nuits reds by WL score, based on the average WL scores of the top-performing wines in each "line".
Informed by the latest available scores from two of Wine Lister's partner critics, Jancis Robinson, Jasper Morris, and Neal Martin (Vinous) a look at the 2019 column reveals the success of Musigny, Richebourg, Romanée-Saint-Vivant, and Vosne-Romanée in the most recent vintage currently being released en primeur. The top-performing wines across the four appellations achieve an average WL score of 96, followed closely behind by Chambertin, Chambertin Clos de Bèze, Charmes-Chambertin, Clos de la Roche, Echezeaux, Gevrey-Chambertin, and Grands Echezeaux all gaining an average WL score of 95 in 2019.
Using the horizontal scroll to explore back vintages, one can see that Musigny is the most consistently high-scoring Côte de Nuits red appellation, with its top wines achieving an average WL score of 95 and above in the 15 vintages since 2004.
Click here to explore the Vintage Chart for yourself, or watch our video demonstration to find out how to get the most out of this new interactive tool here.
Wine Lister Pro members have access to a more extensive Vintage Chart, which integrates our holistic 360° rating system to visualise the average scores in the Economics and Quality categories, as well as by overall WL Pro score (which also takes into account a wine's Brand clout). Log in to your account to view the Pro Vintage Chart here, or find out more about the Pro subscription here.