Bordeaux MUST BUYs for the Christmas table
If ever there is a time for claret, it's Christmas. While Bordeaux generally provides excellent quality for its prices relative to other regions all year round, it is an especially good source for festive bottles with a bit of age. Below Wine Lister offers one MUST BUY under £100 per Bordeaux appellation – a selection that promises to please with your Christmas meal.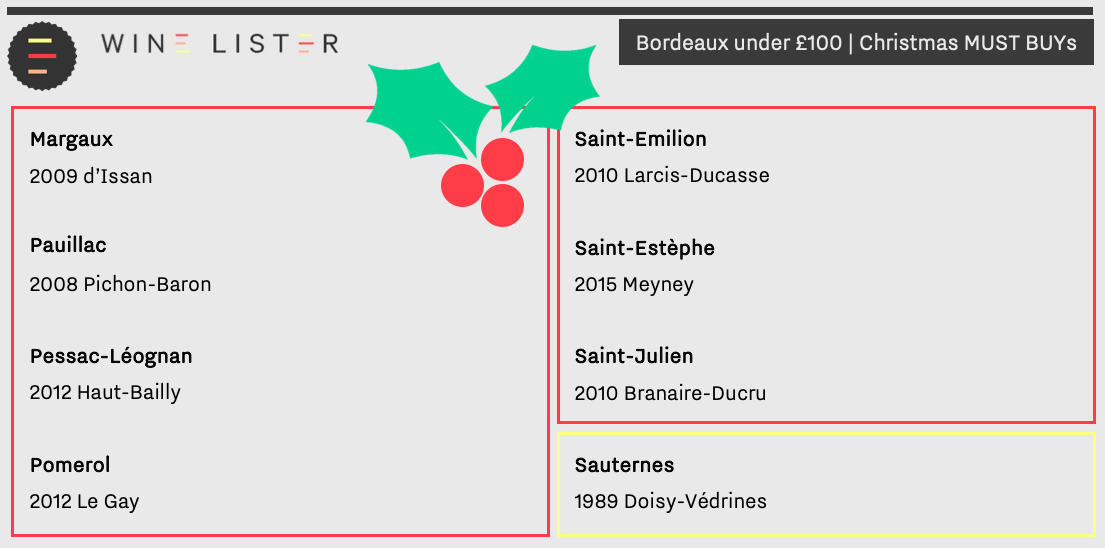 Aside from its lustrous gold label providing an appropriate centrepiece to any festive feast, d'Issan 2009 offers good value for its appellation, earning a WL score of 93 at £56 per bottle (in-bond). Château owner, Emmanuel Cruse, is also the "Grand Maître" of the Commanderie du Bontemps – a Bordeaux organisation uniting trade members in the preservation of Bordeaux's excellent quality reputation. D'Issan embodies the values of its maker, exemplifying the traditional claret style with added Margaux elegance. It is available to purchase by the case of 12 from Nickolls and Perks.
Pauillac powerhouse Pichon-Baron 2008 is described by Wine Lister partner critic, Neal Martin (Vinous), as one of the property's "overachievers in recent years". Often noted for being one of the most concentrated wines of the vintage in its appellation and beyond, Martin writes that the 2008 is "full of tension and energy […] delivering real brightness and vivacity on the finish". At £90 per bottle (in-bond), it is the most expensive wine featured in this article, however, its Second Growth status and an abundance of critics' praise make it worthy of consideration. Pichon-Baron 2008 can be acquired by the case from Lay & Wheeler.
A top-quality substitute to some of Haut-Bailly's more costly back vintages, the 2012 achieves the property's second-best WL score ever, as well as second place for quality among Pessac-Léognan reds for the vintage. Wine Lister partner critic, Antonio Galloni (Vinous), states that "the decision to lower temperatures in fermentation and go for a soft, gentle extraction, along with strict selection has paid off big time" in 2012, revealing notes of "dark raspberries, mint, crushed flowers, spices and rose petals". Haut-Bailly 2012 is just entering its drinking window, and can be bought from Cru Wine.
Finding value on Bordeaux's right bank can be trickier, particularly in Pomerol. Le Gay 2012 nonetheless offers excellent quality (WL 94) for the relatively reasonable price of £61 per bottle (in-bond). Wine Lister partner critic, Jancis Robinson, notes that it reaps "real Pomerol reward in terms of concentration", offering a "very well-integrated nose […] sweet and focused". In neighbouring Saint-Emilion, Larcis-Ducasse 2010  is described as "simply stunning" by Antonio Galloni, who notes "violet, lavender, graphite and menthol" that "give the 2010 its energy and tension". It gains a WL score of 94, at £87 per bottle (in-bond). Both of these right bank picks can be purchased from Cult Wines.
Achieving Value Pick status, Saint-Estèphe's Meyney 2015 has a WL score of 93 at £25 per bottle (in-bond), providing a veritable steal for your Christmas meal. After sampling at the annual Southwold Bordeaux tasting, Neal Martin writes that it "was the shock of this blind tasting – in a positive sense […] I thought it might be Montrose but it turned out to be Meyney. Chapeau!" Though the 2015 could benefit from a few more years of ageing, it is a brilliant gift option for your more patient guests, and can be acquired from Goedhuis & Co.
Saint-Julien star, Branaire-Ducru's 2010 vintage was described as "dancing" by Jancis Robinson. Neal Martin's tasting note suggests a wine of complexity: "a lovely mélange of red and black fruit, hints of dried blood and autumn leaves suggesting that this is moving into its secondary phase". With a WL score of 93, Branaire-Ducru 2010 can be purchased by the case of 12 from Farr Vintners for £52.50 per bottle (in-bond).
For a sweet end to your Christmas meal, Wine Lister suggests Doisy-Védrines 1989. With 30 years of ageing under its belt, it achieves a WL score of 94 – the château's highest ever. It is described by Neal Martin as boasting "a captivating bouquet of gorgeous wild honey, Seville orange marmalade, fig jam and light lemongrass scents". He adds, "it is simply everything you desire in a sweet Bordeaux". Purchase Doisy-Védrines 1989 by the bottle from Hedonism Wines for £62.80 (in-bond).