Drinking with experts: your favourite winemakers' favourite wines
Top chefs are often interrogated on their favourite dishes to cook at home, actors on their favourite films, writers on their favourite books – Wine Lister has sought out the ultimate drinking inspiration for special occasions, interviewing a handful of top wine producers on their favourite wines.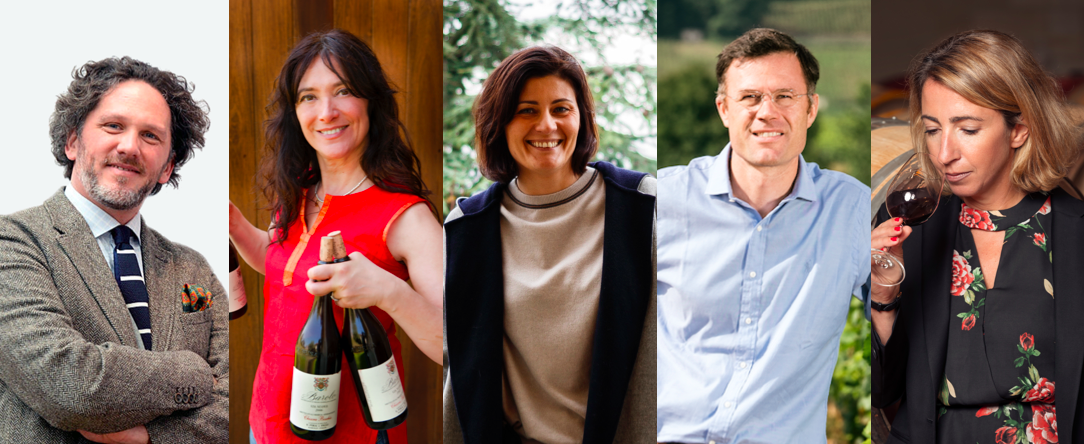 From left to right: Axel Heinz, Chiara Boschis, Gaia Gaja, Jacques Devauges, and Marielle Cazaux 
Axel Heinz – Ornellaia
"It's certainly the most difficult question to answer for a winemaker", Axel begins. Born in Germany, and spending his early career in Bordeaux before joining Ornellaia, his choice, once we twisted his arm, sits far from his professional vinous journey. "It would be a white, from my favourite Grand Cru in Burgundy: Corton Charlemagne", he confesses,  explaining that for him, these wines combine the structure and power of a red wine, with "the vibrancy, fragrance, and minerality that one can only find in great whites". Admiring its capacity for a faithful expression of terroir, and display of true personal signature, he cites Coche-Dury as his go-to producer.
Chiara Boschis – E.Pira e Figli
With Barolo in her blood (her relatives founded the historic Giacomo Borgogno estate), it is not unusual that Chiara Boschis' favourite wine should hail from this same noble Italian region. She tells us that she understood from a young age "the privilege to be born in such a generous land", for which her parents, and the people around her had "great love and respect". After years in the cellar at E.Pira, she too became "entirely captured by the magic of Barolo". Chiara's top choice is therefore a Barolo from the Mosconi vineyard for its "complexity and depth", Cannubi for its "elegance", and the vineyards of Via Nuova for their "diversity".
Gaia Gaja – Gaja
While paying homage to her family's past through her own wines, fifth generation winemaker, Gaia Gaja also has one eye on the future. Her favourite wine, from rising star appellation Mount Etna, Sicily, is Graci's Etna Rosso Arcuria. The wine is made from one of the latest ripening European varieties, Nerello Mascalese, in one of the highest vineyards in Europe. She discovered it after "becoming close friends with Alberto Graci and his family", often visiting them in Etna. Gaia explains that "the contrasts between its vibrancy, freshness, and warmth, as well as its perfume and smoky minerality", remind her of "the snow and the fire of Etna". Comparing it to Nebbiolo, she believes the grape has "intriguing personality, a strong identity of place, and a medium body that makes it versatile and easy to drink".
Jacques Devauges – Clos des Lambrays
Moving from Clos de Tart to Clos des Lambrays last year, Jacques Devauges' top wine of all-time was born close to home. He tells us that Comte Georges de Vogüé's Musigny catalysed his passion for wine. Sampling the 1971 and 1978 as a teenager, he was "struck" by both, despite knowing very little about wine at that point. Jacques believes Vogüé's Musigny shows "the signature of the Grand Vin", to impress "not only the wine geek, or the collector, but everyone, even those who don't know what makes a good wine". Describing what "was almost a shock", he notes that the "level of perfume on the nose was almost like a perfume you can put on your skin", while the palate was "soft and delicate".
Marielle Cazaux – La Conseillante
Joining La Conseillante from neighbouring Petit-Village in 2015, Marielle Cazaux tells us that if she had to pick a favourite wine, it would be Ridge Vineyards Monte Bello, because she "has so many special memories with this wine". As an intern at Ridge in 2001, she had the chance to taste several vintages with the legendary Paul Draper, whom she calls "one of the most gifted winemakers of the US". Marielle considers Monte Bello a "wine with extraordinary finesse", and "a total sense of harmony". Describing its notes of "black pepper, lavender, mocha, liquorice, and dried flowers", she observes that it is "perhaps one of the most "Bordeaux" style wines in California".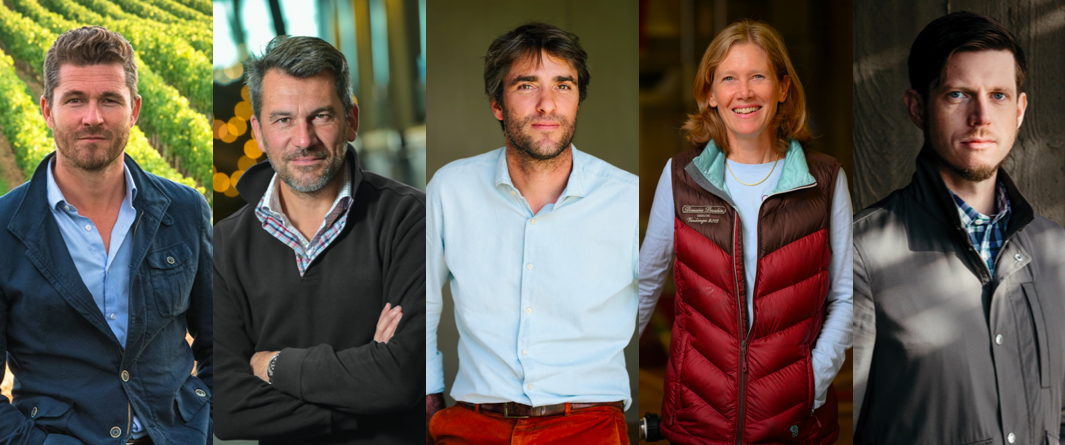 From left, Nicolas Audebert, Nicolas Glumineau, Pierre-Olivier Clouet, Veronique Boss Drouhin, and Will Harlan
Nicolas Audebert – Rauzan-Ségla, Canon, and Berliquet
With some of the world's most prestigious wineries under his belt (Terrazas de Los Andes, Cheval des Andes, Moët & Chandon, Krug, Veuve Clicquot), Nicolas echoes Axel Heinz in attempting to pick his favourite wine: "it's impossible to answer. It's like music – endless, initiatory, and progressive". He instead recommends a wine from his friend, winemaker Andrea Felluga, with whom he "shares wine at simple, festive tables with lots of laughter". He tells Wine Lister that Felluga's wine, Livio Felluga Terre Alte "is a great white from Friuli" – a "land of contrast between the sunny and singing soul of Italy and the Alpine foothills, austere and cool". Made from a blend of Friulano, Sauvignon Blanc, and Pinot Blanc, the Terre Alte is, according to Nicolas, like Felluga – "happy and lively".
Nicolas Glumineau – Pichon Comtesse
On the subject of his favourite wine, Nicolas Glumineau (previously of Haut-Brion, Margaux, and Montrose), tells us that there are so many wines he could note – "Rayas 1990, E. Guigal La Mouline 1976, Cristal 1996, Trotanoy 2009, Diamond Creek Red Rock Terrace 2015". White Burgundy legend, Coche-Dury, nonetheless gets another vote from Nicolas (on top of praise from Axel Heinz) as he reminisces trying the Meursault Caillerets 2006 for the first time in London, and being "choked, speechless, and moved by such perfection". He describes the "delicacy of its white flower aromas and the elegance of its mineral and endless finish", and recalls the feeling "that the world has stopped turning and that time has been suspended".
Pierre-Olivier Clouet – Cheval Blanc
Echoing the sentiment of several of his peers, Pierre-Olivier Clouet (who has been at Cheval Blanc for 16 years), tells us that "it is impossible to choose just one wine", because "like wine, the palate of the taster is constantly evolving". Pierre-Olivier nonetheless notes his current favourite is "Mas Jullien – a wine that fully expresses the identity of the place where it is made, and injects the touch of balance and freshness that characterises all the great wines of the world". He recalls that the last time he tasted the Languedoc red –  a blend of Syrah, Carignan, and Mourvèdre – was with his team, on the last day of Cheval Blanc's 2020 harvest.
Veronique Boss Drouhin – Joseph Drouhin
Fourth-generation winemaker, Veronique Boss Drouhin tells us that a wine she particularly enjoys was introduced to her by her close friend, Christine Vernay, daughter of the late Georges Vernay (praised for his key role in the survival of the Condrieu appellation). Veronique recalls Vernay opening a bottle of Georges Vernay Condrieu Coteau de Vernon, and being enchanted by its "aromatics, jumping out of the glass – unique, fragrant, and complex", and a palate that was "powerful, voluptuous, and round, but with acidity to balance it" – a rarity for Viognier. She also cites Georges & Christophe Roumier's Chambolle-Musigny Les Amoureuses as one of her favourites, adding, "Christophe's [wine] is one of the nicest, purest, more elegant expressions of Pinot".
Will Harlan – Promontory
Leading Harlan Estates' second-generation venture, Will Harlan explains to us that while he cannot choose a favourite, Jacques-Frederic Mugnier's Musigny 2001 is a wine that he believes to "belong among the finest". Will recalls coming across the bottle while "travelling with colleagues through Copenhagen a few years ago", and as there hadn't been a correct time to open it, the bottle joined them "on a course through Germany to Switzerland". Having finally found an appropriate evening in Zurich to open it, "by the lake — the first bit of rest since the trip began", he was "drawn in, as each feature of the wine, with a humble nobility, felt very naturally and confidently in its place". Will notes it was a "wine that was singular and true", that "would mark a memorable evening of our travels and in our friendships".