Mind the gap: the positioning of Burgundy prices
Wine Lister's recent in-depth Burgundy study considers the much-contended topic of the region's rising prices, providing additional information for those planning on purchasing Burgundy 2019 en primeur over the coming months.
Below we examine the current distribution of prices of the 175 wines featured in the study, compared to the same wines two years ago. While 5% of wines were priced above £3,000 two years ago, a substantial 11% are today.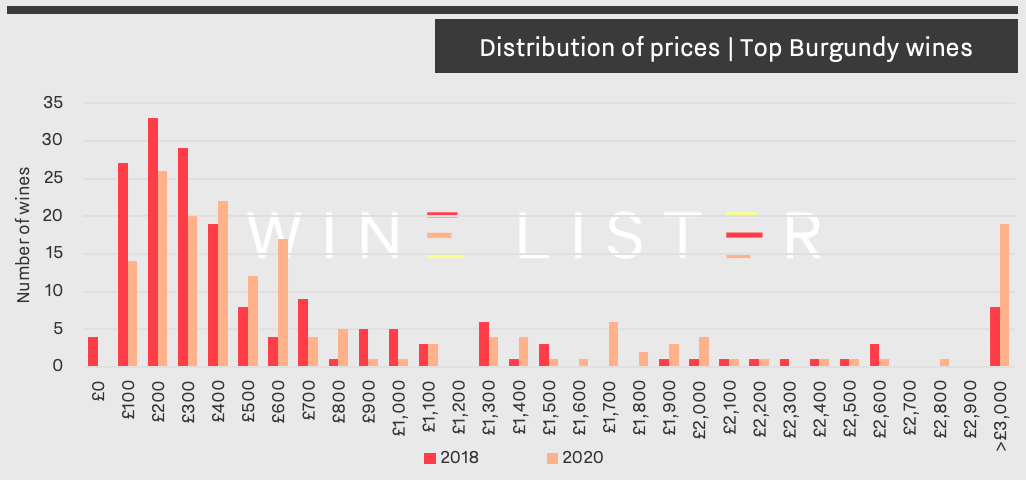 The graph above reveals a significant shift towards the higher end of the price scale, with multiple Burgundy wines previously priced between £1,900 and £2,700 now over £3,000. This comprises Comte Liger-Belair La Romanée, d'Auvenay's Mazis-Chambertin and Bonnes-Mares, Domaine de la Romanée-Conti La Tâche, Jean-François Coche-Dury Corton-Charlemagne, and Leroy's Richebourg, Romanée-Saint-Vivant, Clos de la Roche, Corton-Charlemagne, and Latricières-Chambertin.
Alongside the figures, feeling from Wine Lister's recent Founding Member survey confirmed that Burgundy's seemingly boundless prices are a concern, with over half of respondents voicing apprehensions on the topic. The most common sentiment is nonetheless that little will change for wines at the very top end, and that their prices will continue to climb, as demand continues to outweigh supply significantly. One specialist merchant in the Asian market informed us that they indeed foresee "Burgundy prices heading higher at the top end", and that they "don't see demand slowing despite the economic issues."
The polarised prices illustrated in the graph are echoed by the trade, who cite a phenomenon of divergence between the top-end wines, and those at mid-range or entry-level. One respondent noted "an oversupply of generic and village Burgundy", with another predicting that "when the smoke clears, all that remains will be Bourgogne Rouge/Blanc and the crown jewels, with no market in between".
Despite the geopolitical context of the past two years, the buzz surrounding Burgundy remains strong, and competition will be hot for accessing the best wines of the 2019 vintage, particularly given its reduced production volume.
Visit the Analysis page to purchase Wine Lister's in-depth 2020 Burgundy study, or download it using your Pro subscription here (available in both English and French).