Burgundy in 2020: buy the best of the bunch
Before the bulk of Burgundy en primeur 2019s are released onto the market, Wine Lister has published its second in-depth Burgundy study.
Below we explore the complex relationship between the region's price performance and its popularity growth over the past two years, informing your investment decisions over the coming months.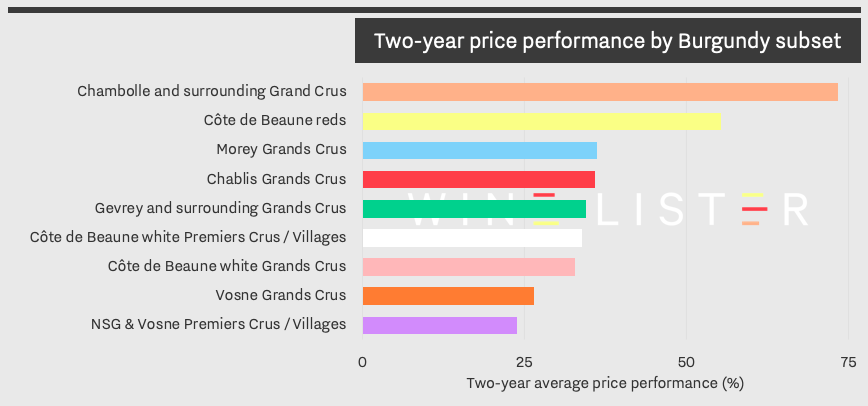 The two-year price performance of a basket of 175 Burgundy wines (the same wines featured in our previous study on the region in 2018), based on the last 30 vintages. Price data partner: Wine Owners.
As shown in the chart above, Chambolle and its surrounding sites lead in the price performance of Burgundy Grand Crus, followed by wines hailing from its northerly neighbour, Morey-Saint-Denis. The notorious sub-set of Grand Crus from around Vosne – home of legendary Richebourg, La Tâche, Echezeaux, and Romanée-Conti – has seen slower price performance, which is matched with lower popularity growth (see below).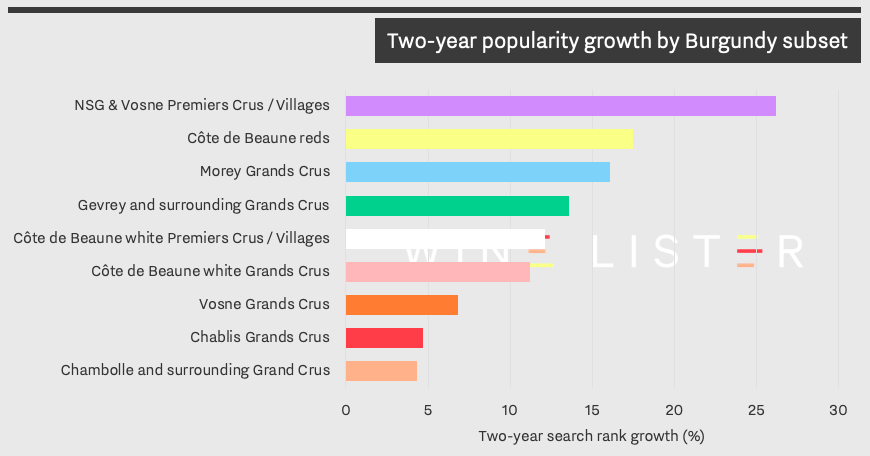 The two-year popularity growth of each Burgundy subset. Popularity data partner: Wine-Searcher.
Though Chambolle and its surrounding Grand Crus have excelled in two-year price growth, consumer interest in the wines of this subset increased the least. Following similarly this opposing relationship between the two data sets, Nuits-Saint-Georges / Vosne Premiers Crus and Village wines gained the most popularity over the last two years by a large margin, while the subset's price performance trails behind in last place.
A growing interest in lower-priced wines from Burgundy is further explored through trends identified by key members of the international fine wine trade in Wine Lister's report. Producers such as Arnoux-Lachaux and Georges Mugneret-Gibourg are well worth looking out for when buying Burgundy en primeur for drinking in several years' time.
Visit the Analysis page to purchase Wine Lister's in-depth 2020 Burgundy study, or download it using your Pro subscription here (available in both English and French).