Italy 2020: a hopeful harvest
"Finché c'è vino c'è speranza" – As long as there is wine, there is hope.
Never before have Italian winegrowers been able to dedicate as much time to the care of their vineyards as in 2020. The Consorzio Vino Chianti Classico and several further Tuscan producers cite this silver lining to Covid restrictions, and they suspect it will reveal itself in the wine to come. In a year that has caused tribulation across the world, news of Italy's promising 2020 harvest is certainly welcomed. Wine Lister has spoken to several Italian estates, which reportedly yielded high-quality grapes across the board. While regions – Piedmont and Tuscany – had their respective weather nuances, the general consensus suggests that growing season conditions were balanced, with no mention of hail or storms.
In Montalcino, the Mastrojanni team explained that lockdown prompted improved vineyard inspection in 2020: "[people] couldn't work indoors in their offices, so the vines received the utmost attention". They report a "very good harvest" this year, comparing it to the high-scoring 2013. Despite two short heatwaves in July and August, the estate had a mild summer overall, thanks to cooling winds that flow through the Amiata Valley in which its vineyards are situated.
On the other side of Montalcino, Cinelli Colombini reported frost during budburst, which limited the number of grape clusters in 2020. Several other Tuscan producers spoke of reduced volumes due to the cold start to spring (Fattoria Le Pupille's 2020 yield is 20% lower than last year). Cinelli Colombini's Brunello grape harvest was nonetheless of "excellent quality", and despite it being hard to "shine after a masterpiece of a vintage like 2019", the team believes it will be "difficult to exclude it from being among the best five vintages of the last 20 years".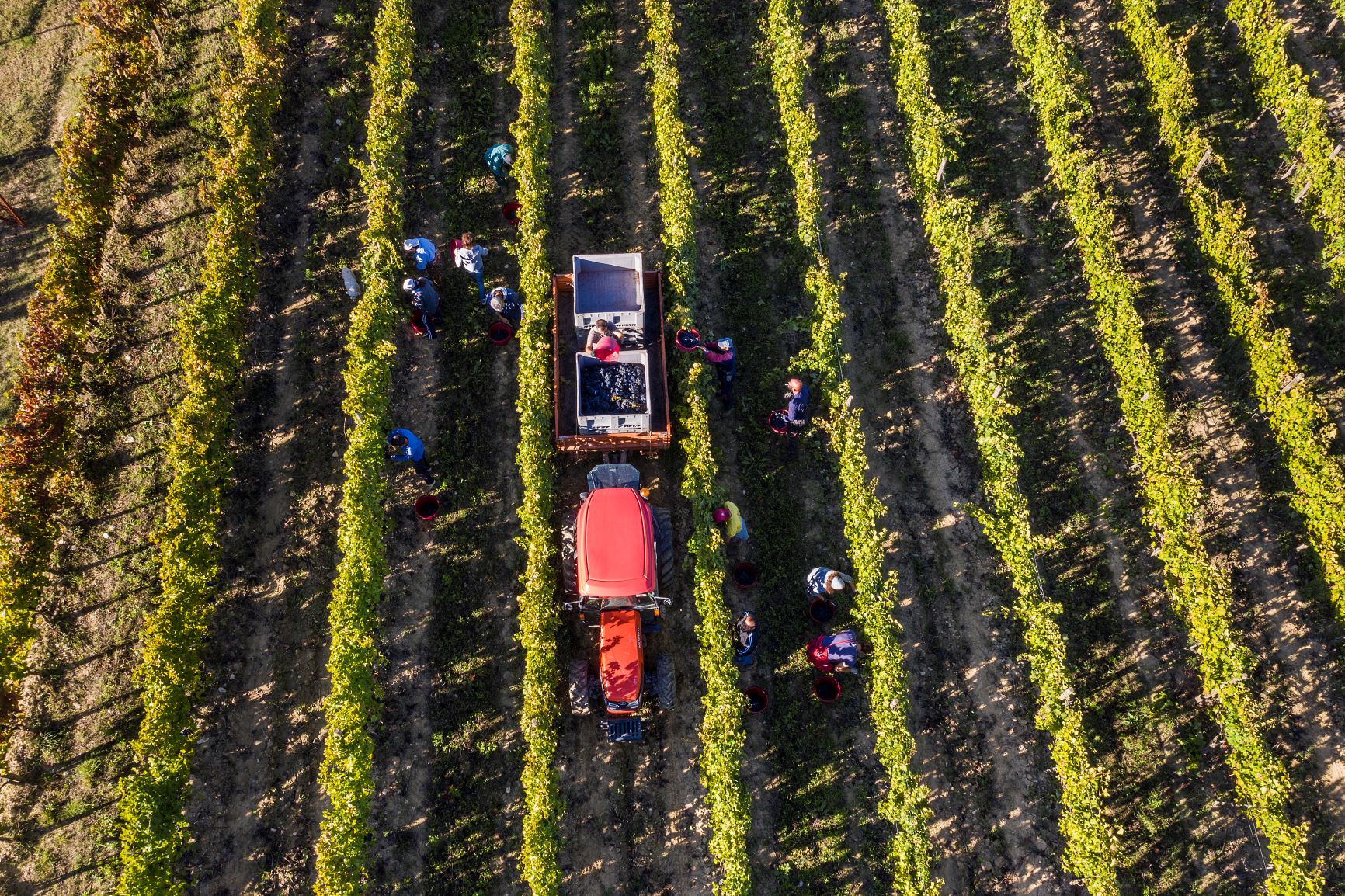 All hands on deck: the 2020 Brunello harvest at Montalcino's Cinelli Colombini
In Chianti, Castello di Monsanto began picking its Chardonnay grapes on 8th September, and collected its final Sangiovese on 10th October. Third-generation owner, Laura Bianchi, informed us that their spring was mild, with enough rain to create a "perfect" reserve of water for the vines. After the hot and dry August, a wet start to September helped to regulate maturation – a common theme throughout Tuscany in 2020. The grapes thus developed a "great balance of sugar, pH, and phenolic maturation", and the first fermentation already suggests a vintage of "great personality, rich tannins, and beautiful acidity". Further east, Vecchie Terre di Montefili started picking on 29th September – late in comparison to other producers, but normal, the team explains, for their vineyards, which lie 500 metres above sea level (and therefore require a longer maturation period).
Less than an hour away, Brancaia finished its harvest on 30th September (having started on the 3rd week of August). The team tells us that they were forced to harvest their Sangiovese quickly before heavy rain arrived, but that they were lucky that the grapes were "the perfect grade of ripeness". In contrast, IPSUS owner, Giovanni Mazzei, explains that he and winemaker Gionata Pulignani decided to wait until after the extra rain in September before starting the harvest, "to guarantee more balance, extra aromatics, and temper the alcohol content". In doing so, the hot and dry summer was counterbalanced; Mazzei states that he could indeed "classify the [2020] as a good compromise between cooler and hotter vintages".
In coastal Maremma, owner and Production Manager at Fattoria Le Pupille, Ettore Rizzi, tells us that 2020 saw a significant threat of powdery mildew across its vines, especially in the thin-skinned varieties of Sangiovese, Ciliegiolo, and Syrah. He states that they nonetheless managed to trim the affected bunches and stem the problem, while their Merlot and Cabernet vines also "gave us some incredible fruit". According to Rizzi, "the word that can best describe the 2020 vintage is concentration" – a consequence of the high temperatures in July and August.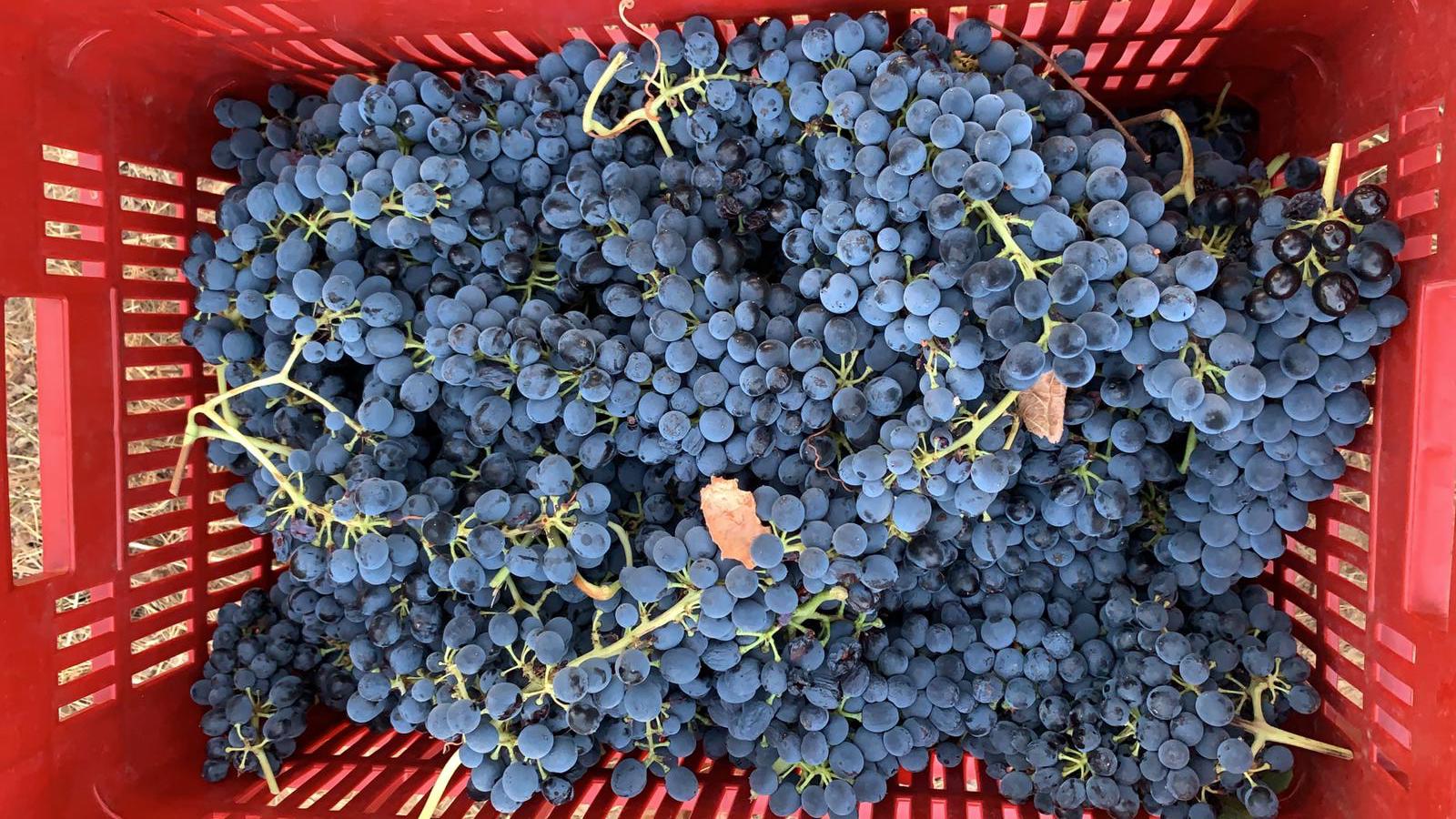 "The final quality of the grapes was really good" – Fattoria Le Pupille's 2020 Syrah grapes
In Bolgheri, Ornellaia's Estate Director, Axel Heinz, declared that their 2020 vintage is "shaping up to be one to remember as a great year". The property saw "textbook perfect conditions until the end of May", while June saw a lot of rainfall that "accelerated vine growth", and required lots of work in the vineyard to keep the canopies under control. Summer saw hot and dry conditions, while rain arrived in the last days of August to alleviate drought stress and lower temperatures, encouraging a more even ripening at the last moment. While an unexpected mid-September heatwave made it necessary to pick all three red varieties – Cabernet Franc, Cabernet Sauvignon, and Petit Verdot – simultaneously at speed, Heinz notes that they nonetheless look "very promising in a rich and structured style".
Moving up to Piedmont, fifth-generation of the esteemed Gaja family, Giovanni Gaja, tells us that they are so far "optimistic" about the 2020 vintage, despite it being early days to evaluate the exact character of the grapes. Their Barbaresco plots witnessed a moderate July, followed by a warm August that was similarly alleviated by rain towards the end of the month. While they required extra efforts to prevent mildew attacks, the final picked grapes appear "very healthy".
While 2020 has caused much uncertainty, the recent harvest suggests that there is  definitely hope for some excellent wine to come from this year, and we look forward to finding out for ourselves in the future.