Bordeaux 2020 harvest: optimism in the face of uncertainty
Despite this year's unparalleled circumstances, mother nature has had no choice but to persevere – members of the Wine Lister team visited Bordeaux during September, to get a feel for the 2020 harvest. After a turbulent nine months, 2020 has reportedly yielded another excellent vintage for Bordeaux, though the region's vines experienced their own set of ups and downs. Outside of its macro-economic turmoil, 2020 proved an uncertain growing season too, as microclimatic weather patterns appear to have been more influential than ever. Small areas on both banks experienced hail, and rainfall differed by hundreds of millimetres from one property to the next. With a bit of luck, this is a vintage the international trade will be able to taste by next spring – and it will need tasting, in order to gain a comprehensive understanding of the best examples of the vintage.
Common to several properties was an early start to harvest, with masked pickers dispersing across many vineyards up to two weeks ahead of a "normal" year. Indeed, Pavie began harvesting its white grapes (for Monbousquet Blanc) at the end of August – a fortnight earlier than last year. Merlot grapes began to be collected on the 21st of September – nine days earlier than in 2019 (pictured below on the 22nd September).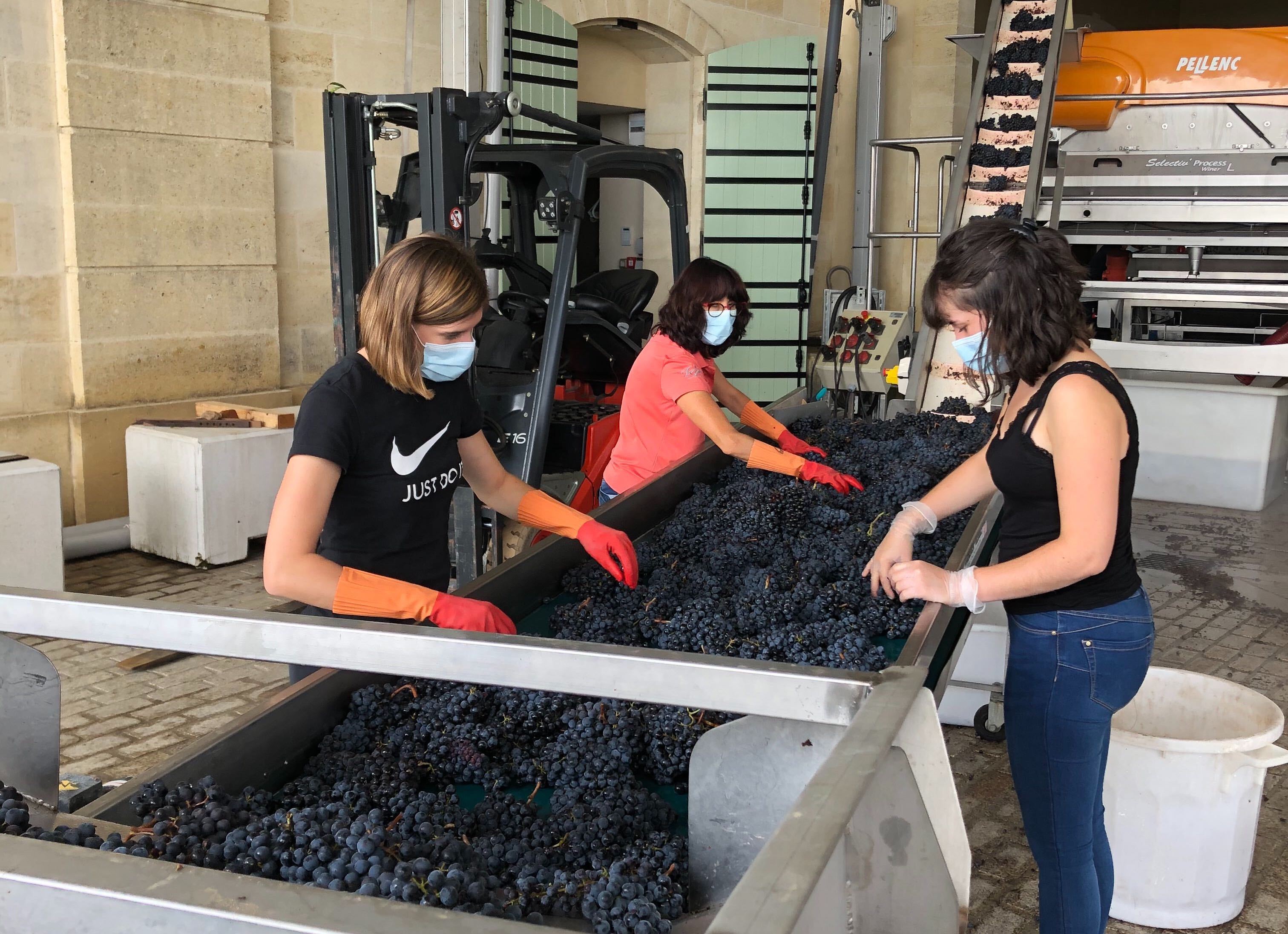 Masked workers sort Pavie's 2020 Merlot grapes (22nd September 2020)
Pavie saw lower rainfall in 2020 than parts of the Médoc. The position of its vineyards at higher altitude on the south-facing slope of its renowned limestone plateau allows for both phenolic maturity and the retention of freshness. Its new Commercial Director, Olivier Gailly, notes that the mid-harvest showers also helped with the latter, freshening up the Cabernets prior to picking, and that subsequent high wind speeds dried the grapes, and prevented mildew from setting in.
Just a few kilometres north-west, Saint-Émilion star Angélus did not have a particularly early harvest in 2020, starting on the 15th of September – just three days earlier than last year. The estate saw mildew at the beginning of the season, which they managed to control ahead of a good flowering. Eighth-generation manager, Stéphanie de Boüard is confident in the new vintage, aligning it with the iconic 1947 or 2010 – "my father told me not to be ashamed to say it", she notes of the comparison. Early analyses show the 2020 will likely be high in alcohol, but with a low pH, creating a freshness and an overall balance that was encouraged by mid-harvest rain. "This year picking dates have been more important than ever", she adds, referring to the retention of fresh fruit, as opposed to more cooked aromas than can occur in warmer Bordeaux vintages.
Further north-west still in Pomerol, Beauregard also received much-needed rain during harvest, which similarly helped to soften the skins of its Cabernet grapes. Summer drought was more apparent here, repeating the 2018 phenomenon of hydraulic stress on the vines, and resulting in a smaller yield than 2019.
Moving to the Médoc, more properties saw the same hot and dry climatic conditions in 2020, resulting in instances of small grapes with high alcohol potential and lower acidity. In Margaux, d'Issan saw 16% potential alcohol in some of its early Merlot grapes (the highest ever recorded), and consequently welcomed the mid-September showers. Neighbouring Palmer anticipated the rain, and held off picking its Cabernet Sauvignon grapes until it came and went, ensuring the thinning of skins on smaller berries, and an overall reduction in alcohol percentage. The estate saw limited yields due to the dry summer, and Managing Director, Thomas Duroux, quipped that although "négociants would have liked a vintage with high volume and lower prices, [2020] will be a small vintage…" While he implies it might be more expensive than the trade had hoped, he nonetheless expects the 2020 to be "rich and exuberant", sharing the power and concentration of 2018.
In Saint-Julien, owner of Branaire-Ducru, François Xavier Maroteaux describes a 2020 growing season of neat balance. The estate had a "wet post-harvest Autumn in 2019", which helped to prevent drought stress throughout the new growing season. As the summer began to dry out, the estate saw 100 millimetres of rainfall in a short period (at the end of August), followed by a sunny and warm September. The season itself, Maroteaux muses, is similar to the 2011 vintage. He believes the resulting wine is worth excitement, after a steady and successful ripening, avoiding any disease.
In Pessac-Léognan, Malartic-Lagravière expects a concentrated wine in 2020, having also seen low volumes of mainly small berries due to the heat. Neighbouring Domaine de Chevalier echoed the sentiment, and we were surprised to hear from owner, Olivier Bernard, that there had not been a drop of rain at estate the day before our first visit (21st September), despite it raining throughout the same day in the Médoc, and in Bordeaux itself.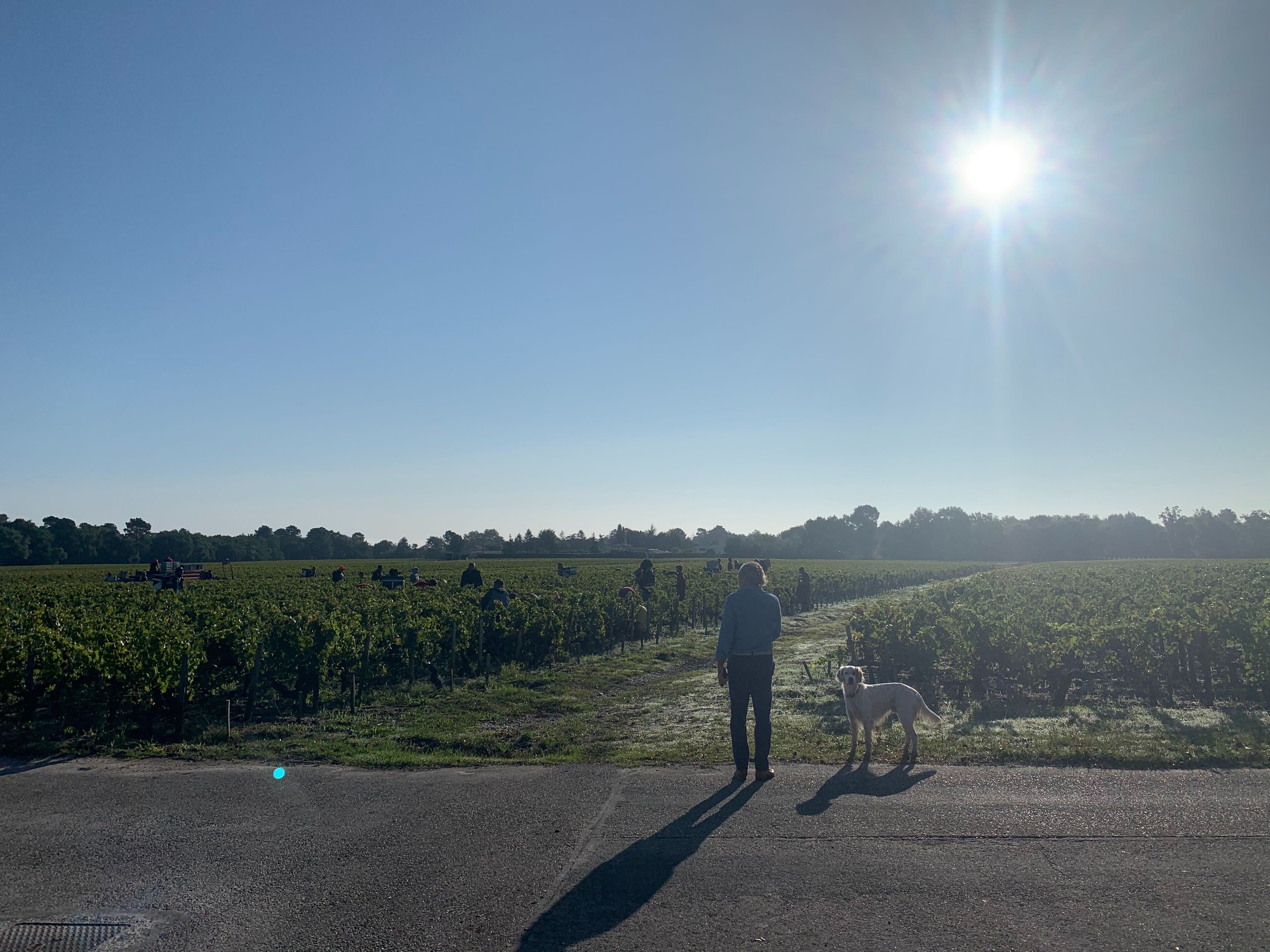 The last day of picking at Domaine de Chevalier (30th September 2020)
"There have been lots of choices to make this year", he continues – one of which no doubt was whether to trust the weather forecasts, particularly around harvest. With fewer planes flying around, forecasts were less accurate, and while rain fell further north, Pessac often remained dry. Bernard explains that the picking windows were tight in 2020: "instead of four days where the grapes are fine to pick, there's one day" – since the drought and heat would cause alcohol to rise, and acidity to deplete quickly.
It seems therefore that we have another winemaker's vintage on our hands. Mirroring somewhat the choppy commercial seas of this year, Bordeaux has had to navigate unpredictable viticultural waves too. What we have heard of the 2020 harvest thus far nonetheless leaves us hopeful, and anticipating eagerly the en primeur tastings of next spring.