Buying beyond the label – brands to buzz about
If 2020 has given any gift at all, it would be time at home, which many have used to read more, and learn new things on topics familiar and foreign. Today's blog helps you discover the unique stories behind some of the world's most recognisable wines. Read on below to discover beyond the label of these notable names.
Krug – Cracking the code
Beyond its reputation as one of the most admired Champagne brands, Krug has also pioneered an industry innovation: Krug iD. Since 2011, a six-digit "identification code" has been printed on the back label of every Krug bottle. Scanning the code with a smartphone gives drinkers access to the unique story of the individual bottle, including a vintage report, as well as offering food pairing suggestions, and recommendations for its storage and serving.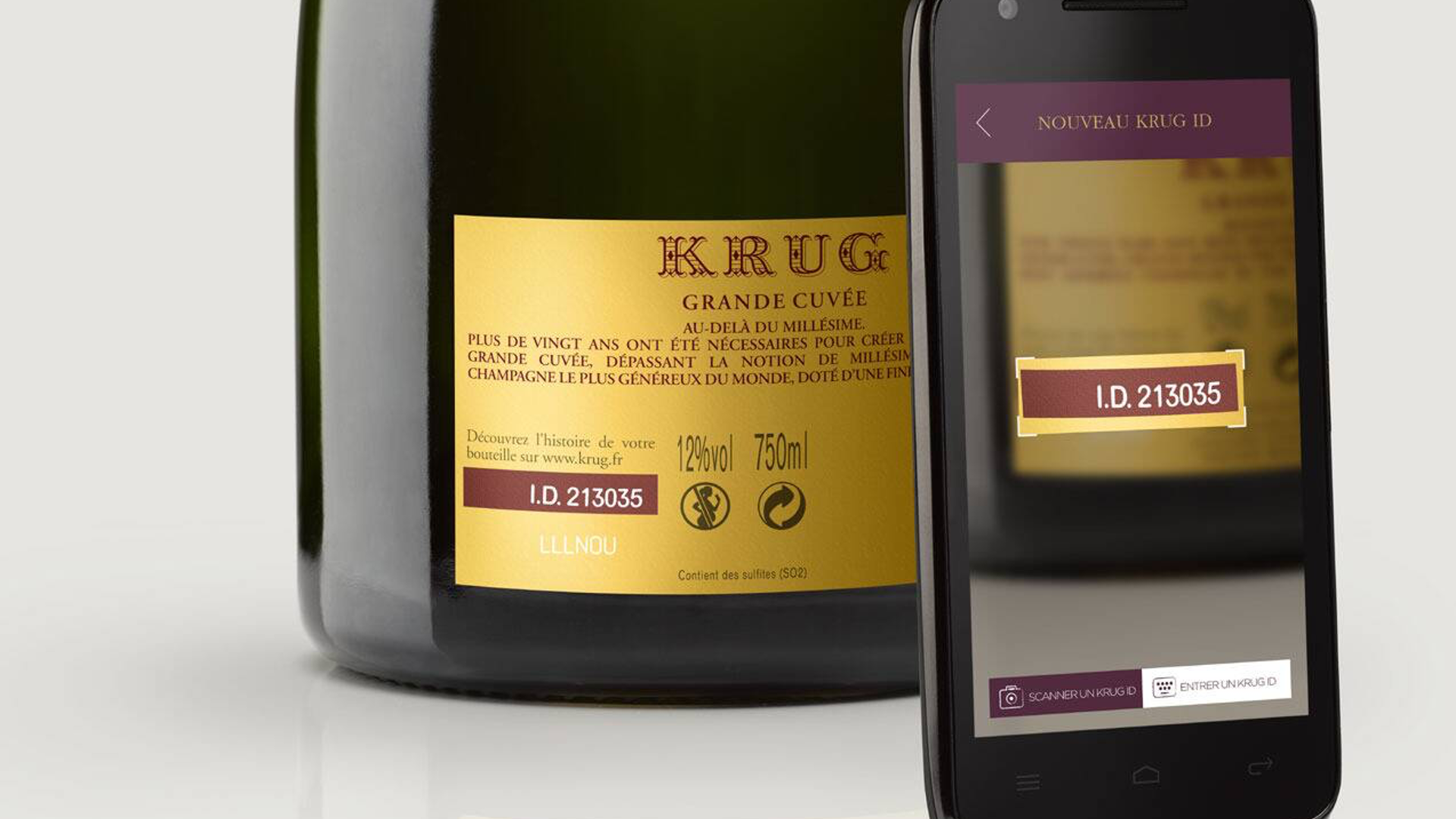 Photo credit: lvmh.com
Aside from its technical innovation, the quality of Krug is simply undeniable. The latest NV Krug Brut Grand Cuvée (168ème Édition) achieves MUST BUY status, and receives a score of 19/20 from Wine Lister partner critic, Jancis Robinson, who notes a "remarkable acidity underpinned by great depth of flavour and beautiful balance on the finish". It is available to purchase by the bottle from Crump, Richmond & Shaw Fine Wines for £133 (in-bond).
Cheval Blanc – Cultivation experimentation
Saint-Emilion superstar, Cheval Blanc, has illustrated significant long-term investment in its viticulture in recent years. Initiated by Managing Director, Pierre Lurton, the estate has conducted countless soil analyses, viticultural experiments, and regular phenological surveys to establish the best grape variety for each of its three different terroirs (gravel over clay, deep gravel, and sand over clay). Experiments have tested each possible variation of soil type for the Bordeaux varietals used in Cheval Blanc – 52% Cabernet Franc, 43% Merlot, and 5% Cabernet Sauvignon – to establish which combination delivers the best quality of fruit. Indeed, the château found its plot of sandy terroir to be particularly well suited to Cabernet Franc, providing a reference point for the best that can be achieved with the grape in Bordeaux.
Released en primeur in July this year, the  2019 Cheval Blanc was awarded 18 points from Jancis Robinson, who describes it as "beautifully poised on the palate with a density of fruit and silky texture of finely matted tannins. Pure, seductive and persistent". It can be bought by the case of six for £2,400 (in-bond) from Farr Vintners.
Bond – Truth in terroir
With grapes sourced from select hillside plots across Napa Valley, Bond's portfolio of Cabernet Sauvignon-based wines aims to reflect each wine's specific sense of place. The estate owns five sites featuring some of the region's best terroirs, and has dedicated its viticultural practice to preserving the best expression of its individual plots; Melbury, Pluribus, Quella, St. Eden, and Vecina.
The fruit from each site is vinified separately, while winemaking procedures are kept the same across all of the Bond wines in order to honour terroir differences. The Vecina vineyard, for instance, sits on volcanic soil at between 221 and 330 feet above sea level, causing a thermal amplitude of cool nights and hot afternoons, which renders its wines complex and layered, with concentrated tannins. The 2015 Bond Vecina was awarded 97 points from Wine Lister partner critic, Antonio Galloni (Vinous), who indeed describes it as "super-expressive. A big, dense wine, the 2015 possesses stunning richness and dimension". It is available by the bottle for £443 (in-bond) from Fine+Rare Wines.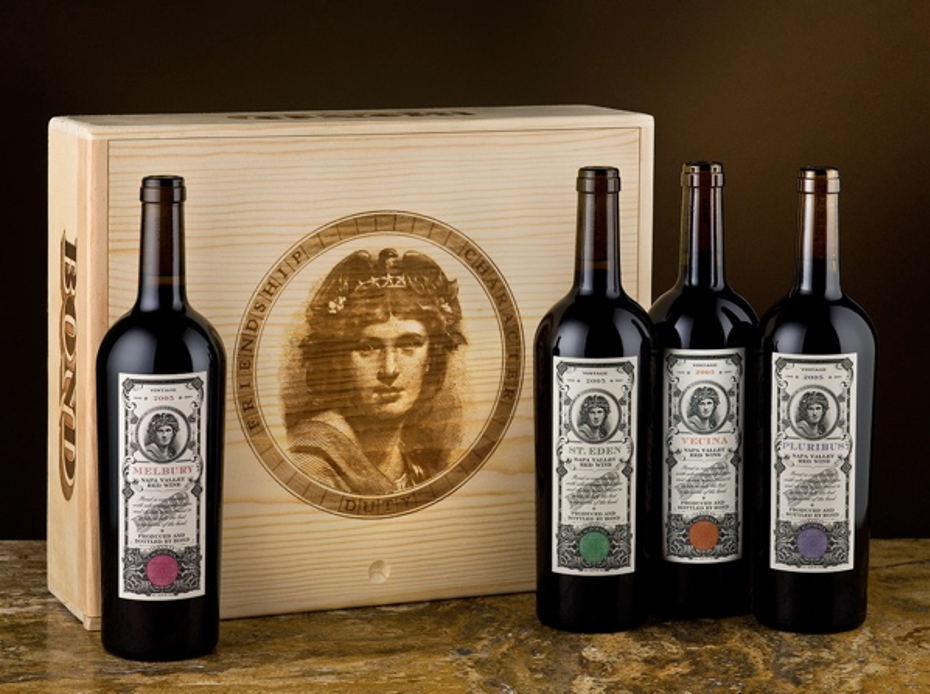 A line-up of Bond wines, that communicate the differences in the estate's Napa Valley sites.
Ornellaia – An artist's interpretation
Outside its global renown as a reference for quality in Tuscany, Ornellaia also stands out for its own special label tradition. Established in 2006, the estate's annual artist program, Vendemmia d'Artista, commissions a new artist each year for the creation of the limited-edition label, inspired by a single word chosen by winemaker, Axel Heinz, to capture the essence of the new vintage. The latest release (2017) was named "Solare" due to the especially hot growing season, in which both the Cabernet Sauvignon and Cabernet Franc grapes were harvested as early as August for the first time in history. This inspired contemporary artist, Tomás Saraceno's label design (below).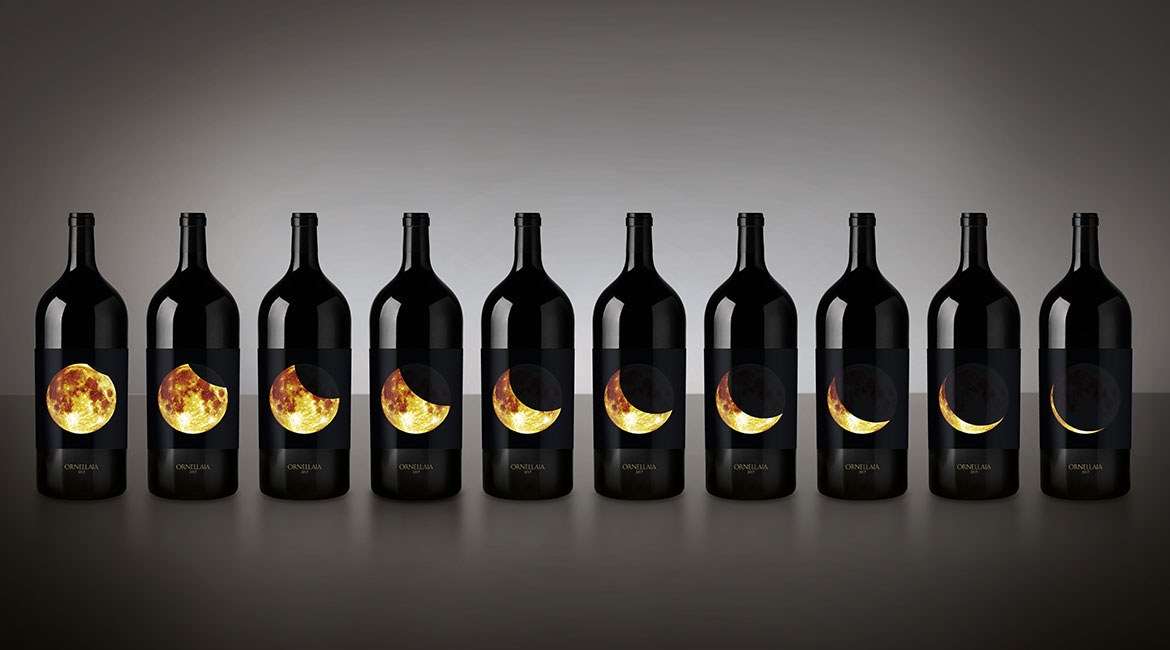 Photo credit: ornellaia.com
Awarding the Ornellaia 2017 97 points, Wine Lister partner critic, Antonio Galloni describes it as "sumptuous and racy, as Ornellaias from warmer years tend to be, but it is not at all heavy or overdone. In a word: superb!". The vintage can be bought by the case of six from Justerini & Brooks for £765 (in-bond).
The four above-mentioned wineries provide just a small handful of innovative and engaging examples of how to make a wine stand out from the crowd. Wine Lister has launched a dedicated PR and communications service in order to help more producers do the same on the UK market. To find out more, please contact us at  team@wine-lister.com.