September releases from La Place de Bordeaux: week three
Releases from two cult Californian producers have taken centre stage this week so far – see the analysis below.
Vérité 2017s 
The 2017 vintage of the Vérité trio – La Muse, Le Désir, and La Joie – was released on Monday, at £320 per bottle each (in-bond). The latest releases have picked up much praise from critics, and mark an historic year for the estate – completing its harvest one week before the arrival of North California's devastating Tubbs Fire, Vérité's vineyards escaped unscathed, and their grapes picked before any smoke taint from neighbouring areas could set in. This also marks the first collective release of Vérité's flagship wines in an assorted case, with previous vintages available to purchase separately.
Comprising 100% Merlot grapes for the first time since its conception, La Muse 2017 receives 96 points from Wine Lister partner critic, Antonio Galloni. He notes that the vintage "is aromatically deep, beautifully persistent and just impeccable in its balance", stating that he "liked it more than the 2016". A price of £320 places the 2017 20% below the current market price of the 2016, which has risen over 30% in price since its release, and has limited remaining market availability.
Le Désir 2017 obtains 98 points from Galloni – its highest ever score from the critic. He states it is "off the charts fabulous", and describes notes of "mocha, chocolate, licorice, leather, menthol, pine and spice". Akin to La Muse, market availability of last year's release is scarce, illustrating its good track record of selling through post-release. Keeping in mind the 2017's record-breaking score, it will be interesting to see if this trend continues this year, given the collective format in which the wines are being sold.
La Joie 2017 breaks the same record as its sibling, Le Désir, receiving its highest score to date from Galloni (96). He calls it "another gorgeous wine in this lineup", describing "hints of rose petal, lavender, mint and blood orange", and concluding that it is "a stunning wine by any measure".
Joseph Phelps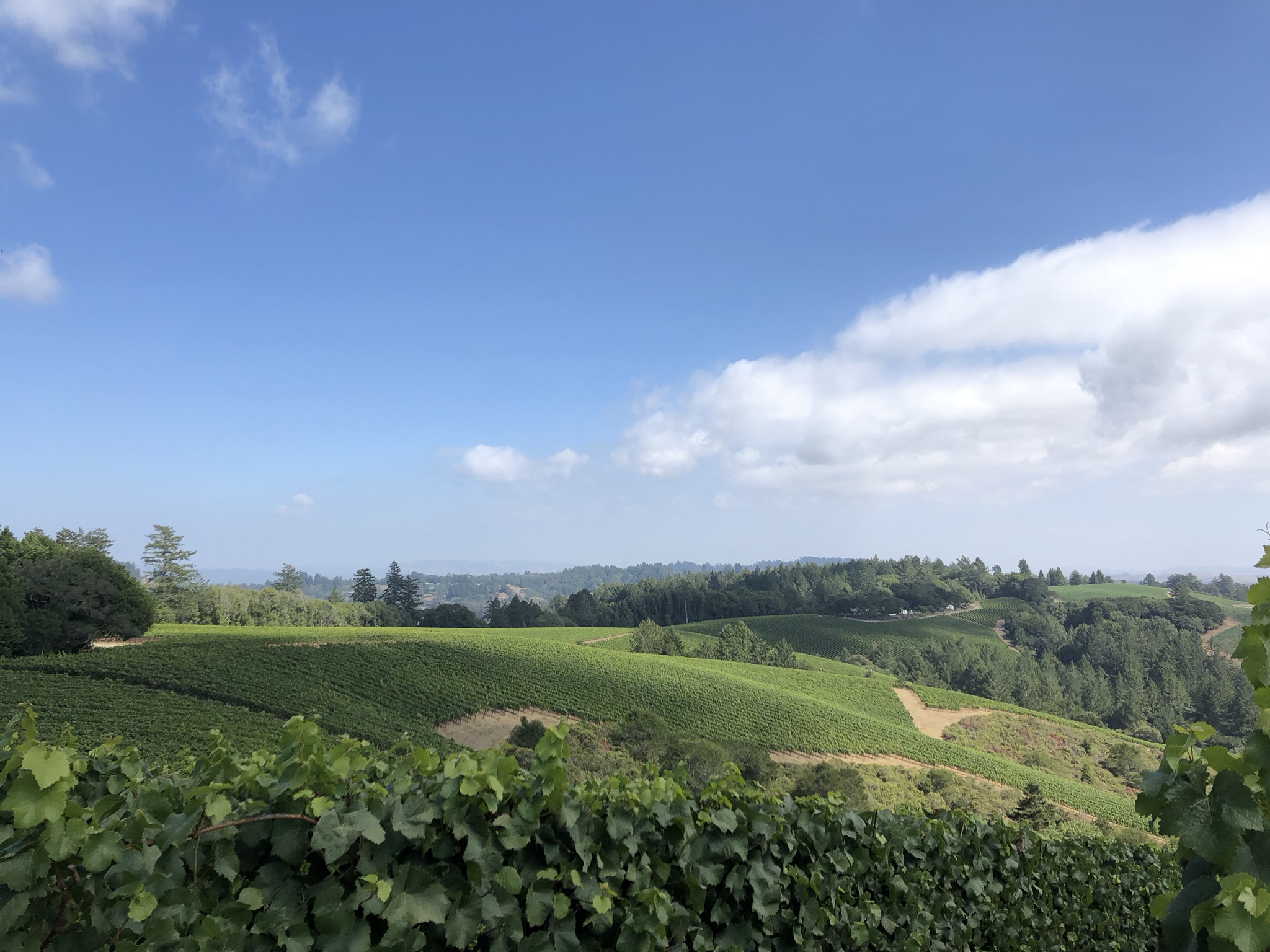 Joseph Phelps' Napa Valley vineyards – which saw their hottest recorded temperatures in 2017
Insignia 2017 entered the market yesterday at £160 per bottle in-bond (flat on the 2016 release price). As we were told in a recent Zoom tasting with Phelps' granddaughter and the winery's Director of Business Development, Elizabeth Neuman, the 2017 vintage lives up to her vision of Insignia as "a tangible legacy of Joe himself – achieving the best of the best". Neuman informed us of Winemaker, Ashley Hepworth's recent dedication to achieving texture in the wine, through which she has experimented with blending trials prior to ageing.
Awarding Insignia 2017 91-94 points, Galloni indeed describes a "dark, sumptuous and enveloping feel, with a real sense of breadth and textural resonance", adding that "more than anything else, the 2017 is all about palate richness". Wine Lister likewise recognised the finessed texture of the vintage, with Wine Lister CEO, Ella Lister, calling it "supple, gentle, and silky" on the palate, complete with "dark fruit, plum, and chocolate" on the nose.
Frequent heatwaves in 2017 saw record-high temperatures reached throughout the growing season, including an instance of 46.7°C, recorded in Phelps' Saint Helena Ranch during Labor Day weekend. The 2017 vintage is consequentially the winery's smallest in 20 years, with total production down 60% on the 2016.  The significant reduction in the volume released this year, as well as the estate's developing style, may work to encourage interest.
Also released over the past two days: Orma 2018, Petrolo Galatrona 2018, and Siepi 2018.
Sign up to Wine Lister's free subscription to get market insights delivered straight to your inbox: https://wine-lister.com/subscribe/info.