Rounding up the second week of Place de Bordeaux releases
Sampled by the Wine Lister team at last week's CVBG Beyond Bordeaux tasting, the latest Place de Bordeaux releases cover a range of regions and price points. Below we examine some of the highlights:
Wednesday 9th September 
Released at c.£225 per bottle (in-bond), Beaucastel Hommage à Jacques Perrin 2018 enters the market below the current prices of the two previous vintages (see graph below). Hommage was a Wine Lister favourite this year. We detected bright, candied strawberries, orange skin, and clove, while its mouthfeel offered a momentary grip of tannins, followed by a silky-smooth finish.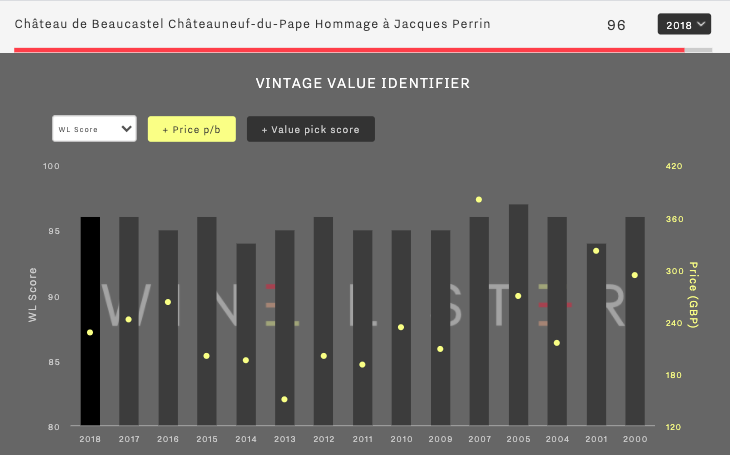 With a 15% reduction in volume released this year, alongside the château's unwavering reputation for producing benchmark quality in Châteauneuf-du-Pape, the new vintage is worth considering for future drinking. In the meantime, back vintages 2015, 2012, and 2009 also look good in terms of price and quality. Writing for JancisRobinson.com, Tom Parker MW awards the 2018 17+ points, noting "meaty, earthy fruit on the nose, very complex already", and "damson and morello cherry" on the palette.
Inglenook Rubicon 2017 also entered the market on Wednesday at £120 per bottle (in-bond). Produced by the estate since 1978, the flagship wine has maintained a score of 95 or above from Wine Lister partner critic, Antonio Galloni, over the past five vintages, and the latest release is no exception. Awarding it 95 points, he describes notes of "red fruit, cedar, sweet pipe tobacco, menthol and licorice" that "all develop in the glass". Our team detected complex spice and oak, softened by a gentle hint of vanilla.
Thursday 10th September 
Released yesterday at £54 per bottle (in-bond), Cheval des Andes 2017 receives 17.5+ points from Tom Parker MW for JancisRobinson.com. He describes "intense and expansive black fruit and spices on the nose, with a hint of black olive and violet", and "blueberry, violet and dried herbs" on the palette. He concludes, "I expect this to become even more impressive after 5 years in bottle, though you could drink it sooner". Having tasted a flight of recent back vintages at the time of last year's release with Technical Director, Gérald Gabillet, the Wine Lister team can attest to Cheval des Andes' continued upward quality trajectory. We noted a definite complexity within the latest vintage, which offers a nose of Parma violets, white pepper, and bright berries. Cheval des Andes 2017 enters the market under current prices of the last three vintages, and is worth snapping up if there remains any availability.
Solaia 2017 completes the quartet of releases from the past couple of days. Matching last year's release price of £175 per bottle (in-bond), the latest vintage comes onto the market comfortably under current prices of the previous two (which have increased their respective values by c.20% since release – see chart below). Wine Lister partner critic, Antonio Galloni, awards Solaia 2017 95+ points, and describes "terrific aromatic expansiveness and tons of persistence". There is anticipation for this score to improve: "I can't wait to taste it with a bit more time in bottle", he adds. We tasted the 2017 last week, and were indeed impressed with its development, finding an elegant nose of violet drops and cocoa powder. Given its impressive quality in such a challenging year, and the wine's history of good price performance post-release, this is well worth securing now.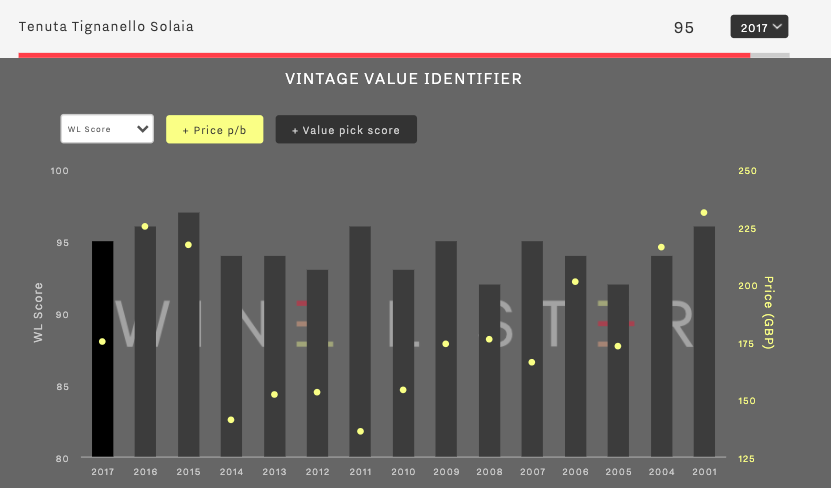 Among other benefits available exclusively to the trade, Wine Lister's Pro+ Subscription offers real-time release alerts and live analysis on major wine releases throughout the vinous calendar. Please email us at team@wine-lister.com to enquire.