The start of September releases: contributions from all continents
The Place de Bordeaux September releases commenced this week (Tuesday 1st September), launching the distribution of several New World (and a few Old World) icons through its impressive network. The releases have so far exhibited high praise from critics. This affirms the increasing appeal of New World wines, despite the current economic crisis making for an unlucky welcome.
Choices from Chile
Clos Apalta opened the stage on Tuesday, with a vintage that marks its 20th anniversary, as honoured by the 2017's commemorative bottle. Receiving 100 points from James Suckling, and 95 points from Luis Gutiérrez for Wine Advocate, its average critics' score of 97.5 matches both the 2016 and 2015 vintages. We sampled it at this week's Bordeaux and Beyond tasting, organised by négociant CVBG, and found notes of bright red fruit, spice, and orange peel. Despite being one of the most expensive recent vintages (joint with 2016) at £74.50 per bottle (in-bond), Clos Apalta has no doubt achieved a high quality for this anniversary bottle.
Another Chilean entry, Almaviva 2018 was released at £101.00 per bottle (in-bond) on Wednesday (2nd September) – c.4% down on last year. Its average critics' score of 97 points places it in line with 2017 as the joint-best average score to date, which, alongside its slight reduction in volume from last year, may stimulate demand. Indeed, we found the 2018 to be bright and energetic, with notes of ripe currants, green tomato, and spice.
The Wine Lister team sample 2018s from Seña and Chadwick with Owner, Eduardo Chadwick, and his team
Released on Thursday (3rd September) at £82.50 per bottle (in-bond), Seña 2018 is "the best vintage of this decade", according to Owner, Eduardo Chadwick. He explained to us that growing conditions in 2018 were balanced between the two previous vintages (2016 was very cool, while 2017 was hot and dry), creating "almost a perfect season". The vintage receives 100 points from James Suckling, and 98 points from Luis Gutiérrez for Wine Advocate, making it Seña's highest-ever average score from those two critics – 99. Our team was equally impressed in our virtual tasting, noting its velvet mouthfeel, silky tannins, and juicy freshness. Chadwick 2018 was also released this week (just 6000 bottles), acquiring an average critics' score of 97.5 at £226.33 per bottle (in-bond).
Introducing Italy
Bibi Graetz Testamatta 2018 and Bibi Graetz Colore 2018 entered the market on Tuesday (1st September), at £70 and £180 per bottle (in-bond), respectively. Both wines offer significant discounts from their previous releases, and have achieved praise from critics. James Suckling gives 97 points to Testamatta 2018, describing a "cherry and lemon rind character", and "fine tannins", and 100 points to Colore 2018, calling it "one of the best vintages ever produced. The high quality and suitable pricing of both wines will likely be embraced in the present economic climate.
An Australian addition
Jim Barry The Armagh Shiraz 2016 entered the market on Wednesday, at c.£151 per bottle (in-bond), marking the producer's inaugural release through La Place de Bordeaux. The vintage received 97 points from Wine Advocate's Joe Czerwinski – the highest WA score received by The Armagh Shiraz since its 2012 vintage. He states that the 2016 is "full-bodied and supple" and "finishes cedary, intense and long, adding in complex, lingering spice notes".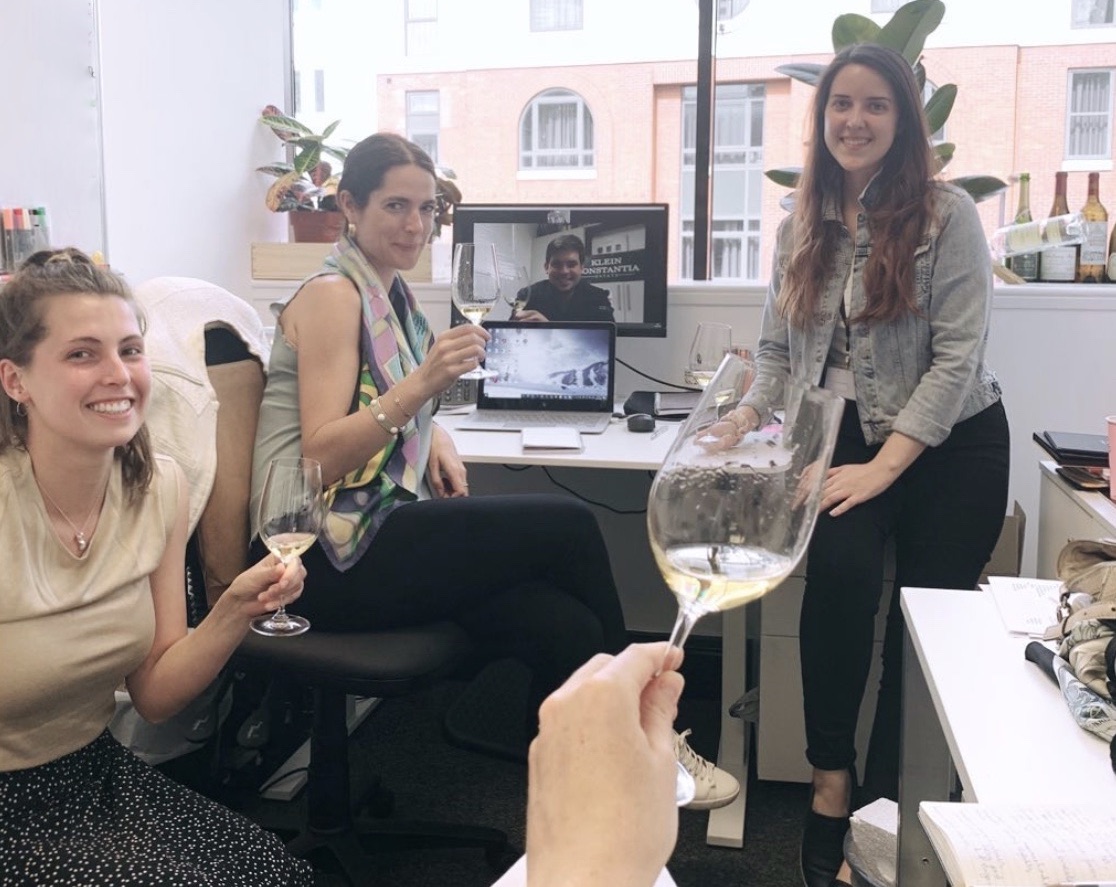 The Wine Lister team sample the 2017 Vin de Constance with Winemaker, Matt Day
A sweeter offering from South Africa
As told to us by Winemaker, Matt Day, in a recent Zoom tasting, the 2017 Vin de Constance (released on Wednesday 2nd September) is the closest vintage yet to their philosophy of creating a "dry sweet wine". Wine Lister's CEO, Ella Lister, notes hints of "apricots, rosewater, lemon balm, Marcona almonds, and acacia honey" among other aromas, and on the palate "dried apricots and a gorgeous savoury finish". At £39 per bottle (in-bond), the 2017 receives 97 points from James Suckling, compared to an average of 95 (from James Suckling and Wine Advocate) for each of the past three years. While it does not offer a discount, Klein Constantia does a spectacular job of achieving high quality in its developing style of Vin de Constance.
Kick-starting California
L'Aventure Estate Cuvée 2018 was released yesterday (Thursday 3rd September) at c.£68 per bottle (in-bond) – flat on the 2017 release price, and earning 95 points from Wine Advocate's Erin Brooks (one down from the 2017). She noted that "the full-bodied palate is incredibly pixelated and silky with very bold freshness and a long, layered finish" and that she "can't wait to taste this beauty from bottle". We enjoyed detecting violet, toast, and vanilla on the nose, and were similarly impressed by its velvet mouthfeel.
Among other benefits available exclusively to the trade, Wine Lister's Pro+ Subscription offers real-time release alerts and live analysis on major wine releases throughout the vinous calendar. Please email us at team@wine-lister.com to enquire.