New Wine Lister MUST BUYs
Wine Lister's latest MUST BUY update identified 38 new wines that show quality and value within their respective vintages and appellations, and wide praise from the international trade. To help you discover these new picks, this week's blog takes a deep dive into the latest MUST BUY wines and their geographical composition.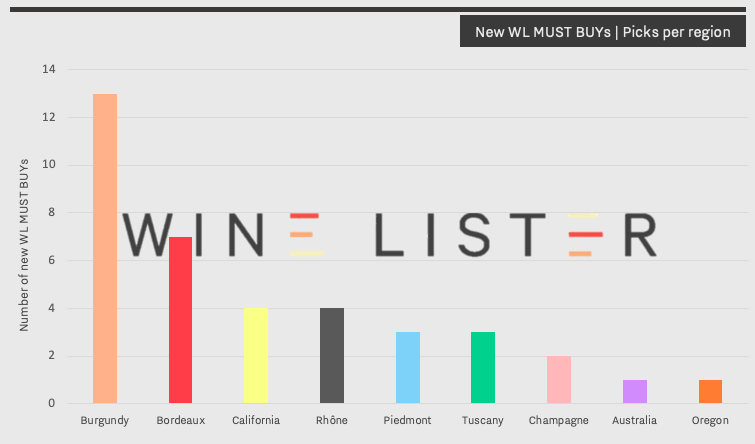 Pinot Noir picks
Burgundy dominates the new MUST BUY hoard with 13 entries, including eight reds. The perfect pick for an opulent occasion, the 1978 Romanée-Conti Richebourg costs £1,434 per bottle (in-bond), and was described by Wine Lister partner critic, Jancis Robinson, as "very long with smoothness, sweetness and unctuousness". Sharing its WL score of 96, the 2010 Volnay Clos des Ducs from the Côte de Beaune's red producer of reference, Marquis d'Angerville, provides a more affordable option at £250 per bottle (in-bond), but may merit a little patience.
Outside of Pinot Noir's original homeland are some new MUST BUYs of brilliant quality and impressive value for money. California's 2016 Au Bon Climat Isabelle Pinot Noir has a WL score of 94, and was described by Wine Lister partner critic, Antonio Galloni, as "racy, perfumed and beautifully layered", with notes of "orange peel, tobacco, blood orange, spice, star anise and new oak" throughout. It can be purchased for less than five times the price of the aforementioned Volnay, by the case of six for £262 (in-bond) from Jeroboams.
Travelling north within the US brings us to Oregon's latest MUST BUY entry – the 2016 Cristom Louise Vineyard Pinot Noir. While more expensive than its Californian counterpart for the same WL score, Cristom's position as the leading producer in the Willamette Valley, alongside its closer proximity to Burgundy's cool-climate restrained style, makes it more than worth the c.35% premium. It is available to purchase for c.£60 per bottle (in-bond) from WineBuyers.com.
The best of Bordeaux blends
Bordeaux offers seven new MUST BUYs this week, including two Left Bank Value picks; 2019 Haut-Bages Libéral and 2015 Capbern. With a WL score of 92, the former addition was released en primeur two months ago, and described by James Lawther for JancisRobinson.com as, "busy and expressive on the nose with vineyard-fresh dark fruit, black-olive and mineral notes". Labelled by Lawther as the "best in recent years", this gem from Bordeaux's prominent promotors of biodynamic viticulture, Gonzague and Claire Lurton, has a bright future ahead. It can still be bought en primeur through Justerini & Brooks for £142.50 per six (in-bond).
The 2010 Vieux Château Certan also appears in the latest MUST BUY update, 10 years on from the iconic vintage. It provides a more lavish option for the Bordeaux buyer, receiving a WL score of 96 at £216 per bottle (in-bond). Moving across the border into Tuscany, the 2010 Sassicaia also offers a more luxurious alternative to the Bordeaux blend. Comprising of 85% Cabernet Sauvignon and 15% Cabernet Franc, it was described by Antonio Galloni as, "just beginning to show the first signs of aromatic development", including hints of "sweet tobacco, mint, pine, dried cherries and licorice". It achieves a WL score of 95, and is available to purchase by the case of six for £915 from Goedhuis & Co.
Choosing Chardonnay
Back to Burgundy, and the new white MUST BUYs this week offer opulence from three iconic Meursault producers; 2015 Roulot Charmes, 2010 Comtes Lafon Genevrières, and 2017 Arnaud Ente Les Petits Charrons are all exceptional choices, albeit for an average price of £492 per bottle (in-bond). Further north, two entries hail from Chablis, and the appellation's original historic vineyard, Les Clos; 2014 Laroche Les Clos, and 2010 Christian Moreau Père et Fils Les Clos. For those who enjoy a more pure, lean, and mineral style of white wine, the Chablis MUST BUYs exhibit notable value within their appellation and achieve higher WL scores than their buttery Meursault counterparts. The latter can be bought by the case of 12 from Cru World Wine for £871 (in-bond).
California's latest white MUST BUY hails from Kistler Vineyard; a cult producer known for its emulation of pure and balanced Burgundian Chardonnays, over the rich and oaky Californian style. The 2017 Kistler Vineyards Dutton Ranch Chardonnay achieves a WL score of 96, and is labelled by Antonio Galloni as "such an intriguing wine because of the way it is airy and lifted and yet also so deep in feel". Providing a less expensive alternative to Côte d'Or whites, it is priced at £133 per bottle (in-bond).
Also featured in the list of new MUST BUYs are: 2009 Abreu Madrona Ranch Cabernet Sauvignon, 1989 Bollinger Grande Année, 1996 Bruno Clair Chambertin Clos de Bèze, 2006 Cavallotto Barolo Vignolo Riserva, 2013 Ceretto Barolo Brunate, 2012 Conti Costanti Brunello di Montalcino Riserva, 1996 Dunn Vineyards Howell Mountain Cabernet Sauvignon, 2014 Duroché Chambertin Clos de Bèze, 2017 Georges Mugneret-Gibourg Clos de Vougeot, 2012 Jacques-Frédéric Mugnier Chambolle-Musigny Les Amoureuses, 2014 Jean Grivot Richebourg, 2010 Jim Barry The Armagh Shiraz, 2017 Joseph Drouhin Chambolle-Musigny Les Amoureuses, 1996 Lafite Rothschild, 2008 Lafleur, 2016 Le Macchiole Paleo Rosso, 2016 l'Evangile, 2006 Louis Roederer Cristal Rosé, 2018 Marc Sorrel Hermitage, 2013 M. Chapoutier Hermitage Ermitage Blanc De l'Orée, 2016 M. Chapoutier Hermitage Ermitage Le Méal, 2012 Roagna Barbaresco Pajè Vecchie Viti, 2016 Valandraud, and 2009 Vincent Paris Cornas La Geynale.