New World MUST BUYs with rising popularity
Many wine lovers like us have been making the most of lockdown to explore outside of the more traditional wine-growing regions and grape varieties. Wine Lister's new cellar analysis service can include tailored guidance on future purchases for drinking or investment, providing recommendations for top-quality wines from alternative producers and regions.
To help you discover some of these brilliant New World picks, the Wine Lister team has put together a short selection of MUST BUYs that have exhibited a recent rise in popularity, as established through search frequency data from Wine-Searcher.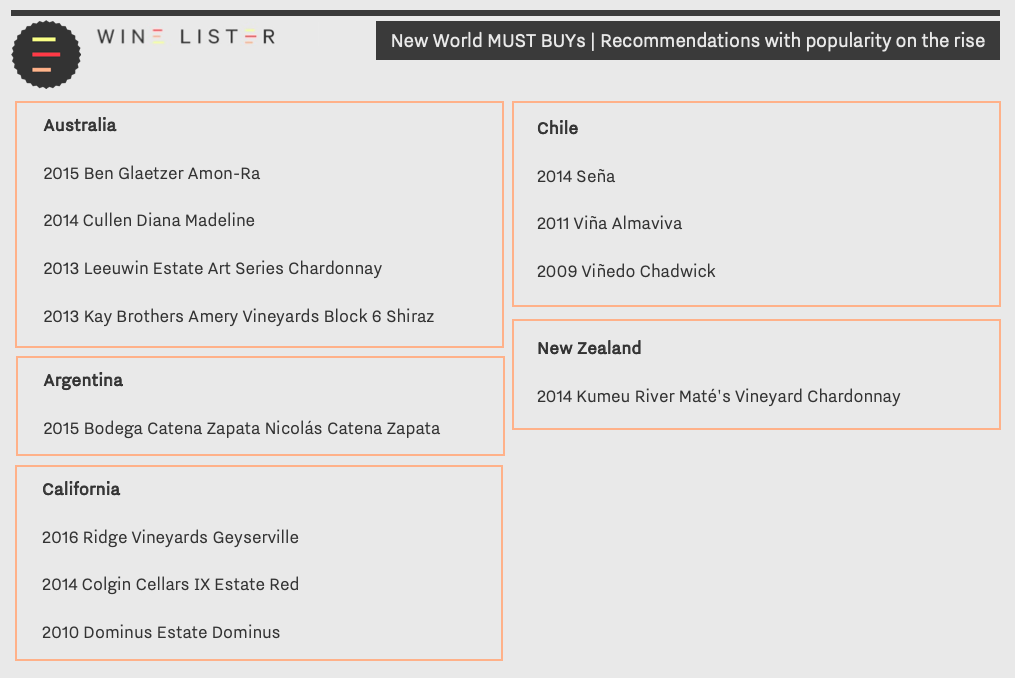 Australia to ask for – 2014 Cullen Diana Madeline
Founded in 1971, the Cullen Estate has maintained concern for its environment since its inception, keeping both chemical intervention and irrigation to a minimum. In 1998, the estate adopted an organic viticulture, which was further developed into a biodynamic practice in 2008. Winemaker, Vanya Cullen, states the biodynamic approach to harnessing Earth's energy "achieves greater individuality of site through working with nature rather than against it", suggesting its ability to better display terroir and climate. The estate's flagship wine, Diana Madeline, comprises a blend of 89% Cabernet Sauvignon with small amounts of Petit Verdot, Merlot, Malbec, and Cabernet Franc in 2014. With a WL score of 95 at £50 per bottle (in-bond), it is described by Wine Lister partner critic, Jancis Robinson, as "refined and elegant", and displaying "great harmony". It can be bought by the case of 12 from BI Fine Wine & Spirits.
Argentina to acquire – 2015 Bodega Catena Zapata Nicolás Catena Zapata
Nicolás Catena Zapata helped pioneer the use of European winemaking techniques in Argentina's high altitudes, following in the footsteps of his grandfather, Nicola Catena – an Italian immigrant who founded the winery in 1902. The inaugural vintage of the namesake wine (1997) was debuted in the USA and Europe at a series of blind tastings, where it received comparison to First Growths Latour and Haut-Brion, and achieved either first or second place in every event. Composed of 83% Cabernet Sauvignon and 17% Malbec in 2015, Nicolás Catena Zapata grapes are fermented in 100% French Oak barrels for 15 days. Fermentation temperatures are kept low, to extract pronounced aromas, while cap management is done by hand to encourage the extraction of nuanced flavours and gentle tannins. The 2015 Nicolás Catena Zapata receives a WL score of 94, at £49 per bottle (in-bond), and can be acquired by the case of 12 from Fine+Rare Wines.
California to call upon – 2010 Dominus Estate Dominus
Owned by Christian Moueix (of Petrus fame), Dominus Estate demonstrates its prestigious proprietorship with one of the highest quality Bordeaux blends in California. Comprised of 95% Cabernet Sauvignon, and 5% Petit Verdot, the 2010 Dominus Estate Dominus was produced in the smallest quantities known to the property since its 1984 vintage – consequential of a rigorous selection of lots for the final blend. Wine Lister partner critic, Antonio Galloni, calls the 2010 "a towering, utterly magnificent wine", describing "asphalt, licorice, menthol, plums and cassis" that "wrap around the palate and never let up". With a WL score of 98, at £233 per bottle (in-bond), it can be aged for another 20 years, and is available to purchase by the case of six from Corney & Barrow.
Chile to chase – 2014 Seña
A blend of 60% Cabernet Sauvignon, 16% Carménère, 11% Malbec, 8% Merlot, and 5% Petit Verdot, the 2014 Seña was described by WL partner critic, Jeannie Cho Lee as a "fabulous wine that offers layers of flavors that range from exotic spices, rose petals and violets to blackberries and fresh herbs". Owner Eduardo Chadwick tells us of his addition of the late-ripening Petit Verdot, which adds spice and complexity to the wine. With extremely fine-grained tannins and acidity, thanks to its cool climate, the wine has received several comparisons with top Bordeaux blends. Achieving a WL score of 96, at £78 per bottle (in-bond), the 2014 Seña can be bought by the case of six from Lay & Wheeler.
New Zealand worth knowing – 2014 Kumeu River Maté's Vineyard Chardonnay
Achieving a WL score of 94 at £38 per bottle (in-bond), the 2014 Kumeu River Maté's Vineyard Chardonnay constitutes a good value New World Chardonnay with excellent ageing potential (it can be aged for a further 10 years). Wine Lister partner critic, Neal Martin, describes the 2014 vintage as having "a riveting, brilliantly defined bouquet of oyster shell, citrus peel and apple blossom", concluding that it is "world-class stuff". Having taken over the estate from his Dalmatian father, Maté, in 1982, Kumeu River director, Michael Brajkovich, was the first New Zealander to become a Master of Wine, and used his knowledge to develop its viticulture through improving drainage, growing grass between the vines, and introducing a Lyre trellis system. Named after Michael's late father, the 2014 Kumeu River Maté's Vineyard Chardonnay is available to purchase by the bottle from Lay & Wheeler.
Also featured in the above MUST BUY recommendations are: 2016 Ridge Vineyards Geyserville, 2015 Ben Glaetzer Amon-Ra, 2014 Colgin Cellars IX Estate Red, 2013 Kay Brothers Amery Vineyards Block 6 Shiraz, 2013 Leeuwin Estate Art Series Chardonnay, 2011 Viña Almaviva, and 2009 Viñedo Chadwick.
For bespoke fine wine purchase recommendations, as well as advice on creating the financial room with re-sale suggestions, get in touch with our team at team@wine-lister.com, or download the full Cellar Analysis information pack.