In victory and defeat: Champagne MUST BUYs worth celebrating
The global pandemic caused considerable losses to the Champagne industry, with estimations that its sales depleted by more than 75% at the height of lockdown. While we have lacked cause for celebration over the past quarter, parts of the world are now returning to a new normal, with restaurants and bars gradually reopening. It is time to raise a toast to our favourite fizz.
To guide those buying at every level, we have compiled a selection of Champagne MUST BUYs at five different price points.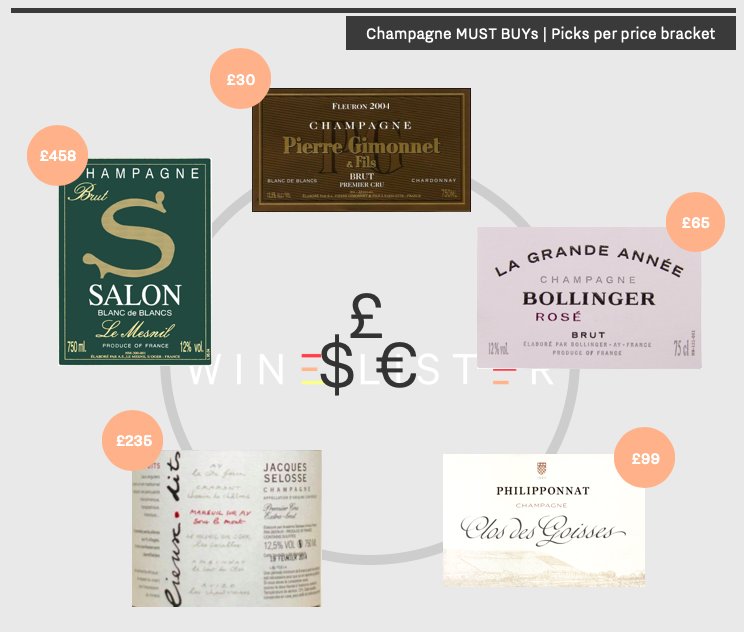 Under £50 – 2009 Pierre Gimonnet et fils Fleuron Brut Blanc de Blancs
Pierre Gimonnet et Fils is an original member of the Club Trésors de Champagne, which, founded in 1971 by 12 longstanding producers, now includes 29 grower Champagne houses that produce, bottle, and age their wine on-site. Currently managed by third-generation vignerons, Didier and Olivier Gimonnet, the property owns 28 hectares of vineyards around the Côte des Blancs. Made from 100% Chardonnay grapes, the estate's "Fleuron" is produced solely in excellent years, from grapes selected in the best plots of each vineyard. At £30 per bottle (in-bond), the 2009 Pierre Gimonnet et fils Fleuron Brut Blanc de Blancs was described as "absolutely fabulous" by Wine Lister partner critic, Antonio Galloni. A "tropically-leaning expression of fruit marries with the classic Gimonnet emphasis on tension", Galloni adds. The 2009 is available to purchase in magnum form from Armit Wines.
Under £75 – 2007 Bollinger Grande Année rosé
Added to the estate's portfolio in 1976, then manager, Lily Bollinger, agreed to the production of a rosé under one condition – it had to be extraordinary. Only made in the best vintages, the 2007 Bollinger Grande Année Rosé comprises a blend of 72% Pinot Noir and 28% Chardonnay, was fermented entirely in barrels, and aged under natural cork. With a WL score of 93 at £65 per bottle (in-bond), it promises impressive ageing potential. Having tasted the 2007 in 2019, Tim Jackson for JancisRobinson.com notes its "chalky texture with red and black cherry, some orange-citrus and plenty of nutty lees".  The 2007 Bollinger Grande Année rosé is available to purchase by the case from Berry Bros & Rudd.
Under £150 – 2004 Philipponnat Clos des Goisses
At £99 per bottle (in-bond), the 2004 Philipponnat Clos des Goisses achieves a WL score of 96. Clos des Goisses is Philipponnat's flagship cuvée, produced from 65% Pinot Noir and 35% Chardonnay grapes. Grapes are selected from Philipponnat's walled Mareuil-sur-Ay vineyard, which, at a 45-degree slant, ensures the optimum ripening of Pinot Noir grapes in Champagne's cool climate. Julia Harding for JancisRobinson.com notes that there is "a toasty richness on the palate, even a slight note of char and chamomile",  calling it a "complex and unfolding wine that cannot be rushed if you want to enjoy its multi-layered character". The 2004 Philipponnat Clos des Goisses can be purchased by the case from Fine + Rare Wines.
Under £300 – NV Jacques Selosse Blanc de Noirs Le Côte Faron
Founded in 1949, Jacques Selosse is now run by Jacques's son, Anselme who took over from his father in 1974. Anselme has been praised for instigating a welcomed change in Champagne, encouraging producers to embrace new ideas of low yields, chemical-free vineyards, and terroir-focussed wines. Having implemented a reduction of yields and organic farming within his own production,  Jacques Selosse now produces some of the most sought-after wines from the region. Made from 100% Pinot Noir grapes grown in a single vineyard, La Côte Faron in the village of Aÿ,  Jacques Selosse's NV Blanc de Noirs costs £235 per bottle (in-bond). Antonio Galloni names it "a Champagne of total and pure sensuality", with "tons of textural resonance". It is available to purchase by the bottle (in-bond) from BI Fine Wines.
Over £400: 2002 Salon Le Mesnil
At £458 per bottle (in-bond), the 2002 from cult Champagne house Salon Le Mesnil was aged for 11 years on lees before being disgorged and released in 2013. Produced only in exceptional years, and as a quality benchmark for pure Chardonnay Champagnes, Salon Le Mesnil's signature is making Blanc de Blancs with grapes of extremely high acidity, facilitating extended ageing and consequential complexity. The 2002 Salon Le Mesnil earned a rare 19.5 points from Jancis Robinson, who last tasted it in 2019. She describes it as "rich and nuanced on the palate", featuring "tertiary notes underneath, with some hay and then real grip on the end. Very long with a fascinating narrative". There appears to be some availability of the 2002 vintage at Goedhuis & Co.
French readers can find this blog in French translation on Le Figaro Vin's website. 
Sign up to Wine Lister's free subscription to get market insights delivered straight to your inbox.