Which Bordeaux brands do the trade back in 2020?
With the Bordeaux 2019 en primeur campaign now behind us, Part I of Wine Lister's 2020 Bordeaux Study examines the results of our latest in-depth trade survey. Answered by 50 key players across major fine wine markets, the results provide insight into the wine trade's latest position on the region, including its level of confidence in specific wines.
The trade's faith in Bordeaux brands has increased on the whole since last year, with more Bordeaux wines moving up in their confidence rating than down. For the fourth consecutive year, no Bordeaux wine received a confidence rating of 10/10. Brands that have retained their 9/10 confidence rating since last year are Lafleur, Le Pin, Margaux, Mouton, Petrus, and Vieux Châteaux Certan.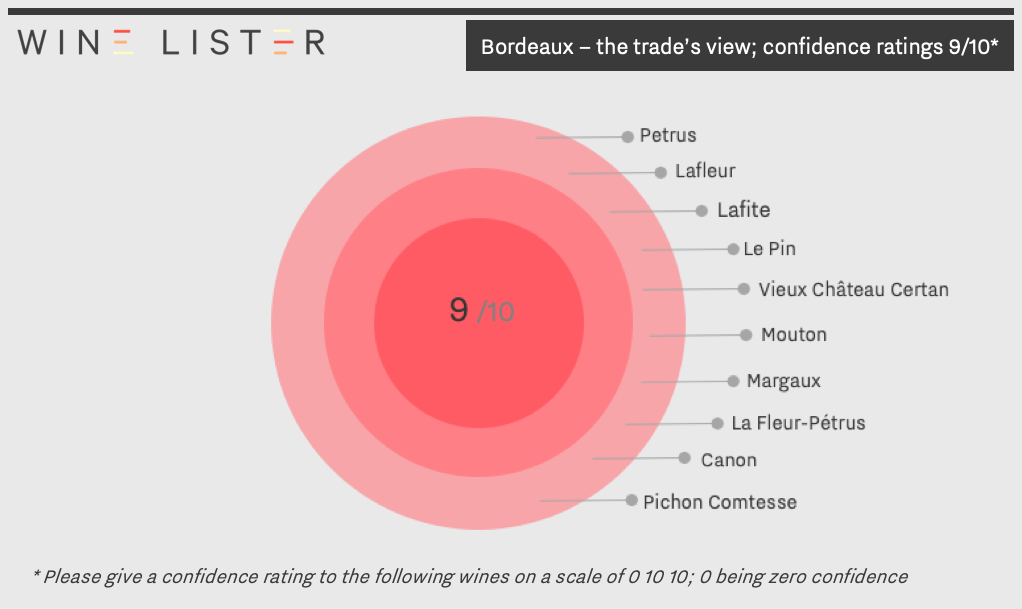 Joining them in 2020 are Canon, La Fleur-Pétrus, Lafite, and Pichon Comtesse, while Latour has moved down a rating since last year, to 8/10. The survey was, however, conducted prior to the first growth's successful 2012 release (27th May) at c.£350 per bottle, marking its first release of a vintage exclusively as mature stock.
There are 28 Bordeaux wines that earn a confidence rating of 8/10 in 2020, with nine joining them since last year: Angélus, Ausone, Belair-Monange, Carruades de Lafite, Grand-Puy-Lacoste, La Mission Haut-Brion, Montrose, Palmer, and Pavillon Blanc.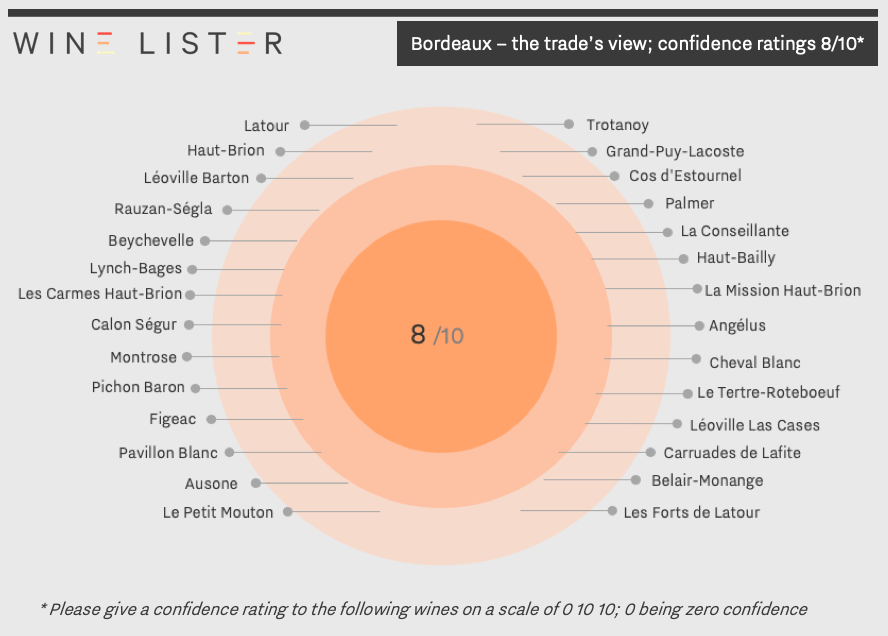 Though Margaux's Pavillon Rouge moves down to a rating of  7/10 in 2020, three younger siblings of first growths stay at a rating of 8/10:  Carruades de Lafite, Le Petit Mouton, and Les Forts de Latour.
Part II of the Bordeaux 2020 study, including a score breakdown of 2019s, and further retrospective analysis of the en primeur campaign, will be published shortly. Watch this space.
In the meantime, visit the Analysis page to purchase Part I, or download using your Pro subscription (available in both English and French).