En primeur week #3 – the last first, super-seconds, and serious steals
The second half of this week has seen releases from first growth Margaux, Super-seconds Pichon Baron, Ducru-Beaucaillou, and more.
The two highest-priced wines released over the last two days have bucked discount trends set by their peers earlier in the campaign. Ausone 2019 was released on Wednesday 17th June, and merchants have been offering the wine for c.£432 per bottle in-bond (or 22% less than the 2018 vintage). Earlier in the campaign, Saint-Emilion Grand Cru Classé "A" neighbour, Cheval Blanc offered a healthier discount on its 2019 (of 32%), resulting in the competitive price of £375 per bottle.
Similarly, the last first growth of the campaign emerged yesterday, its grand vin entering the market at £350 per bottle. Margaux 2019 offers a 16% discount on last year's release price. Sitting more or less in the middle of 2019 prices from its two Pauillac comrades, Margaux nonetheless looks good when one considers Managing Director Philippe Bascaules' poignant comment, naming the 2019 "much more Château Margaux" than the 2018. The 2019 also achieves Margaux's best WL score (98 points) since the 2009 vintage. Volumes released onto the market are identical to last year, which will no doubt help to gain further appeal from buyers missing out on Lafite and Mouton.
Margaux's second wine, Pavillon Rouge, and dry white, Pavillon Blanc were also released, at £125 and £168 per bottle (in-bond) respectively.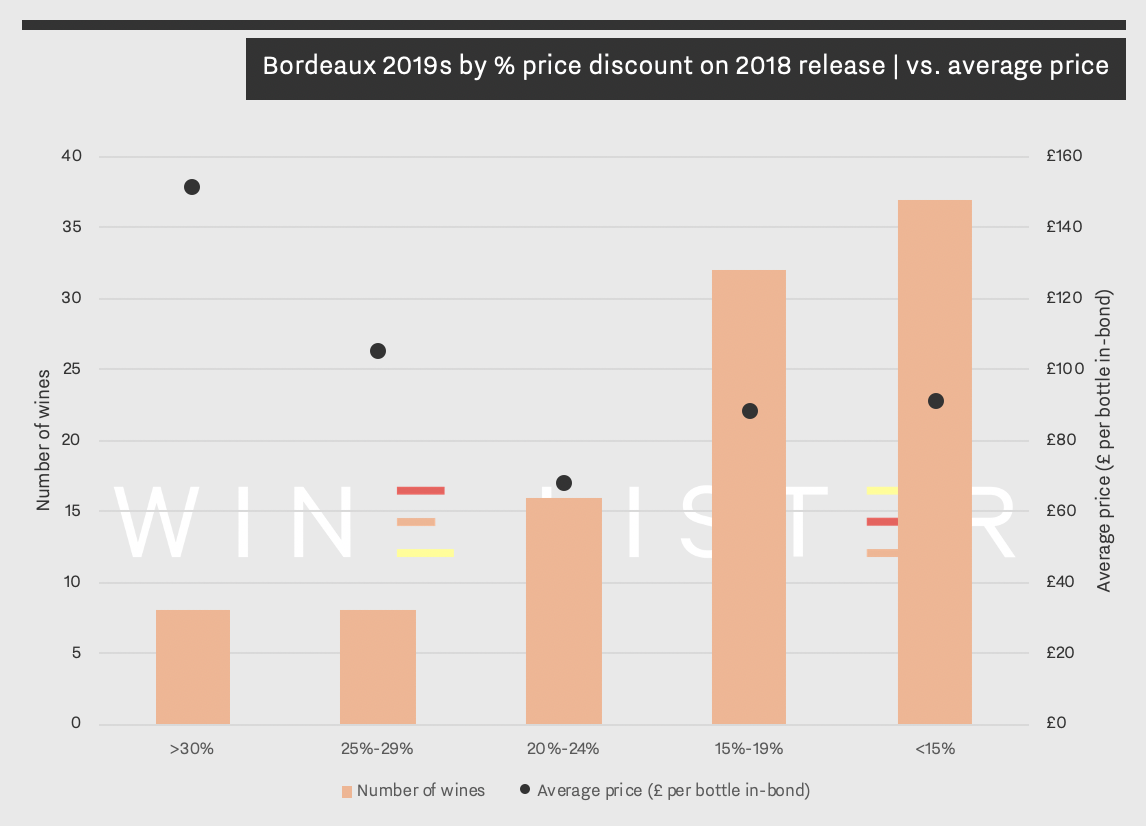 Of the c.100 wines released so far that Wine Lister covers, just eight of them have provided a 30% discount or above on 2018's release price, while almost 40 wines have offered discounts of less than 15%.
Pauillac powerhouse Pichon Baron also entered the market with its 2019 at £99 per bottle (15% below the current market price of 2018). Wine Lister partner critic, Neal Martin, awards it 96-98 points, simply saying, "this is an outstanding Pauillac". The same score was given by Martin to Saint-Julien super-second, Ducru-Beaucaillou, which also released yesterday. While both 2019 releases will no doubt find homes among followers of the brands and big en primeur buyers, in each case a recent back vintage also looks appealing in comparison – the 2015 Pichon Baron, and 2014 Ducru-Beaucaillou.
The Barton family wines joined the release fray this week – Léoville Barton, Langoa Barton, and value buy Mauvesin Barton. Wine Lister partner critics give high praise to the flagship release – Léoville Barton. Neal Martin and Antonio Galloni both award it 94-96 points, the latter saying, "what a gorgeous wine the 2019 is". Together with James Lawther's score of 18/20 for JancisRobinson.com, Léoville Barton 2019 achieves its highest Wine Lister score since the 2015 (95 points), which still has some availability in the market at around the same price.
Brane-Cantenac released yesterday at £41.50 per bottle. Its 2018 was one of Wine Lister's absolute favourites during last year's en primeur tastings, and judging by the latest critical acclaim, the 2019 has achieved another quality step up – James Lawther gives it 17.5 points, and names it "the epitome of fine Margaux". This wine continues to provide excellent value when compared to similar quality offerings of its appellation.
La Lagune 2019 also entered the market, at £25 per bottle (in-bond). Having produced no wine in 2018, the latest release is priced 19% below the 2017, and is the cheapest recent vintage available on the market. Neal Martin awards it 92-94 points, naming the wine "not impactful, but intellectual", and noting it will give "25-30 years of drinking pleasure". With a potential record-level quality at such an attractive price, La Lagune could be the value buy of the entire campaign.
A further favourite, and poster child for good value, Meyney, also released its 2019 on Wednesday. Coming onto the market under £20 per bottle, and as the cheapest Meyney available, the wine is a no-brainer, as it continues to punch above its weight for quality.
Also released on Wednesday 17th and Thursday 18th June were: Canon-la-Gaffelière, Chapelle d'Ausone, Clinet, Clos de l'Oratoire, Croix de Beaucaillou, d'Aiguilhe, and La Mondotte.