From bargains to blowouts: red Burgundy at five different price points
Following our recent investigation into white Burgundy at five different price points, we now turn to red Burgundy – which represents a considerable 23% of Wine Lister's MUST BUY hoard (376 wines).
These wines cover an even greater range of prices than their white counterparts, from £51 (per bottle in-bond) up to £15,352. Read on below for our picks of red Burgundy MUST BUYs at five different price points.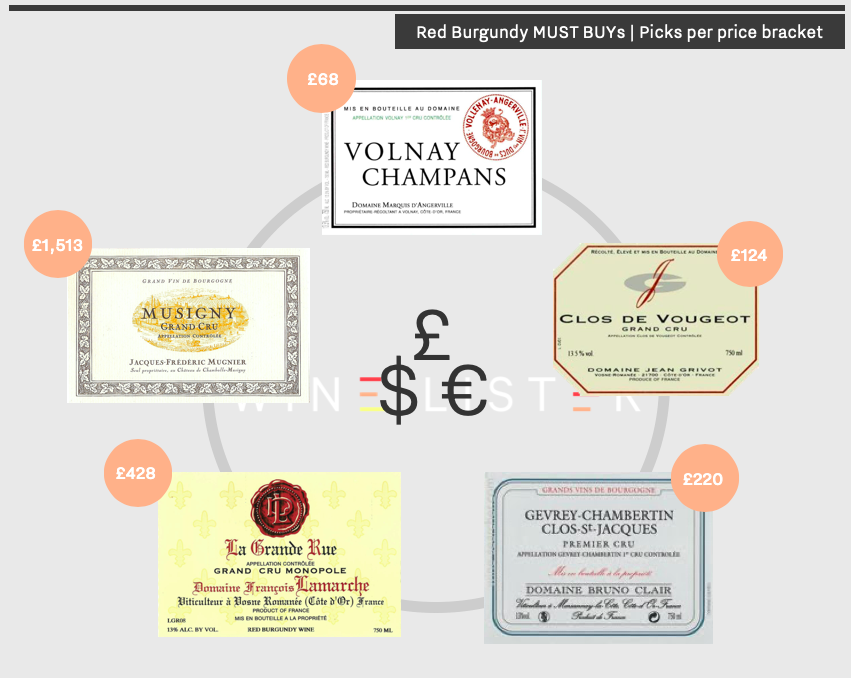 Prices are shown per bottle in-bond (when buying by the case).
Under £75 – 2012 Marquis d'Angerville Volnay Champans
Marquis d'Angerville is widely considered one of the top producers in the Côte de Beaune, and the reference producer in Volnay. Indeed, the domain's vineyards represent over 10% of all Premier Cru Volnay plantings. D'Angerville's Volnay Champans is less than half of the cost of its flagship Volnay wine, Clos des Ducs. While both vineyards have south-easterly exposure, Clos des Ducs has calcareous, stony, white marl soil, while the soil in Champans is more clay-driven. The Champans is thus richer and fuller, while the Clos des Ducs (which also enjoys the highest elevation in Volnay) has more complexity and definition. The 2012 Marquis d'Angerville Volnay Champans performs particularly well, achieving a WL Score of 94 – this wine can be purchased from BI Wines & Spirits for £66.67 (per bottle in bond).
Under £150 – 2014 Jean Grivot Clos de Vougeot
Having taken over from his father Jean in 1990, Étienne Grivot (alongside his wife Marielle) has since adjusted his family's viticultural and vinification methods. While completing his studies in general agriculture, viticulture, and oenology, Étienne noted that the over-fertilised Burgundian soil had become gradually less capable of producing vins de terroir. As well as reducing his overall yields, he now uses organic farming methods and natural yeasts to preserve the expression of where the grapes come from. The 2014 Clos de Vougeot has a WL Score of 94, and was described by Jancis Robinson as having "massively nuanced fruit" – this vintage can be purchased by the bottle from Wilkinson Vintners for £124 (in bond).
Under £350 – 2015 Bruno Clair Gevrey-Chambertin Clos Saint-Jacques
Bruno Clair's Clos Saint-Jacques Premier Cru plantings are situated within a 6.7ha vineyard (shared with Sylvie Esmonin, Louis Jadot, Fourrier, and Armand Rousseau) encircled by a two-metre wall. Providing protection from prevailing winds, this fortification creates a micro-climate, which, alongside its steep south-easterly facing slope, enables consistent ripening. The 2015 vintage achieves a WL Score of 95. Wine Lister partner critic, Neal Martin describes it thus: "a hint of dark chocolate emanates from the oak infusing the red and black fruit toward the finish, and touches of marmalade and blood orange linger on the aftertaste". This vintage is available to purchase from Cru World Wine, where the price of a bottle starts at £355 (in bond).
Under £500 – 2010 François Lamarche La Grande Rue
Having been elevated to Grand Cru status in 1992, La Grande Rue provides the setting for François Lamarche's most prized domain – from which only c.5,500 bottles are produced per year. As of the 2007 vintage, François' daughter, Nicole, has had total control of the winemaking, and has implemented organic viticulture (certified in 2010), which she believes makes vines more resilient to biotic stress. Described by Jancis Robinson as exhibiting "lovely freshness yet concentration and subtlety too", the 2010 vintage achieves Lamarche La Grande Rue's highest WL Score since its 1964 vintage (96), and is available to purchase from Corney & Barrow, where prices start at £540 per bottle (in bond).
Over £500 – 2008 Jacques-Frédéric Mugnier Musigny
Jacques-Frédéric Mugnier maintains his aim of preserving the purest expression of nature within his wine, with minimal interference from technological practices in the vineyard or the cellar. His Musigny is widely considered to be one of the greatest Burgundy reds, and has been described by Wine Lister's Burgundy specialist critic, Jasper Morris as "brilliantly fragrant in bouquet and notably persistent on the finish". With a WL Score of 96, the 2008 Jacques-Frédéric Mugnier Musigny is more difficult to source than the preceding wines, however, it is worth informing your merchant of your interest in purchasing it.