The return of rosé Champagne
In 2004, WL partner critic Jancis Robinson published an article, "Pink champagne – fashionable but too often dire", whose title summarises the contemporaneous consensus surrounding rosé Champagne. Long-regarded by Champagne producers as a subsidiary wine – one without the required levels of attention placed on their primary project – its quality often fell short.
15 years later, in September 2019, Robinson conversely wrote a piece titled "Pink champagne – a serious wine now", outlining the attentive methods of production, and the consequential calibre of rosé Champagne amongst its top producers.
This week's blog post investigates the victorious return of rosé Champagne, as we examine the upward quality and price trends across 10 of its top brands when compared to their white counterparts.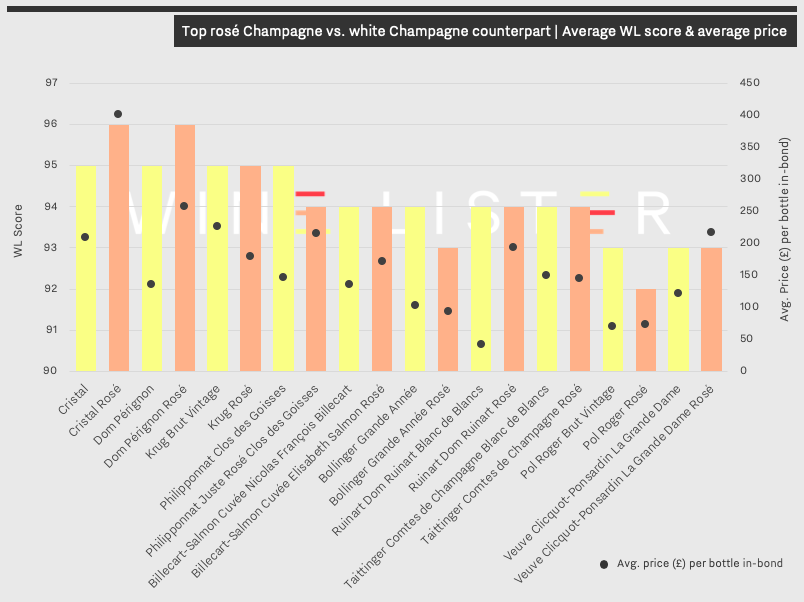 The chart above shows the average WL Score and average price for "pairs" of wines from 10 top rosé Champagne producers whose range includes a rosé.
An initial look at the selected wines reveals the recurrent pattern of rosé Champagnes costing more than their white counterparts, with the exception of Krug Rosé, Bollinger Grande Année Rosé, and Taittinger Comtes de Champagne Rosé. The mean price difference between the two styles of the respective wines is substantial nonetheless, with rosé Champagne costing 46% more on average than its white equivalent (an average of £195 for rosé and £134 for white).
Excluding Pol Roger's Rosé and Bollinger's Grande Année Rosé (whose white equivalents supersede them by one WL point), the rosé Champagnes featured above achieve equivalent or higher WL Scores than their white counterparts.
Cristal Rosé is a blend of 55% Pinot Noir and 45% Chardonnay grapes. With a WL Score of 96, at an average price of £401 (per bottle in-bond), this wine is almost double the price of Cristal, which has a WL Score of 95 at £203. Consequential of the generally lower yields of Pinot Noir in continental conditions, Cristal Rosé is Louis Roederer's rarest and thus most expensive wine, produced solely in years when the grapes have attained perfect maturity.
Similarly made in only exceptional vintages, Dom Pérignon Rosé is considered by its producer to characterise its growing year, hence the fluctuating ratio of Pinot Noir and Chardonnay grapes from vintage to vintage. With a WL Score of 96, at an average price of £277 (per bottle in-bond), Dom Pérignon Rosé is over double the price of its white counterpart. Dom Pérignon Vintage Brut has an average price of £131 and has one less WL Score point than its corresponding rosé wine.
As indicated by its Vintage Value Identifier chart, the 2002 Dom Perignon Rosé exhibits significant quality and value, with a WL Score of 98. Jancis Robinson awarded this wine 20/20 (a rare occurrence), describing it as "pungent and composed with massive energy" – a far cry from her 2004 article. Rosé Champagne has most definitely made a comeback.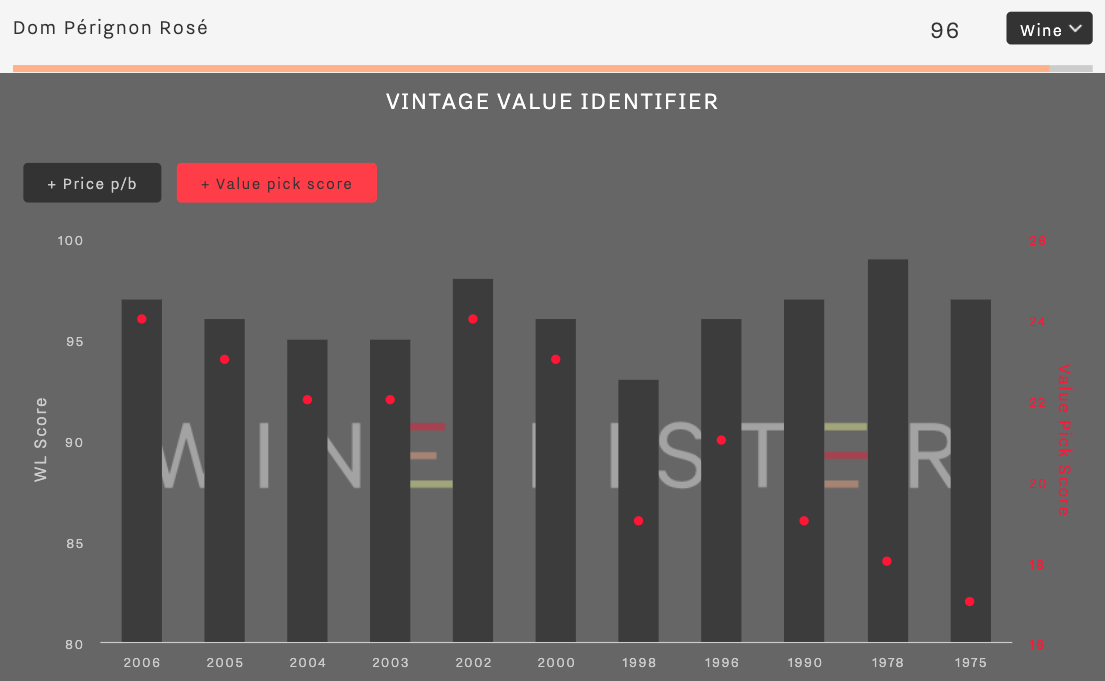 The 2002 Dom Pérignon Rosé can be purchased from Berry Bros & Rudd, where a case of three starts at £1,200 (in-bond).