California dreaming – quality and value in America's Golden State
While the world continues to tackle the outbreak of Covid-19, we at Wine Lister are trying to continue with "business as usual" – at least as far as is possible, while also thinking of all our friends in wine regions and markets that are struggling in this uniquely difficult time. This of course includes California – that idyll for sunshine and free love as featured in many a hit song and many a hit wine list.
Of all fine wines from the New World, offerings from California have succeeded in grabbing the attention of fine wine collectors, with some even reaching "cult" status. With this in mind, we are California dreaming this week, and examine below the wines from California's foremost regions – Napa and Sonoma Counties.
Both production areas offer an abundance of top-quality wines, though at a price. The high prices of several Napa County AVAs, including Oakville and the Napa Valley, mean that its wines can appear expensive when compared to its sibling, Sonoma County.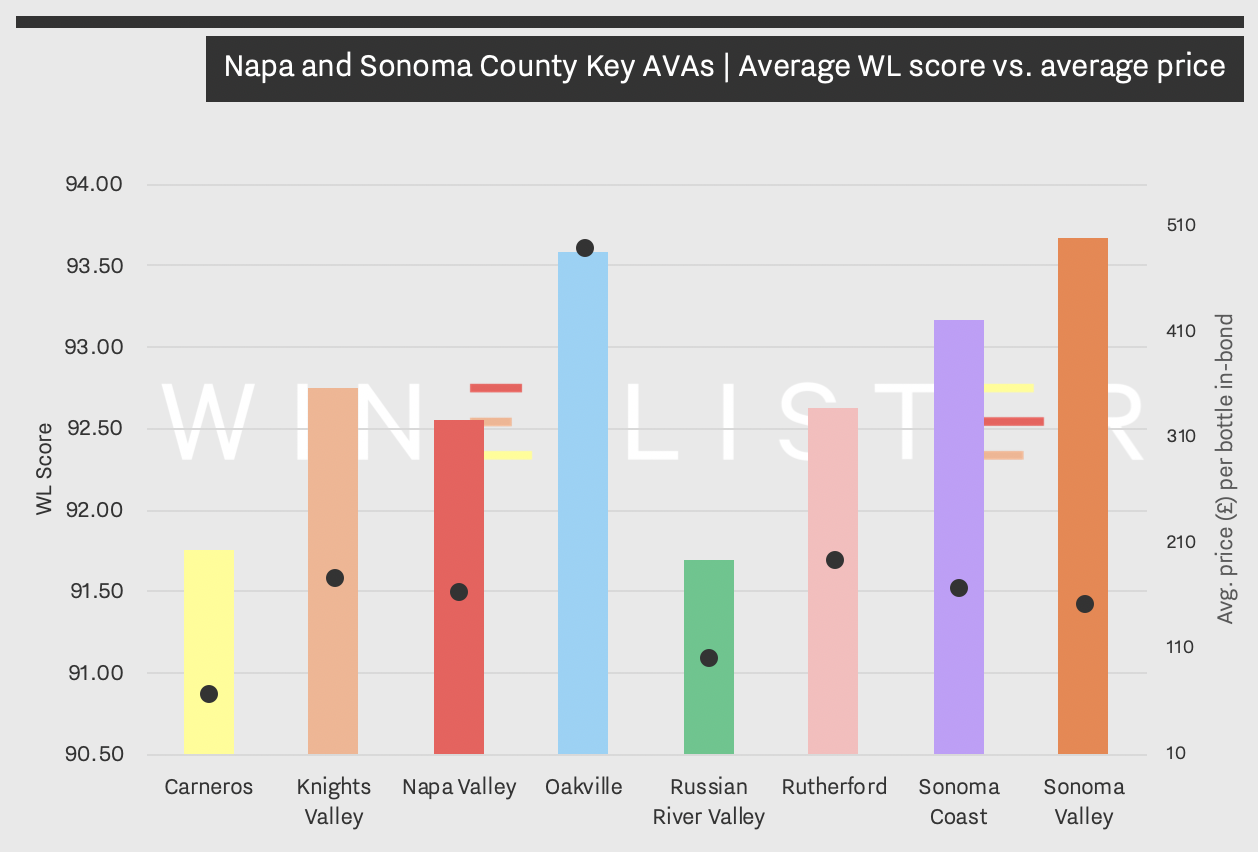 The chart above shows the average WL Score and price (£) per bottle in-bond (when buying by the case) of the top eight AVAs in Napa and Sonoma Counties.
Two AVAs consisting only of white wines stand in stark contrast. Carneros is represented by four Chardonnays – Kistler Vineyards' Hudson Vineyard, Ramey Wine Cellars' Hudson Vineyard, Shafer Vineyards' Red Shoulder Ranch, and Cakebread's Chardonnay Reserve, earning an average WL score of 91.8. Accompanying its relatively low WL score is the second-lowest average price of all AVAs – c.£67 per bottle in-bond. This remains excellent value in the wider fine wine context, given that Chardonnay with similar scores  from Burgundy can fetch up to c.£1,000 (for example, Coche-Dury's Meursault Les Caillerets).
At the other end of the quality scale is Sonoma Valley AVA, represented by three Chardonnays from Kistler Vineyards. Its average WL score of 93.7 is the highest amongst its Californian peers. Considered a cult Californian winemaker, the Kistler Winery emulates the Burgundian "terroiriste" approach, committing wholeheartedly to wines that best reflect each individual plot.
The Napa County groups command a higher price tag on average than their Sonoma counterparts. Oakville's selection of predominantly red wines holds the second-highest WL score, however its average price is over double that of the second most expensive region – Rutherford. This is explained by the presence of Screaming Eagle Cabernet Sauvignon, which, at an average price of £2,863 per bottle, drives the region's quality-to-price ratio down. The mailing list model of Jean Philips' low-production Napa Valley winery has amassed an incredible cult following of fine wine buyers, who seemingly seek access to the wine at any cost.
While Sonoma County may appear to offer the better value (with red wines such as Kenwood Vineyards Artist Series Cabernet Sauvignon, or Hirsch Vineyards Block 8 Estate Pinot Noir, to add examples to Kistler's whites), Wine Lister's top 10 Californian MUST BUYs are all from Napa County.

Of these, all are produced in the Napa Valley AVA except Screaming Eagle's 2013 Cabernet Sauvignon. Dominus Estate achieves two mentions, with vintages 2013 and 2010 both featured. Perhaps unsurprisingly for the New World king of Cabernet Sauvignon, the top 10 Californian MUST BUYs includes just one alternative grape variety – Kongsgaard's 2016 Hudson Vineyard Syrah.
Explore all 94 Californian MUST BUYs here.