MUST BUYs for a new decade
As we enter into this new year, 2020, it hardly seems possible that wines from the 2010 vintage are now a decade old. Having updated the Wine Lister MUST BUYs for the first time in 2020, we have examined all current recommendations from 2010. Wine Lister's ground-breaking buy recommendations are data-driven, with an intelligence-based overlay. The algorithm takes into account a wine's quality and value within its vintage and appellation, as well as the latest industry intelligence from key players in the global fine wine trade. The Wine Lister team then scours the results to identify must-buy wines based on our own tasting experience and market knowledge.
2010 is the number one vintage for MUST BUYs, with 169 – or 10% – of the current count (1,710). An impressive 49 of these achieve WL scores of 96 or above, and are listed below.
As is becoming a regular pattern for MUST BUYs – thanks to the region's value proposition – Tuscany dominates the list of reds, with nine wines featured from the 2010 vintage earning 96+ WL across the Chianti and Brunello DOCG, and Tuscany IGT appellations. Super-value producer Le Macchiole achieves MUST BUY status for two of its three cuvées in the 2010 vintage (Scrio and Paleo Rosso), while at the other end of the price spectrum is Masseto 2010.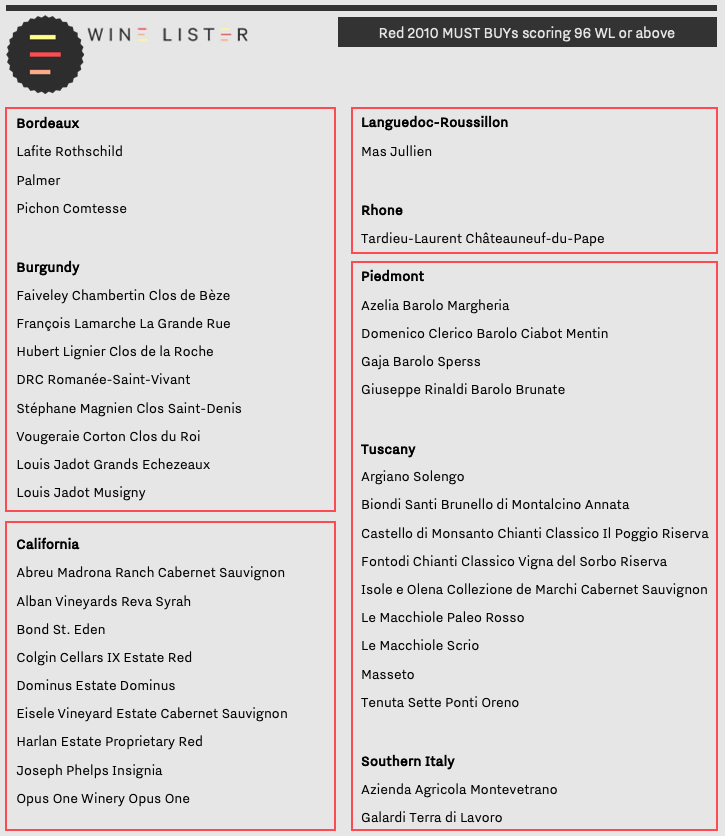 California also achieves nine MUST BUY entries for 2010, including wines from the likes of Dominus, Colgin, Harlan Estate and Opus One. Burgundy follows with one red fewer, and includes François Lamarche's monopole La Grande Rue.
Piedmont features four Barolos, amongst which is the legendary Giuseppe Rinaldi's Barolo Brunate (labelled Brunate-Le Coste prior to the 2010 vintage). Bordeaux falls short of its usual ratio of MUST BUYs in 2010, featuring just three wines. Being such an iconic vintage, 2010 Bordeaux in general does not offer the "good value" necessary to make the Wine Lister MUST BUY cut when up against better-value vintages such as 2008 or 2014. However, for Lafite, Palmer, and Pichon Comtesse, the 2010 vintage is of significantly higher quality than other vintages to make it worth paying the price premium – less marked than for many other 2010s. For example, the average premium of 2010 over 2011 for Lafite, Palmer, and Pichon Comtesse is 42%, whereas for Mouton, Léoville Las Cases, and Pichon Baron you have to pay 60% more to get your hands on the better vintage.
Several whites make the cut in 2010, of which the majority hail from the reigning region of Chardonnay. Burgundy's Maison Louis Jadot sweeps three of the seven white Burgundy 2010 spots, proving once again the excellent value presented by some of Burgundy's top quality négociants.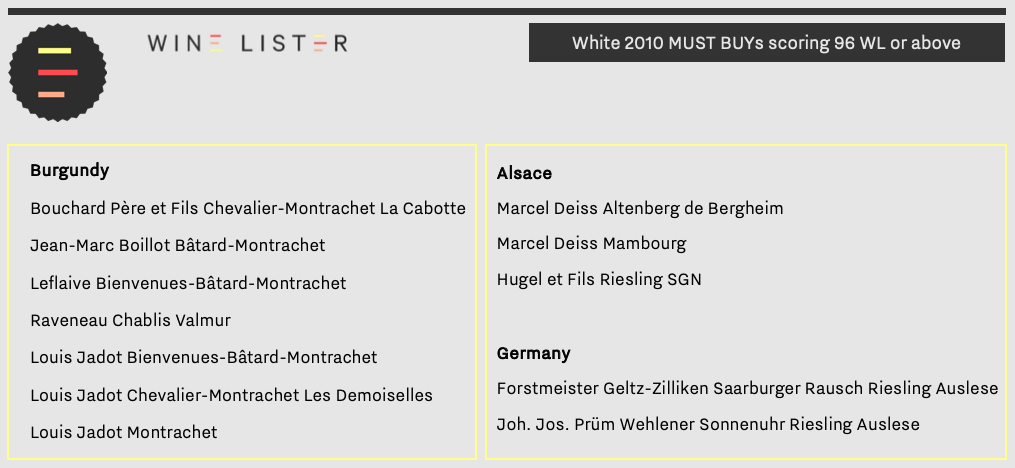 Riesling-based whites also prove a popular option, with entries across Alsace and Germany, however lucky owners of some of these (namely Marcel Deiss' Altenberg de Bergheim and Zilliken's Saarburger Raucsch Riesling Auslese), should have patience, and could perhaps even wait until the start of the next decade before opening either of these spectacular wines.
See the full list of 2010 MUST BUYs here.