MUST BUY update – France and Italy dominate
For the last three consecutive updates, Burgundy has worn the crown for highest number of new MUST BUY entries. This week it shares its prime position with Tuscany, as the two regions hold six wines each of the 27 new MUST BUYs. Whilst previous updates have been geographically diverse, this week's countries of focus are France and Italy only.
All but one of this week's new Tuscan MUST BUYs can be considered "Super Tuscans". Buzz Brands Querciabella and Sassicaia make the cut for their 2015 and 2007 respectively. Producer Fattoria La Massa earns another place this week for Giorgio Primo, making its 2016 the sixth MUST BUY vintage of this same wine. 2015 Percarlo from San Giusto a Rentennano and 2016 l'Apparita from Castello di Ama complete the new "Super Tuscans". A second offering from Castello di Ama is this week's only new Chianti Classico entry, and brings the producer's MUST BUY total to eight, equalling Italy's other top MUST BUY producers, Castello dei Rampolla, and Isole e Olena, in number.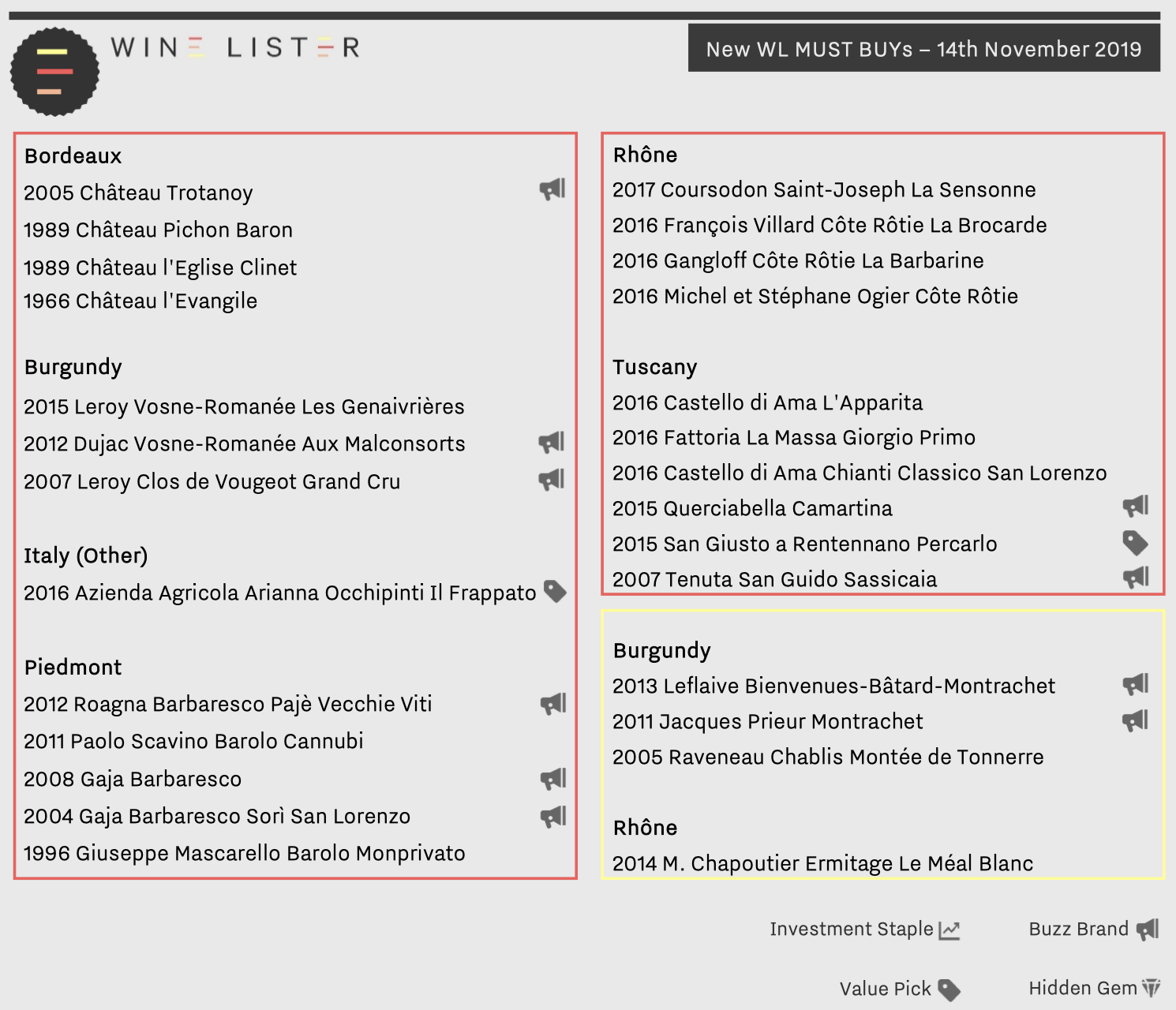 Further North in Italy, Piedmont is by no means overlooked, with Roagna and Paolo Scavino featuring on the new MUST BUY list for Barolo this week (in 2012 and 2011 vintages respectively), alongside Giuseppe Mascarello's 1996 Barolo Monprivato. Gaja is represented twice, and completes the Piedmont five with the straight Barbaresco and the Sorì San Lorenzo.
France's chief MUST BUY region, Burgundy, offers three reds and an equal number of whites, with Leroy representing two of the three Pinot Noirs (2015 Vosne-Romanée Les Genaivrières and 2007 Clos de Vougeot). Vosne-Romanée earns another mention through Dujac for its 2012 Aux Malconsorts. Domaine Leflaive, Jacques Prieur, and an older vintage of Raveneau take this week's new white Burgundy MUST BUY places.
Outside Burgundy, France is also well-represented by the Rhône, with a 2017 from Coursodon, together with 2016s from François Villard, Gangloff, and Michel et Stéphane Ogier. Chapoutier's 2014 Ermitage Le Méal Blanc completes the latest additions of MUST BUY whites. Older vintages of Bordeaux also make the cut, including a 1966 from l'Evangile, and one 1989 from each bank – l'Eglise Clinet and Pichon Baron.
To help keep track of the weekly updates, check out our latest tool on the search page to help you browse only the newest additions to the full MUST BUY list.